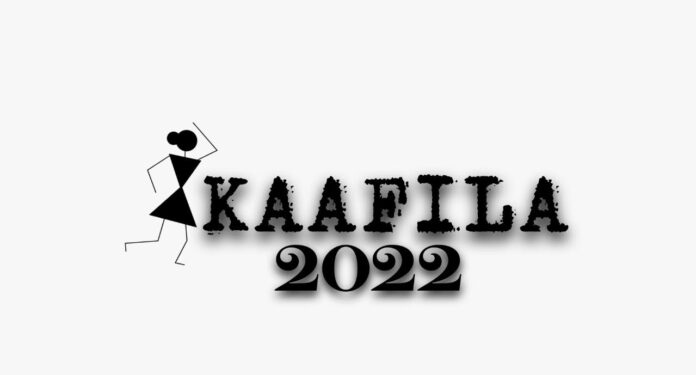 Students from 18 schools across India, along with artists from different regions are collaborating for the festival Kaafila
Eminent cultural personalities, including Kalki Koechlin, Prajakta Koli and Daastan Live to be part of the fest
Noida, November 10, 2022: Shiv Nadar School, Noida, a not-for-profit initiative of the Shiv Nadar Foundation, kicked off a one-of-its-kind international and integrated arts festival, Kaafila. Over three days from November 10-12, 2022, the student-led arts festival will witness participation from notable cultural personalities and aim to stimulate creative young minds from Shiv Nadar School as well as other participating schools. For this festival, 18 schools from India are joining together to compete and engage physically as well as remotely in various genres.
In its fourth edition, the fest is themed "Taking Pride in Love". It promises a wealth of performances and interactive events that help explore different perspectives, skills and emotions. It aims to celebrate love as a feeling that is intrinsic and natural to human beings. It seeks to inspire young participants to look above and beyond the boundaries imposed by caste, race, gender, and sexuality, as well as other societal constructs.
Ms. Anju Soni, Principal, Shiv Nadar School, Noida said, "The essence of our humanity lies in the way we look beyond physical appearance and approach life with empathy. Love can mean many different things, it has always been given its own unique shape and form by artists throughout history. It is a great tool for young people to fight cynicism and indifference. Innovation and aesthetic expression are at the centre of our efforts to provide a one-of-a-kind educational experience at Shiv Nadar School. Kaafila celebrates 'love' in all its form as something which is to be cherished and celebrated with the theme of 'Taking Pride in Love'. As we explore our enthusiasm for the arts, we embark on a journey of introspection and development that promises to be transformational and euphoric."
The festival highlights include a special interview featuring Kalki Koechlin, as part of the 'In Conversation With' series. There will also be a special video podcast with MostlySane aka Prajakta Koli where she will be interacting with and encouraging students to pursue their artistic passions.
Key Highlights of Kaafila 2022
Fabric of Hue – A first of its kind fashion competition that will be exploring sustainability in fashion while celebrating the theme of the festival, 'Taking Pride in Love'
Bread & Circuses – 'A One Act Play' competition, this looks at schools presenting a theatre production of no more than 25 mins, in line with the theme of the festival.
Rhythmic Ringers – A fusion dance performance that explores various dance styles in one performance.
Headline Act – 'Daastan Live' is performing live at the Kaafila Festival on the 12th November, 2022. The concert begins at 17:30
Clash of Bands – The most awaited Clash of Bands competition has attracted registrations from 7 different schools across Delhi/NCR
In Conversation With Kalki Koechlin – The 'In Conversation With' series features interactions with eminent artists who are venerated in their fields. They share their journey and inspirations with the audience.
Coffee and Conversation with Prajakta Koli aka MostlySane – In this special video podcast, featuring Prajakta Koli, we discuss her journey from radio jockey to influencer, and her take on love and advice on life.
The festival includes intriguing panel discussions on 'Bollywood and Love' and 'Love and Technology', in addition to workshops, competitions and enthralling exhibitions in both online and offline modes. These span various forms of arts: theatre, music, dance, and visual arts. In this edition, Kaafila also seeks to venture into exploring sustainable Fashion and Food, as forms of art.
The fest has a range of activities for budding art lovers, including competitions in photography and music production domains, as well as workshops on hip-hop dance, film appreciation, clowning, culinary arts, and decoding Latin American music.
Kaafila will also host the staging of theatrical productions under 'Bread and Circuses'. Attempting to use theatre as a platform for high school students to showcase their talent and take a stance on issues that stir the conscience of society. A monologue festival taking place as part of the fest will bring forth the artistry of solo performers' words and on-stage presence.
Schedule for Day 1:
10th November, 2022:
| | | |
| --- | --- | --- |
| Time | Event | Artist & details |
| 8:45- 9:15 | Registration & Breakfast | |
| 9:30- 10:00 | Opening Ceremony (Online) | Shiv Nadar School, NOIDA |
| 10:15- 11:30 | Music Production Competition | Participation from schools |
| 10:15- 11:00 | How to get started on YouTube (Webinar) | Vidushi Kumar |
| 11:30- 12:30 | Evolution of love through music across decades (Webinar) | Aditya and Megha Balani |
| 1:00- 1.30 | Lunch | |
| 2:00- 3.30 | Bollywood and Love (Panel Discussion) | Curated by Shiv Nadar School, Faridabad |
| 2:00- 3:00 | Making a living through dancing (Webinar) | Sumedha Bhattacharya |
More than 100 students from reputed schools across the world participated in 2020, and a larger number of students are expected this year.
Entry is by registration only. For more information about the events being held on Days 2 and 3, please email snsartsfestival@gmail.com.
Also Read: Orchids The International School announces the launch of its fourth branch in Gurgaon
About Shiv Nadar School
The Shiv Nadar School is a not-for-profit initiative of the Shiv Nadar Foundation in K12 private education to deliver educational excellence and provide education for life. With three campuses in the NCR, The Shiv Nadar School provides students an environment that challenges them into discovering their talent and skills, while aiming to nurture ethical, respectful, happy, and purposeful citizens of society. 5050 students and their parents, along with a team of 600 educators, are a part of the Shiv Nadar School family.
About Shiv Nadar Foundation
Established in 1994 by Shiv Nadar, Founder, HCL – a US$12.1 billion leading global technology enterprise, the Foundation is committed to the creation of a more equitable, merit-based society by empowering individuals through transformational education, and to bridge the socio-economic divide. Over the last 27 years the Foundation, has directly touched the lives of over 36,000 alumni and students through its marquee institutions in literacy, K12 and higher education. Today, the Foundation has a community of over 100,000 constituents, which includes not only globally dispersed alumni and students but also faculty members, corporate executives, and extended families.
The Foundation has invested ~US$1.1 billion in its seven landmark institutions and initiatives across education and art. Currently close to 14,000 students and over 2,000 faculty are part of the Foundation along with more than 22,000 strong globally dispersed alumni community.
The Foundation's students have gone to study at some of the best institutions globally including the Ivy League in the US and top universities in other countries including Australia, Singapore, China and UK. Students are also working in major corporations, including Goldman Sachs, Honda, HP, Schindler, and several others both in India and across other geographies. Faculty across the Foundation institutions are drawn from the best Indian and international universities, with a strong focus on research and innovation. 
Visit EasyShiksha for skill development courses.