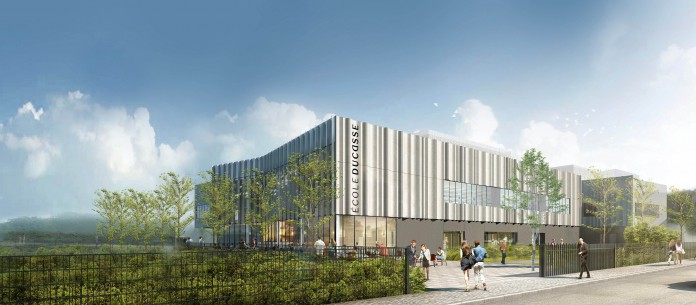 New Delhi, October 3rd 2019
Sommet Education, the leading hospitality management education group, became the majority shareholder of Ducasse Education alongside Ducasse Développement in June 2019.
Following this agreement Benoît-Etienne Domenget, CEO of Sommet Education and President of Ducasse Education, together with Alain Ducasse, Founder of Ducasse Education and President of Ducasse Développement, have today announced their joint action plan to establish Ducasse Education as a global benchmark for culinary and pastry arts training.
This shared ambition is reflected in the creation of a new brand, an enriched portfolio of programs, an exceptional new campus and the appointment of Elise Masurel as Managing Director.
Ducasse Education becomes École Ducasse
This new brand has been created to offer a broad range of programs, responding to an international demand while keeping in line with Alain Ducasse's DNA: "philosophy of excellence, combining the perfect transmission of well-mastered culinary techniques and expertise with a resolutely contemporary approach to gastronomy."
The École Ducasse brand today consists of three schools in exceptional locations:
–          École Ducasse – Paris Studio: a unique space in the heart of the 16th arrondissement that offers four kitchens dedicated to food lovers and corporate events.



Top Software Engineering Courses



–          École Ducasse – École Nationale Supérieure de Pâtisserie: located in Yssingeaux in the Haute-Loire region in France and regarded as a benchmark for over 30 years in the fields of pastry, bakery, chocolate, confectionery and ice-cream making.
–          École Ducasse – Paris Campus: an exceptional new campus in Meudon specializing in culinary arts which will welcome students from September 2020.
The team will be led by Elise Masurel, who is joining École Ducasse as Managing Director. Her hospitality sector experience, customer journey and digital expertise, acquired at Club Med and Klépierre, combined with her international environment knowledge will enable the new École Ducasse brand to achieve its full potential.
A complete portfolio of tailor-made programs
Driven by a strong growth in the gastronomy sector, École Ducasse aims to provide tailored solutions for all students, from food enthusiasts to seasoned professionals, from adults changing career path to young graduates. Therefore, the following four types of programs are available:
"Essential" programs:Intensive two-month programs designed for people who are passionate about cooking and pastry, as well as career changers and entrepreneurs.
"Bachelor" programs:Three-year undergraduate programs in culinary and pastry arts, combining practical, managerial and entrepreneurial skills, for students seeking a career in the hotel and restaurant industry, the Food & Beverage sector and pastry-making. These are unique programs, sponsored by renowned chefs such as Romain Meder and Jessica Préalpato.
"Diploma" programs:These intensive two-, four- or six-month programs are aimed at people who are passionate about cooking and pastry-making, people seeking a change of career, entrepreneurs and all those who wish to work in the world of gastronomy, and rely on the best experts in their field: Meilleurs Ouvriers de France, international champions, renowned chefs and pastry chefs, craftsmen, hospitality experts…
"Signature" programs:Two unique and exclusive eight-month English immersion programs, designed specifically for people who are looking to grow in their positions, change careers or young professionals seeking to embark on a career as a chef or a culinary project.
Short Courses and immersive experiences are also available for food enthusiasts willing to explore gastronomy and cuisine.
An exceptional new campus
The Paris Campus will be an ultra-contemporary new campus located in Meudon; a customized school with the aim of teaching and promoting world-renowned gastronomic expertise, which is set to open in September 2020.
The interior spaces inspired by the four natural elements open around a gathering point designed to favor collaboration and co-working, a space for meeting and sharing. These will include a "knowledge center", a sensory analysis room and workshops dedicated to the culinary and the pastry arts. Arte Charpentier Architectes is developing the building as well as the external and interior facilities, in conjunction with real-estate developer Covivio. The internal design of the kitchens will be done by BEGC and the decoration of the bar and two immersion restaurants, which will be open to the public, by interior designer Jouin Manku. Vegetables and aromatic plants will also be grown in the school's garden, aimed at developing and refining taste.
By partnering with Sommet Education, École Ducasse intends to perpetuate the excellence of its heritage in gastronomy and accelerate its international development. For its part, Swiss-based Sommet Education entailing the Glion and Les Roches educational institutions, which include six campuses in Switzerland, UK, Spain and China, is expanding its educational offer and the range of courses available, dedicated to providing the best education in hospitality management. For Benoît-Etienne Domenget, CEO of Sommet Education it is "the winning combination of the excellence in French gastronomy and the performance of the Swiss educational model combining theory and practice".
For more information:
Email: info@ecole-ducasse.com
https://learn.ecole-ducasse.com
About Sommet Education
Sommet Education is a unique education group specialised in hospitality management and the culinary arts, committed to delivering an exceptional student experience and developing future talent for the experience industry.
Its hospitality management institutions Glion and Les Roches, with campuses in Switzerland, Spain, China and the UK, provide undergraduate and graduate students from more than 100 countries with an education built on the Swiss model of academic rigour, skills-based learning and dynamic multicultural exposure. The culinary and pastry schools of École Ducasse offer bachelor's degrees, courses for career changers and continuous professional training, as well as private courses for food enthusiasts, across three campuses in France and through partnerships with overseas universities.
Sommet Education is the only education network with two hospitality institutions ranked among the world's top four for hospitality education and among the world's top three for employer reputation (QS World University Rankings by Subject 2019).
For more information, visit www.sommet-education.com
Top Networking Online Courses
More Courses With Certification
Empower your team. Lead the industry
Get a subscription to a library of online courses and digital learning tools for your organization with EasyShiksha
Request Now
ALSO READ: Dr-bernard-malik-appointed-as-png-special-envoy
Get Course: Google-Adwords-for-Beginners