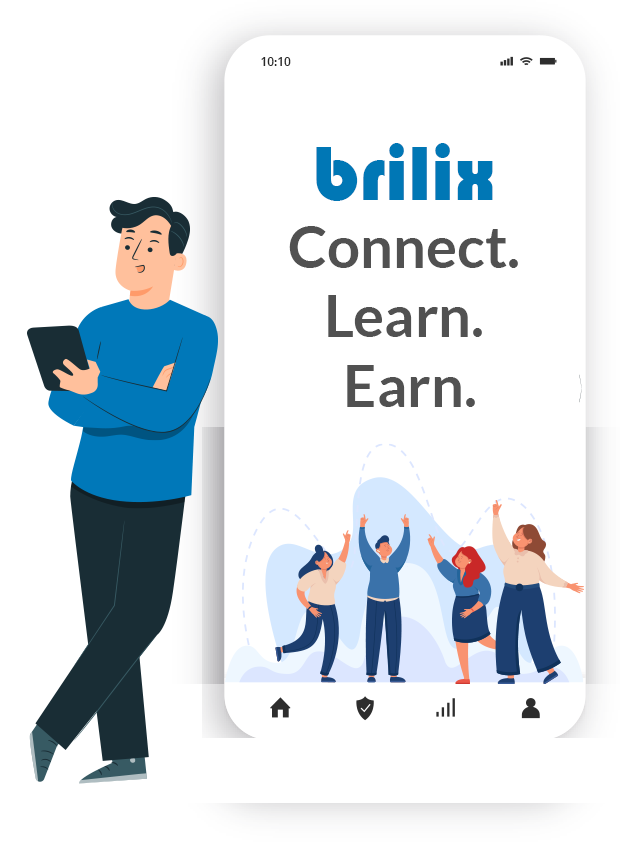 In Brilix, the content is available in five vernacular languages: English, Hindi, Marathi, Bengali and Gujarati
Since the introduction of its app on the Google Play store last week, the Brilix app has already garnered more than 25,000 registered users on the app without any promotion
New Delhi, May 31, 2022: In a bid to strengthen its leadership sphere in the hitherto education world, Brilix, the world's first and largest learning-focused Social Media Community Platform, has unveiled its highly-anticipated application. The application essentially bridges the gap between highly-qualified educators and promising learners to embark on the journey of accessible, affordable and enlightened learning. The content on the app is currently available in five vernacular languages: English, Hindi, Marathi, Bengali and Gujarati. The platform is gearing up to include more languages in the coming two months.
The Brilix application is an industry-first Social Media Learning Community that is backed by blockchain technology and tokenization. It leverages the power of artificial intelligence (AI) and machine learning (ML) algorithms to ascertain learners' fields of interest by accumulating information through a small questionnaire. This helps the platform provide better learning suggestions to learners that align with their interests and learning styles. It is a testament to the Brilix app's effectiveness that in the Beta phase, it had registered 9000+ users. In fact, since its inception, the platform garnered more than 25000 registered users on the app. Brilix is now making provisions for launching the Brilix app on the Apple App Store.
READ: Modern English School, Guwahati organises a series of events on World No Tobacco Day 
Currently, even with numerous new-age edtech platforms entering the educational space, many high-potential students are unable to avail themselves of these technologies due to language barriers. On the other hand, educators are still underpaid and aren't equipped to monetize their laborious and diligently prepared educational content. The unique application by Brilix is designed to address these issues and bridge the gap between educators and learners.
The Brilix app enables learners to collaborate, ask questions, follow leading educators, access free of cost content, participate in quizzes and polls, and support educational content creators to earn money simultaneously. It also allows users to send text, images, videos and voice notes in comments so that they can promptly receive solutions to their queries. The app also supports a delta four efficient reading system so that learners can access notes and e-books that can also be saved in the cloud.
Apart from being incredibly learner-friendly, Brilix has also created a matchless platform for educational content creators. The application allows verified educational content creators to monetize their notes, study material and other informational content by sharing it with other learners on the platform. The platform is simply trying to create another Instagram phenomenon, but with educational content.
Rohit Agrawal, Co-Founder and CEO, Brilix, said, "Being an educator, we always felt a need for a suitable social platform for educational creators and learners. This need-gap laid the foundation of Brilix, which has now connected more than 25000 users on the app. We have also joined forces with various educational content creators who have finally found the right place to monetize their comprehensive and exclusive content. Our goal is to make learners and educators self-dependent by equipping them with cutting-edge technology and advanced features so that the education-oriented community can survive and thrive together."
Important Announcement – EasyShiksha has now started Online Internship Program "Ab India Sikhega Ghar Se"
It is pertinent to mention that Brilix had raised pre-seed funding of INR 3.3 crore from Delhi and Mumbai-based angel investors earlier this year. The platform envisions to become the world's first and largest learning-focused social media platform where learners can get together and reach their goals without any hesitation, awkwardness or scepticism. In the next quarter, Brilix aims to create a community of 1 million+ users and set an unparalleled benchmark.  
visit EasyShiksha for skill development courses
About Brilix
Launched in 2021, Brilix aims to make Indian students and teachers self-sufficient by assisting them in finding a way to monetise their knowledge. The brainchild of Rohit Agrawal, Vipin Sharma, Kapil Nawani and Tushar Kansal, Brilix is set to revolutionise the existing education system in India. The platform has adopted a flawless approach to building the learning community and a layer of educational creator economy backed by blockchain and tokenisation. Since its inception, Brilix has evolved swiftly to become one of the top platforms offering educational content creators and learners infinite opportunities.
Brilix enables a learner to collaborate with fellow learners to ask his questions, follow top educators, access free and paid content, participate in quizzes and polls, and buy Fan cards. In addition, the platform allows educational content creators to upload their notes and content on the platform and generate income depending on the number of views.