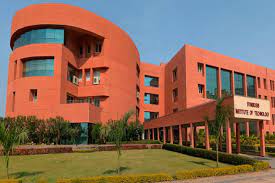 India, 14th September 2022: Officials of Maharashtra Metro Rail Corporation Limited organized a site visit and experiential metro ride for the students of Civil and Mechanical Engineering at Symbiosis Institute of Technology, Pune on Monday 12th September 2022. Students got a unique opportunity to visit the underground metro construction at Shivajinagar, Pune and learn the advanced on-field engineering practices. The second, third and final year engineering students along with their faculty members and staff experienced a group metro return ride from Garware station to Vanaz station.
The officials said that it is a must for future Civil and Mechanical engineers to learn about infrastructure development happening around them. They are not just users of such projects but future creators who need to understand the quantum of work, machinery, manpower, management and finance that goes into an infrastructure project. India is growing at a very fast pace and with large infrastructure investments in the offing, the future for Civil and Mechanical engineers is bright.
The Head of the Civil and Mechanical departments at Symbiosis Institute of Technology endorsed the same by adding that education has evolved over time. It is more practical-oriented than just classroom teaching learning. At the Symbiosis Institute, the focus has always been on industry-oriented all-round training making future engineers industry ready. 
ALSO READ : Sri Chaitanya Bags Top All India Ranks in the NEET 2022 Examination
The Digital era has definitely added edge to construction and manufacturing replacing the age-old practices. SIT imparts training in artificial intelligence, the Internet of things, digital surveying technologies, and laboratory simulations equipping the core engineers with the necessary skill set. The extensive and industry-ready B.Tech and M.Tech programs enable students to deep dive into the world of engineering through numerous specialisations such as – Artificial Intelligence & Machine Learning, Civil Engineering, Computer Science and Engineering, Electronics & Communication Engineering, Mechanical Engineering, and Robotic and Automation.
Keeping in line with the pedagogy focusing on experiential learning, SIT has a plethora of collaborations with Nanyang Technological University, Singapore; Ingolstadt University, Germany; Purdue School of Engineering, IUPUI, USA; and Leibniz University, Hannover to name some. Honors/minor courses are available in all disciplines for students who want to gain in-depth knowledge in a specialized area that will help them in their future development. Students are given the opportunity to work on various technical projects in groups under the supervision of faculty members, with the end result being paper publications/patents.
Visit EasyShiksha for skill development courses.