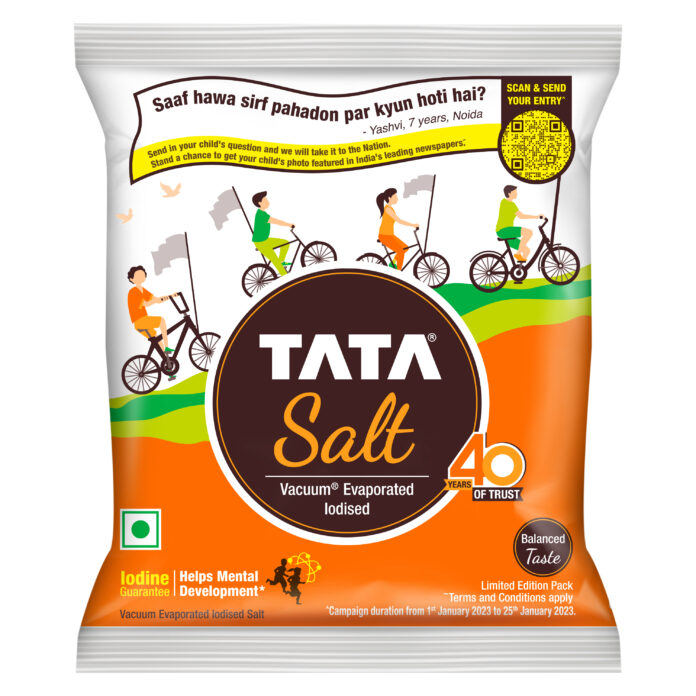 A Republic Day initiative, it provides a unique interactive platform for children to ask pertinent questions as they have the power to shape their tomorrow
National, January 17, 2023: Keeping the theme of 'Desh Ki Sehat, Desh Ka Namak' at its core, Tata Salt, a pioneer and market leader in India's branded iodized salt segment, has launched a nationwide Republic Day campaign called Desh Ke Liye #HarSawaalUthega. With its 360-degree approach, the campaign aims to empower children by providing them with a one-of-a-kind platform to raise questions that could spark relevant conversations and nudge a societal change.
Commenting on the launch of the campaign, Deepika Bhan, President, Packaged Foods- India, Tata Consumer Products, states, "Children can really reframe our thinking! They question what we are willing to accept as the status quo and that challenge forces change. Desh Ke Liye #HarSawalUthega is a platform that endeavours to surface these real questions. We've received such insightful, provocative questions already and are enthused with the awareness and change the next generation is willing to imagine. Tata Salt is one of India's most trusted brands, and we definitely want to partner this journey of fuelling an entire generation of kids to raise their questions and contribute to a better tomorrow."
Interestingly, the movement, kick-started with a survey, which had over 1,000 mothers across the country, echoing a common sentiment on the need to focus on the questions that children raise as they are often pertinent and can change the way society, or even the nation, thinks and functions. The survey threw up some compelling reactions from mothers, who were questioned about their children's curiosity quotient (CQ). Around 99% of them believed that their children were curious and desired to know more about the world around them. However, 26% of mothers felt that their kids lacked opportunities to express themselves. They believe that there's a need to nurture curiosity in kids, as the way they see the world has the power to shape a better tomorrow.¹
The campaign was launched with a film showcasing students hoisting white flags with their questions written across them, further encouraging other kids to join the movement. Implemented with a 360° approach across all mediums including traditional, print and digital, the campaign will see an impactful digital culmination on Republic Day featuring questions asked by children from across the nation.
Speaking on the idea, Sukesh Nayak, Chief Creative Officer, Ogilvy India said, "This is a very powerful platform that empowers the Children, the future of our country to ask relevant questions that will truly define the future of our country. This is an idea that not only interacts but gives voice to the children by hoisting their questions on the front page of leading national newspapers, so the whole country can see it. We believe that this idea will help children from across India voice their questions, hoist their questions and help shape a better tomorrow."
ALso Read: The Class of One lifts the trophy of Edtech Startup of the Year (North India) at Bharat Startup Awards 2023
Republic Day special edition packs have also been released in the market, with an aim to transform the iconic Tata Salt packets into a canvas for the celebration of the campaign. These 1 kg packs will be available at all outlets and e-commerce channels.
This year Educate yourself and develop your skills with EasyShiksha