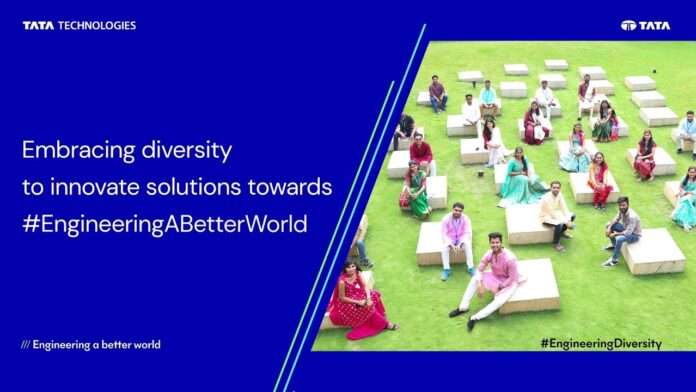 Company aims to hire 1000+ women over the next 12 months
Bangalore: Tata Technologies, a global leader in engineering and product development digital services, today announced the launch of its gender diversity focused hiring campaign, in line with its renewed focus on promoting gender diversity across its workforce. The new brand campaign #EngineeringDiversity invites women innovators to be part of the Tata Technologies transformation journey and grow with it while innovating safe, sustainable solutions for the global original equipment manufacturer (OEMs) and their ecosystem of partners.
ALSO READ: Global seedball campaign by Amma to reduce global warming and mitigate climate change
Manufacturing companies rely on Tata Technologies to enable them to conceptualize, develop and realize better products that are safer, cleaner, and improve the quality of life for all the stakeholders. This requires innovative solutions, and we believe a diverse and inclusive culture is core to incubating innovative solutions. Hence, we believe in creating an inclusive culture that provides equal opportunities to all individuals irrespective of colour, race, gender, religion, disability, age, sexual orientation, or nationality. Through a global, diverse, and exciting working environment, and access to the latest technologies, we cultivate a workplace in which everyone has the freedom and opportunity to succeed. Besides competitive remuneration, we offer innovators an opportunity to work on global projects, upskill & learn through classroom and global eLearning platforms and collaborate with 11000+ global talent pool. We believe that a diverse workforce will lead to innovation, productivity, & creativity and will also create a more positive and welcoming work environment, leading to better employee engagement, better customer engagement and overall better performance.

Through the RAINBOW program, the company has focused interventions on onboarding more women and parallelly creating support frameworks for them to succeed. The program has a structured framework and four key pillars–
Hiring – Focused efforts towards attracting and onboarding diverse talent pool. The company aims to hire 1000 + women engineers in FY24, to strengthen its gender diversity ratio further and has identified specific opportunities for women.
Communication- Creating more platforms for employee participation and dialogues with an aim to break the bias and build a culture of inclusivity ground up. The company also recognizes women innovators within the organization through the SHEnnovator campaign.
Growth- Grooming women leaders for tomorrow through the LeaderBridge-WINGS program, a 6-month developmental intervention aimed at helping women employees develop their leadership potential further and excel in their careers.
Enabling- Aimed at creating a conducive ecosystem and infrastructure that nurtures a diverse workforce.
The campaign was launched with a new diversity focused microsite, YouTube campaign video, Linked In post, Instagram post, Facebook post, Twitter post
This year educate yourself and develop your career with EasyShiksha