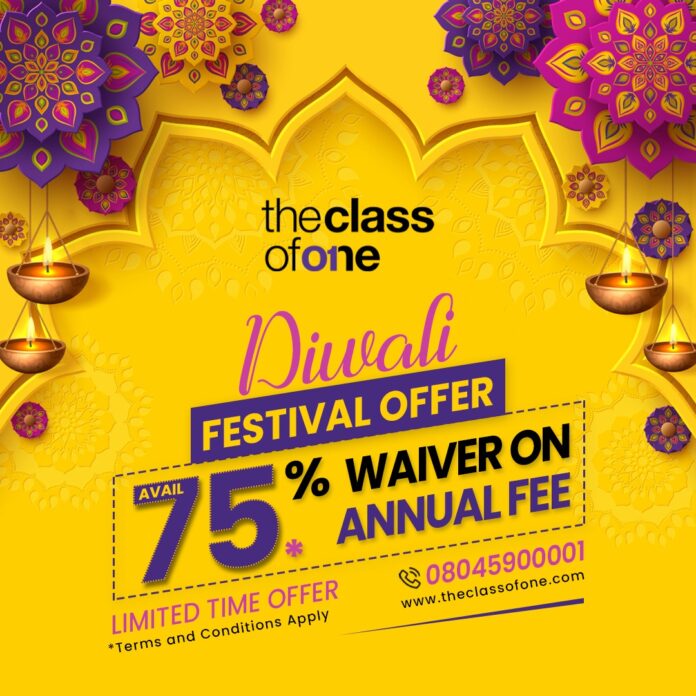 India's leading online school, The Class of One (TCO1), announced a waiver of 75% on its annual fees as its special Diwali festival offer for students. In an effort to boost affordable education for a broad spectrum of students, The Class of One has released a new package.
TCO1 is an NCR-based online school which introduces special discount offers for homeschoolers, mid-term admission seekers, medically disadvantaged, and geographically disadvantaged children. The Diwali festival offer will be applicable till October end.
A few months ago, the online school came up with an innovative campaign named Edu4All. The vision behind the initiative was to facilitate quality-based, affordable education for students, irrespective of their class and background. The Diwali festive offer is a proactive product of this.
Also Read: upGrad's workforce donates their Annual Gifting Budget towards a Scholarship Fund this Festive Season
TCO1, in the past launched waiver packages for girl children, army kids, and general students. The Class of One provides online schooling from 1st to 8th Standard. It has recently marked admissions open for the 2022-23 batch on its website.
Along with the Foundation Toddler Program and NCERT Curriculum, TCO1 has also adopted an International UK Curriculum for foreign students. TCO1 admit students from India and abroad.
Announcing the 75% waiver on annual fees under Diwali festive offer, Ms. Divya Jain, Founder and Director, TCO1, said, "It's a groundbreaking step to make education accessible and economical for a vast proportion of students. Festive seasons are a reason to celebrate, and this is why we picked the occasion to launch our new package. This will give students another reason to celebrate and allow them to get exposure to qualitative and international quality education."
Visit EasyShiksha for skill development courses.