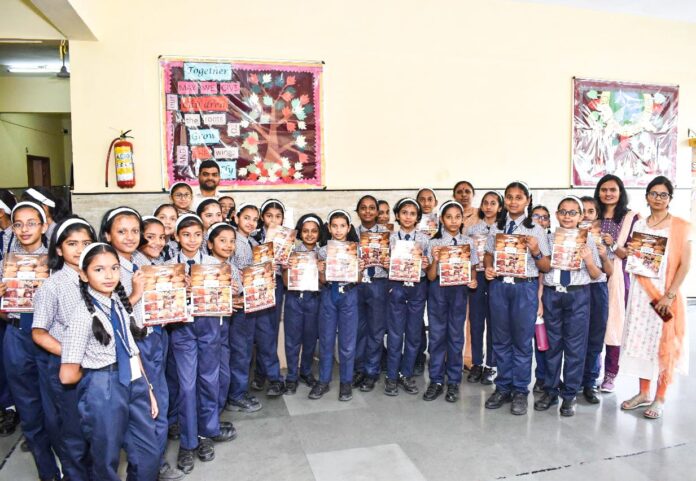 Pune- 10th May'23- The Lexicon School Hadapsar, an educational institution in Pune, recently organized a workshop on "The importance of millets" to educate students about the significance of incorporating millets into their diets. The workshop was conducted by Mr. Mahesh Londhe, Founder and CEO of AgroZee Organics Pvt Ltd, who has been actively working on reducing malnutrition and increasing the bioavailability of iron in millets.
ALSO READ: Amity University Mumbai Tops Times Ranking Business School Survey 2023
Established in 2013, The Lexicon School at Hadapsar is a leading educational facility in Pune, Maharashtra, giving students a complete educational experience that places a strong emphasis on their entire growth. The workshop was aimed at developing well-rounded individuals who can flourish in a world that is changing quickly by placing a high focus on health in addition to academics, extracurricular activities, and value-based education.
With the United Nations designating 2023 as the International Year of Millets, the workshop was said to align with the school's theme for the year: Health, Fitness, Happiness, and Gratitude. Mr. Mahesh emphasized the importance of incorporating millets into daily meals, urging the students to include them in their lunch boxes. He further emphasized that consuming millets regularly contributes to overall fitness, promotes an active lifestyle, and strengthens muscles.
Dr. Annapurna Lilly Bipinraj, Principal of The Lexicon School, Hadapsar, emphasized the importance of the workshop, stating that "Our goal at The Lexicon School is to empower our students to become responsible and mindful citizens who are aware of the impact of their choices on their health and the environment. This workshop on the health benefits of millet is a step towards achieving that goal. We believe that by educating our students about the value of incorporating millets into their diets, we are not only promoting their physical well-being but also encouraging them to make informed and sustainable choices. We are grateful to Mr. Mahesh Londhe for his invaluable contribution to creating a healthier and more conscious generation of students."
During the workshop, the students had the opportunity to observe the different types of millets and explore various food products made by AgroZee. This hands-on experience allowed them to understand the versatility and potential of millets in culinary applications.
The students learned that millets are highly nutritious and address important health needs. With a low glycaemic index, millets help reduce blood glucose levels, lowering the risk of developing type 2 diabetes. They are rich in iron, calcium, zinc, and fibre, making them a smart choice. The students learned that millets grows quickly and the crop matures in almost half the time required for rice and wheat.

In today's fast-paced world dominated by fast food and advancing technology, it is crucial for students to connect with their roots and explore alternative sources of healthy food, Mr. Mahesh addressed the students, highlighting the benefits of millets and their role in building a healthy lifestyle. Millets, come in 9 different types – Pearl Millet, Finger Millet, Sorghum Millet, Brown Top Millet, Foxtail Millet, Barnyard Millet, Kodo Millet, Little Millet, and Proso Millet, he added.
The presence of magnesium in millet can also alleviate the effects of migraines and heart attacks. Additionally, millets are gluten-free and non-allergenic, making them suitable for individuals with dietary restrictions. Their high protein content makes millet an excellent addition to a vegetarian diet. By raising awareness about millets and their benefits, the school is encouraging students to make conscious and sustainable choices for both their health and the environment.
This year educate yourself and develop your career with EasyShiksha