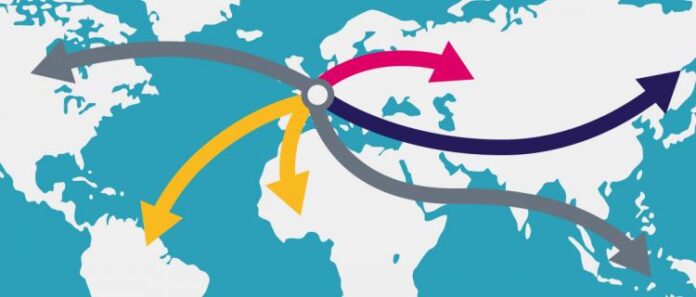 26th November 2022, NEW DELHI: We are not saying that dollar prominence should come down, but rupee prominence should go up. We are aiming for rupee acceptance, rupee related and currency paired rupee market should develop liquidity and depth. It will not happen in days, months or years, it might take decades but we have to plan for that, stated Dr Deepak Kumar, Executive Director, Reserve Bank of India (RBI) at the open house discussion on International Trade Settlement in Indian Rupees (INR) – A Way Forward. He said that it is important to understand cross border transactions in today's scenario with the dollar as the prominent currency in the market today.
Dr Kumar, who was chief guest at the event organized by PHD Chamber of Commerce and Industry (PHDCCI), gave insights into the need to encourage international trade settlement in INR, the mechanism involved and challenges in it. He elaborated that this year's geopolitics has told us that we have to move towards self-reliance. Atmanirbhar is a must. WTO multilateral relations days are not that blooming, but gloomy because multilateral financing infrastructure, like Swift, has been recognized.
Talking about cross border transactions, he said, the value of cross border transactions is 150 trillion in 2022, out of which 80% is in dollars. In 2030, 150 will become 300; however, those expectations will not be met because the economic condition of the USA is in the opposite direction. There will be a liquidity crisis, so we should use this vacuum to squeeze in and occupy that place.
He added, the reason for India being able to make its place is because our manufacturing, spending and cross supply chain is getting global day-by-day. Asset management and global flow is also happening, so enabling the economic environment and transactional environment is also moving in a favourable direction. This year maximum admission in foreign universities is from India. It has surpassed China. This, he explained, meant greater integration. If more and more people are getting admission, its multiplier effect will be more. Today our position has increased. Earlier, we used to say brain-drain, but it's paying dividends now. Brand India is getting popular because we are doing better in the developed market.
Also read: International Teachers' Olympiad 2022 Announces ₹10 Lakhs Cash Prizes for Top 100 Teachers
While elaborating on the challenges, he shared that capital control, documentation, balance of payment reporting, complexities of settlement and compliance, among others, were elements of friction that can be resolved with standardised regulation and innovative technology, like RTGS 24×7.
Mr Hemant Jain, Vice President, PHDCCI in his address, congratulated the Government of India and RBI for the decision for allowing trade settlement between India and other countries in Indian rupees. He added, this measure is aimed to facilitate the growth of global trade with an emphasis on export from India and to support the interest of the global trading community in Indian rupees. It will also help check the dollar outflow and slow the depreciation of the rupee but to a limited extent.
Visit EasyShiksha for skill development