PHDCCI-Kashmir in association with Directorate of Handicrafts and Handloom Kashmir and with the support of Department of Commerce-Ministry of Commerce & Industry Government of India in a series of programs conducted the Third Capacity Building programme for the Artisans of Namda Manufacturers on 14th -15th September at Conference Hall of Numaish (Kashmir Haat) Srinagar. The main feature of Programme was the interaction between Namda Artisans and Director Handicrafts & Handloom Kashmir Mr Mehmood Ahmad Shah (JKAS)

The Completion of Registration process and manufacturing of Namdas prepared by School of Designs and making the Specific Machines at Bagialimardan operational at common Facility Center for Namda manufacturers were the decisions taken by Director Handicrafts during the programme. It was also decided to have a Joint meeting with SKUAST experts regarding sourcing of Raw Material for Namda and other technical interventions from NID for Design intervention that helps in the revival of NAMDA crafts and through these interventions it will be ensured that new models can be developed for several manufacturing processes of Namda that includes Carding, creating border, layer, sprinkling of Soap and finally rolling and drying , for revitalizing this craft to develop new products to create livelihood opportunities for the Artisans said, Mehmood Shah " He further added that the Namda is a very important part of a Kashmiri household and there will be next to no houses without these rugs , He further added that Namda craft is a rug made of sheep wool through felting technique instead of normal weaving process. Due to low availability of raw material, lack of skilled manpower and marketing techniques, the export of this craft has declined almost 100 percent between 1998 and 2008. The Handicrafts department through these Capacity Building Programs and other training programs will contribute towards preserving and reviving the rich heritage associated with Namda craft in Kashmir.
ALSO READ : Three Timing @Select CITYWALK

The programme was attended by 26-Artisans of Namda from various areas and craft clusters of Srinagar District. Mr Riyaz Ahmed Kawoosa Assistant Director Publicity and Exhibitions Department and Handicrafts and Handloom Kashmir was also present on the occasion.  The resource person Mr Qalab Hussain, Designer School of Designs highlighted on topics, importance of design in crafts, creation of refined design for export quality, New & Innovative Design Development & Quality Improvement. Dr M Ashraf Parray Assistant professor Department of Management Studies IUST University explained to the artisans Concepts of marketing, definition and scope of digital marketing, different types of digital marketing tools, how to analyse their functions and benefits, Select the best Digital Marketing platform by analysing their importance and usage and he also guided and provide insight to the  artisans  how to create their own social media platforms and to post the details of their products and their skills. He further taught them the designs to create their own catalogues and nuances of conversational commerce and trained them to identify the threats and challenges in Digital Marketing.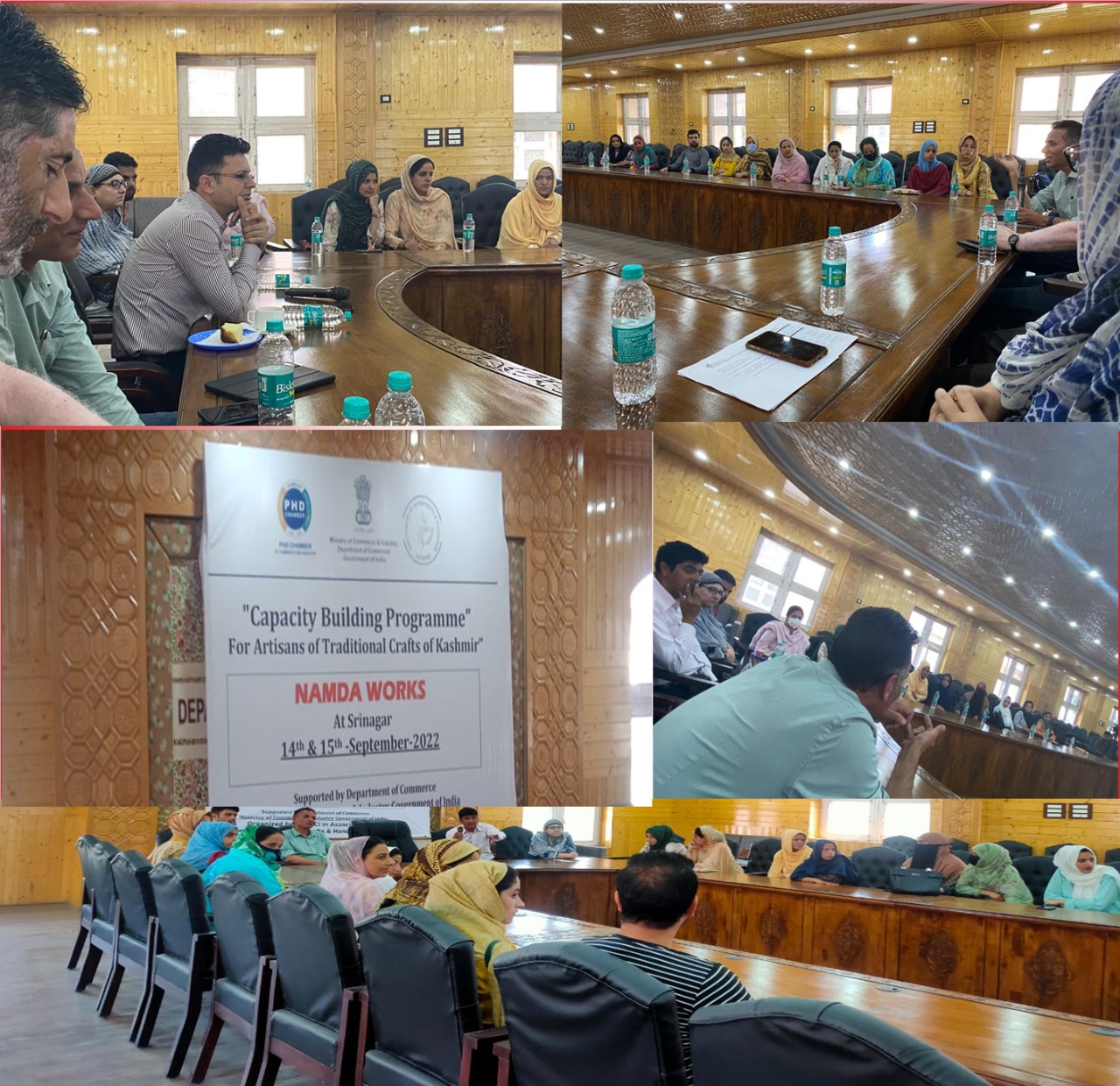 Dr Mohd Sayyed Bhat from Institute of Chemical Technology -Mumbai explained the importance of Packaging to the artisans and made them understand the importance of packaging for Handicraft particularly for Namda
The artisans of Namda were also made to visit the school of designs by Ms Shahena Bhat Designer School of Designs wherein they observed the New Design Pattern of Namdas and also various designs that were prepared and designed by School of designs were shared with Artisans. It was told to the artisans to often visit the school of Designs for latest designs and quality improvement of your products.

While applauding the role of the Handicraft Department and PHDCCI for arranging such a wonderful awareness workshop the Artisans, said that they have gained and enriched a lot through the two-day program and will adopt the techniques learnt in the packaging, designing and Marketing of their products
The Event was sponsored by PHDCCI's Annual Sponsors – Multani Pharmaceuticals Ltd; Star Wire; PG Industry; Uflex Ltd; DLF Ltd; Continental Carriers Pvt Ltd; Belair Travel & Cargo Pvt Ltd; Radico Khaitan Ltd; Jindal Steel & Power; MMG Group; Paramount Communications; Superior Industries Limited; JK Tyre & Industries Ltd; SMC Investments and Advisors Ltd; Crystal Crop Protection Ltd; Sagar Group of Industries; Samsung India Electronics; Comtech Interio; R E Rogers; AYUSH Herbs Private Ltd; Apeejay Stya Group; DCM Shriram; EaseMyTrip; Blossom Kochhar Beauty Products Pvt Ltd; Oswal Greentech; Trident Group; MV Cotspin Ltd; Synergy Environics Ltd; Ajit Industries Pvt Ltd; P S BEDI & Co.; Indian Farmer &Fertilizers Corporation Ltd; Jindal Steel; Hindware Sanitary; Modern Automobiles; Livit Ltd; Central Coalfields Ltd ; Axa Parenterals; Bhagwati Plastic and Pipes Industries; J K Insurance Brokers Ltd; DD Pharmaceutical Ltd.
Visit EasyShiksha for skill development courses.