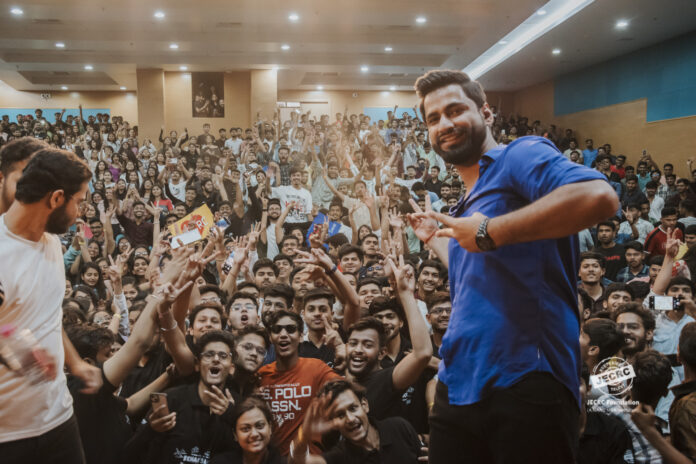 JECRC College has just begun its techno-cultural festival, Renaissance 2023, from the 13th to the 15th of April this year. Renaissance is a fest organized by the students of JECRC, Jaipur every year to acknowledge their great ideas not only in techno but also in cultural events. This year's fest started with double the excitement than last year. Famous stand-up comedian Harsh Gujral became the star of the fest on the first day, and his jokes echoed laughter and enthusiasm throughout the campus.
ALSO READ: World-Class Management Education: The Top Colleges You Need to Know About
It is noted that more than 10,000+ children from over 50+ cities across India registered for the fest, which is going to be Rajasthan's biggest techno-cultural festival with the enthusiasm of 60+ events on campus. The fest started with Beat-the-Beats and Formula Zero. Wherein Beat-the-Beats, the participants presented their own music made from various instruments, while in Formula Zero, they had hard races with their own made robots. In addition to this, Open Mic, IPL Auction, Tambola, and Game of Ciphers were also part of this fest.
Arjun Kanungo, a famous singer, composer, and YouTuber, is also going to be a part of the fest. Students of the college commented that they are very excited to be a part of such a big festival and they are looking forward to participating in various events.
Overall, the fest is going to be a great platform for the students to showcase their creativity and talent and also to learn from others.

Vice Chairman of JECRC, Arpit Agrawal, stated that he believes this type of fest is necessary for the "holistic development" of students. Participating in these activities outside of their comfort zone will increase their self-confidence and emotional quotient along with their intelligence.
Student Development Officer (SDO) Pranshu Sharma and Mohak Khanduja expressed their pride in the event, stating that all the students have been working hard for months, which will definitely be reflected in these three days.
This year Educate yourself and develop your career with EasyShiksha.