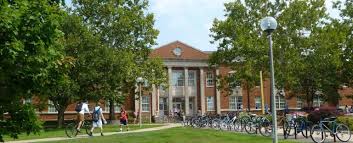 – The university has extended last date of admission for General Sciences, Computer Science, Statistics, Psychology, Communication and Business Management programmes
– Interested candidates can apply for the programme through the website https://international.truman.edu/southasia/ – before 15 July 2022
– Special merit-based scholarships of up to US $10,000 are also available for Indian students
Truman State University is inviting applications for STEM and Non-STEM programmes, viz, Computer Science, Physics, Chemistry, Biology, Biochemistry, Statistics, Psychology, Accounting, Economics, Communication and Business Administration programmes. Truman offers industry relevant tertiary education and career opportunities for those aspiring for international education. On-campus classes are scheduled to commence from 17 August 2022.
"Being a student-centric university, we intend to welcome diverse minds coming from different cultures and nations on our campus," Tim Urbonya, Executive Director of International Education at Truman said. "Education in STEM and Non-STEM courses will open a new gateway of opportunities for aspirants from India. By nurturing talent, our aim is to empower young minds to lead and bring a positive change in the economic growth and sustainable development for their country," he said.
Top Courses in Arts & Photography
More Courses With Certification
Urbonya said "We have been receiving strong interest throughout the world, including from Indian parents and students. We received more than 3,000 international student applications for the Fall 2022 intake and our Indian applicant pool is strong. Our STEM and Non-STEM courses at UG/PG level are curated thoughtfully to offer world-class education to them. With the right blend of science and liberal arts, we are confident to empower students with the essential skills that will help them adapt to the career opportunities in this advancing and uncertain world."
Truman introduced special merit-based scholarships of up to US $10,000 for meritorious students from India. The deadline to apply for Fall semester scholarship consideration has been extended to consideration is 15 July 2022.
Truman's commitment to academic excellence has nurtured a culture of learning that has earned it U.S. News & World Report's top ranking among public universities in the Midwest of the United States for 25 consecutive years.
Since 1914, Truman State University has been accredited by the Higher Learning Commission of the North Central Association of Colleges and Schools. Truman has maintained full accreditation for all of its programmes through the years.
Interested and eligible students can apply online at https://international.truman.edu/southasia/
ALSO READ : Times Pro, Siemens extends technical support to JECRC University for launch of B.Tech. Program with Electrical Vehicle Specialization
About Truman State University
(https://international.truman.edu/new-students/southasia/ )
Truman State University, Missouri's public liberal arts and sciences university, began September 2, 1867, when Joseph Baldwin opened the North Missouri Normal School and Commercial College. Truman bears a long history of name changes, each reflecting a new institutional mission. Under the guidance of visionary leaders and dedicated faculty, a strong focus on student learning has remained a common thread for the institution. Truman has continued to build its assessment program, the purpose of which is to ensure that each of its students receives the highest-quality liberal arts and sciences education, tailored to his or her needs, and an academic degree of integrity. Numerous institutions, authors, and leaders in higher education have cited the program as a viable model to emulate in efforts to ensure educational accountability. Continuity of purpose is evident in the growth and changes of Truman. The University has consistently been committed to academic excellence and has espoused the belief that a strong education is the best means of preparing for a life of continuing personal growth and service. Moreover, its historic mission to improve the preparation of teachers has prompted the University to be among the nation's leaders in making education more professional. Commitment, unity of purpose, and concentration on student learning – putting first things first – have brought Truman to its present mission and academic excellence. Truman has achieved a national reputation for providing graduates with high reputation credentials.
Ranks and recognitions
No. 1 public school in the Midwest region for 25 years.
—U.S. News & World Report "America's Best Colleges" (2021)
One of the top 10 public schools is named as a "Best Buy" offering outstanding educational value.
—Fiske Guide to Colleges (2022)
No. 12 best master's university in the nation.
—Washington Monthly (2020)
Ranked as one of the nation's best institutions for undergraduates to earn their college degrees.
—Princeton Review College Guide (2021)
visit EasyShiksha for skill development