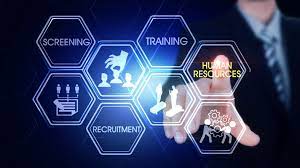 New Delhi, 11th April 2023 – uKnowva recently held a panel discussion titled "Partnership of HR and Tech to Bring Excellence." Esteemed industry leaders including Madhavii Lall, the Head of Human Resources for India at Deutsche Bank, Nitin Khurana, the Global Talent Acquisition Head at Indegene, Vicky Jain, the Founder and CEO of uKnowva, Ranu Parwal, the Founder of Acura Solutions & SkillsConnect.in, and Sunil Kabra, the Director at Ace Human Capital, participated in this webinar with a wealth of expertise and a keen interest in the topic. The event was hosted by Bistriti Poddar, Chief Communications Officer at uKnowva.
ALSO READ: Robotic Surgery – Changing the Future of Healthcare
In today's business landscape, almost every company offers web-based applications and technology-driven solutions to provide universal access to HR services. This has brought a significant change in the traditional practice of human resource management, driven by the need to optimise costs and enhance service delivery. According to recent research, companies that effectively adopt advanced HR technology tools outperform their counterparts that do not. However, as most businesses have already automated basic HR administration, mere process automation may no longer guarantee a competitive edge. Instead, companies must explore innovative ways of leveraging technology to transform their HR practices and stay ahead of the curve. Emphasising the same, Madhavii Lall pointed out that prior to investing in smarter talent-building tools, it is crucial to identify the strategic needs of the business. By doing so, companies can ensure that they invest in the right tools and strategies to develop the talent they need to succeed.
Simultaneously, Nitin Khurana highlighted that while seeking smarter HRMS tools for various levels of employees, including freshers, laterals and top management, organisations and HR professionals must choose the solution that aligns with their business requirements. Furthermore, it is essential to select a tool that provides the best return on investment (ROI). By doing so, companies can optimise their HR processes and drive business success while avoiding unnecessary expenses. It is evident that there is no one-size-fits-all solution for every HR need, which highlights the need for the availability of multiple HR solutions tailored for different types of employees within an organisation.

"In today's digital-first work environment, HR leaders face the challenge of developing effective strategies to manage their people and human capital. To optimise workforce strategy, improve employee experiences, and enhance HR operations, there is a growing need for HR tech solutions.
Implementing HR technology can provide businesses with an integrated platform to streamline communication and coordination, resulting in increased workplace efficiency and interoperability. With economic uncertainty on the horizon, integrating modern technology such as AI, ML, and Analytics, along with a strong foundation of Cloud, has become essential to provide CHROs across industries with flexibility, better resource allocation, and automation support. This has effectively streamlined recruitment and internal HR processes for organisations. Overall, this implementation has given HR leaders and organisations an advantage in managing their workforce and utilising modern technologies to attract and retain new employees" said Vicky Jain, Co-Founder and CEO of uKnowva.
Sunil Kabra agreed with the panel's perspective on using smarter tools to enhance team and organisational discipline. However, he pointed out that it might be difficult to completely replace traditional Excel workbooks for Millennials and older generations who are accustomed to using them. Despite this, he believes that transitioning to smarter tools is a worthwhile journey that can lead to valuable experiences and benefits for organisations.
This year Educate yourself and develop your career with EasyShiksha