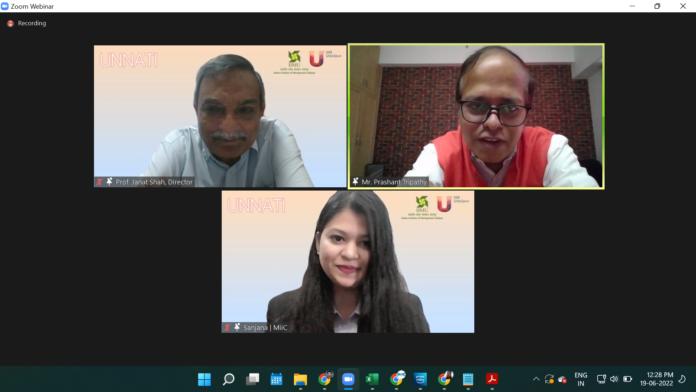 IIM Udaipur Concludes Fourth Edition of Unnati '22 – Annual Engagement and Learning pre-boarding Program forincoming MBA Batch
Udaipur, 23rd June 2022: IIM Udaipur concluded the fourth edition of Unnati '22 – Annual Engagement and Learning Programthat is a pre-boarding engagement for the incoming MBA batch of 2022-24. The week-long event Unnati'22 comprised of interactive sessions with industry experts and inspirational talks from the Faculty, Members of IIMU Board of Governors, Alumni, and Industry Leaders. The theme of Unnati '22 was 'Be U – Identifying the Unique Self' that offered a learning experience tothe incoming batch of 2022-24 who will be starting their transformational journey at IIM Udaipur in June end.
ALSO READ: https://news.easyshiksha.com/iilm-college-engineering-and-technology-acquires-university-status/
In the opening session 'Parichay-Transforming Present Reimagining Future', Prof. Janat ShahDirector, IIM Udaipur, said, "We are delighted to welcome the students and accelerate the learning process by recognizing the need for future business leaders to be adaptive and innovative in the face of an unpredictable ever-changing business and global challenges. Students will gain valuable insights from themembers of the Board of Governors, Alumni, Faculty, and Industry Leaders, as well as setting goals towards themselves, the institute, and the next two years."
Sharing her experiential journey with the students,Mythily Ramesh, Co-founder and CEO of NextWealth and Board Member IIMU, said, "One must be like the elements of nature. Be like Fire – give 100% to everything and forge your own paths as you progress in life. Think like Water – broaden your horizons, do different things in a unique way, and consider the problems as opportunities to achieve life's goals. Open to the Air – Avoid comparing yourself to others. Everyone is unique and on his or her own path. Aim high and do whatever it takes to get there. Revolve like the Earth – be grounded, stay true to your roots, and have strong moral values. Think of space – take care of yourself, prioritise your personal goals. Follow the MEDS mantra, where M stands for Mind & Meditation, E for Exercise, D for a healthy diet, and S stands for Sound Sleep. Be grateful to your family, count your blessings, and enjoy your two years at IIMU."

Interacting with the students on the last day of Unnati, Prashant Tripathy, MD and CEO, Max Life Insurance, said, "Understanding megatrends in the coming years are critical. The way of interaction with the world is changing at an unprecedented rate. This will shape consumer trends, habits, and thinking. Consider the big trends; it will provide you with multiple opportunities and will help you stay relevant in changing times. Never resist but embrace the change.
Furthermore, Prof. Sandhya Bhatiaaddressed the seminar by discussing the high-quality learning experience and opportunities in IIMU. She mentioned the 2030 vision and the transformative path of bringing out the best in students.
Unnati ended with a session on "Mental Health & Stress Management Session" led by ArchitaSobti who shed some light on how one should handle stress and take care of their mental health.
visit EasyShiksha for skill development