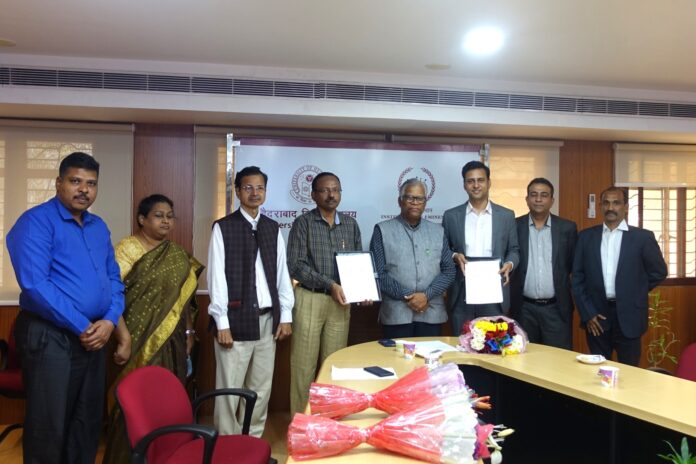 Hyderabad: The University of Hyderabad (UoH) and TimesPro have strategically collaborated to offer new-age management programmes for learners in India and overseas to equip themselves with modern business practices and build competencies to elevate their careers. The collaboration will commence with the introduction of six programmes catering to various industry domains.
The MoU was signed by Dr. Devesh Nigam, Registrar, University of Hyderabad and Arun Kabra, CFO & President Enterprise Business, TimesPro on January 11, 2023, in the presence of Prof. B J Rao, Vice-Chancellor, Prof. Mary Jessica, Dean, School of Management Studies, Dr. S Jeelani, Director-CDVL, Dr. I Lokananda Reddy, UoH, Kuldeep Pareek and MVR Padma Raju from TimesPro.
The University of Hyderabad (UoH) and TimesPro will offer the Diploma in Project Management (DPM), Diploma in Business Management, Diploma in Business Finance Management (DBFM), Diploma in Business Analytics (DBA), Diploma in Digital Marketing Management and Diploma in Financial Wellbeing & Wealth Management programmes. These programmes shall be for students across the globe through the Centre for Distance Virtual and Learning (CDVL) with the support of School of Management studies at the University. Students will stand to earn 40 credits that qualify for the Academic Bank of Credit. These credits can be utilised for master's degree in future.
The programmes will go LIVE over the forthcoming months and will be conducted via TimesPro's state-of-the-art Interactive Learning (IL) platform and delivered in Direct-to-Device (D2D) mode. It will equip our learners to build future-ready capabilities and a strong foundation across domains through our pedagogy that follows a judicious blend of lectures, case studies, assignments, capstone projects, etc., essential for career progression. TimesPro will capitalize on its industry presence by assisting our learners with employment opportunities.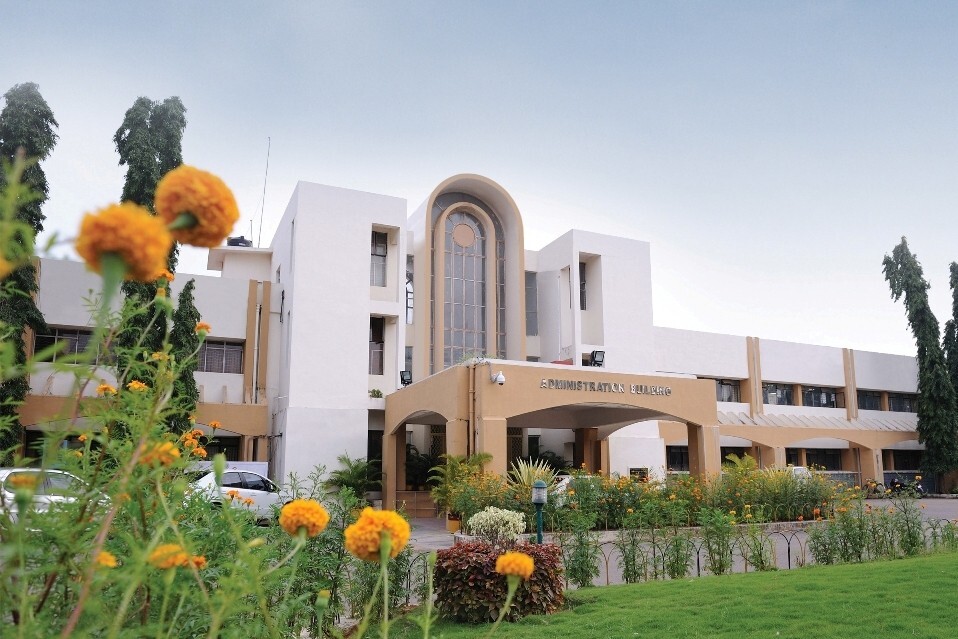 Prof. B.J. Rao, Vice-Chancellor, University of Hyderabad, said, "The MoU between TimesPro and UoH (CDVL) is a happy culmination of two active entities for imparting education for SKILLS. We hope that this MoU will lead to multiple courses being offered across distance for a large number of students."
Arun Kabra, President, Enterprise Business & CFO, TimesPro, said, "We are delighted to offer the new-age management programmes in collaboration with the prestigious University of Hyderabad to equip our learners with future-centric skillsets, build competencies and stay in sync with the requirements of Industry 4.0. Learners will gain immense knowledge through UoH academicians and TimesPro industry experts who will train them to counter the challenges of the VUCA world and get them ready for placement in corporates."
The Centre for Distance Virtual and Learning has over the years enrolled more than 25,000 students and has its online courses approved by UGC-AICTE-DEB. CDVL is a National Consultative committee member recognised by both UGC and NAAC. It is also recognised by the World Educational Services (WES), Toronto and New York.
About University of Hyderabad:
The University of Hyderabad is a Premier University and recognised as an Institution of Eminence (IoE) in the country. Established in 1974 by an Act of the Parliament, UoH has grown over the years to be among the Top Ten universities in India and among the Top 3% Universities in the World as per QS World Rankings 2023. It continues to be in the top position in the latest Nature Index 2022 rankings and is first among Indian Universities. Today the UoH is among the Top 25 virtually active institutions among all Private, State, Central Universities as well as technical institutes of the country. The University has seen considerable and steady growth, with the introduction of new courses and programs of study, new disciplines, and new initiatives. Focused on quality and affordable higher education, UoH remains steadfast in its commitment to "national needs, global standards".
Also Read: NMIMS' inspiring two-decade journey – From a Business School to a nationally recognized University
About TimesPro:
TimesPro, established in 2013, is a leading Higher EdTech platform dedicated to empowering the career growth of aspiring learners by equipping them with skills to rise in a competitive world. TimesPro's H.EdTech programmes are created to meet the rapidly changing industry requirements and have been blended with technology to make them accessible & affordable.
TimesPro offers a variety of created and curated learning programmes across a range of categories, industries, and age groups. They include employment-oriented early career programmes across BFSI, e-Commerce, and technology sectors; executive education for working professionals in collaboration with premier educational institutions like IIMs and IITs; and organisational learning and development interventions at the corporate level.
TimesPro also collaborates with India's leading MNCs across varied sectors to provide upskilling and reskilling solutions to boost employability and create a robust workforce. TimesPro is a Higher EdTech initiative by the Times of India Group.
This year Educate yourself and develop your skills with EasyShiksha