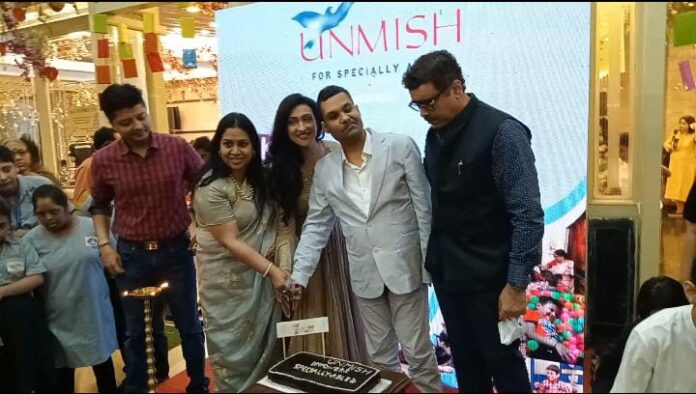 Empowering Special Children Through Various Activities and Skill-Set Learnings
Kolkata, June 26, 2022: Kolkata-based non-profit organization UNMISH organized their 7th edition, Poornam'22 – 'Ek Muskaan ke Liye' on 26th June (Sunday) at Ballygunge. Ek Muskaan ke Liye was conceptualized by Unmish's Founder Director, Nita Diwan with the aim of empowering the specially-abled to be skilled, lead an independent life and be contributing members of the society. This initiative was undertaken to train the special ones to be gainfully employed and live dignified lives. 
ALSO READ:https://news.easyshiksha.com/modern-english-school-guwahati-celebrates-8th-international-yoga-day/
Through this endeavor, UNMISH reaffirmed its ethos of working closely with special children and their families for a child's overall development -a step towards an inclusive society. They have created a lot of awareness, acceptance, and inclusive programs in the past. The organization is now concentrating on preparing the children to be self-sufficient and employable.
POORNAM 22 – 'Ek Muskaan ke Liye,'  the 7th edition of the event, was curated to provide a day for specially-abled children and adults to explore, empower, and enjoy themselves through a variety of activities such as culinary workshops in collaboration with IIHM, textile workshops conducted by designer Ajay Kumar, sports, games, cultural events such as music and dance performances, art exhibitions, showcasing paintings made by children at Unmish. The occasion showcased an art and product exhibition created by UDAAN – UNMISH's Vocational Unit.
Important Announcement – EasyShiksha has now started Online Internship Program "Ab India Sikhega Ghar Se"
Rituparna Sengupta, Indian Film Actress and Producer; Rupkatha Sarkar Principal of La Martiniere for Girls; Priyadarshini Hakim, Mayor's Daughter; Subhrajit Mitra, Indian Film Director; Pandit Tanmoy Bose, India Percussionist and Tabla Player; Bickram Ghosh, Indian Classical Table Player and Music Composer; Dr. Sudha Kaul, Indian Social Worker and Vice Chairperson of the Indian Institute of Cerebral Palsy; Alokananda Roy and Consul Generals of America, Japan, Australia, Fabrice Plancon and other notables were present at the occasion to cheer the youngsters.
On this special occasion, Damayanti Mukherjee, Principal of Modern High School, Kolkata, shared her thoughts, "I am deeply appreciative of the work that UNMISH does, not only because of the nature of the work but also because of the fact that it is done throughout the year. Various kinds of activities placing children in segments where they get respect. It is very important to remember this word 'respect' in context of special education or special children. Now, when we interact with them, I see that most of us adults tend to suddenly lapse into as though we are talking to a two year or a three years old. Now, we must understand that inspite of the difficulties that they have, they are children who are also capable of some of the age appropriate actions, understandings, as well as their reactions are all as good as yours or mine. So therefore, UNMISH does everything from the point of empathy, which always have a component of respect, rather than from the point of sympathy which has the element of pity. The workshop arranged for the specially-abled children are wonderful. These are the kinds of activities we need to think about children of special requirements, in terms of their employability, sustainable living, in terms of them being respected and equal members of society and we need to create opportunities to train them and to make them excel in everything that they are able to do within the context of their skills and abilities".
Rupkatha Sarkar Principal of La Martiniere for Girls commented on the event, "Congratulations to Mrs. Nita Diwan and her team UNMISH for a wonderful program like 'Ek Muskaan ke Liye', I am sure this program and such ventures will build self-confidence in the specially abled children and their families and it was happening to see students volunteer from different schools giving up their time on a Sunday morning to be with the specially abled children. I hope we will build awareness that the specially abled children are equally talented and can contribute productively to society".
Seema Sapru, Principal of The Heritage School, Kolkata said, "UNMISH, under the able guidance of Ms Nita Diwan is forging ahead, empowering students with special needs. The concept of a graduate degree in social skills is unique. I wish her and her students the very best".
People from different walks of life like bureaucrats, actors, philanthropists, dancers, singers, designers graced the occasion to support and encourage this cause. Special schools and different people working in the special needs department like therapists, special educators, psychologists and NGOs also participated with full floured at the event. Millennium Mams', Round Table 4, Nidhi Poddar Emerald Events and many more assisted with logistics and volunteers.
UNMISH in collaboration with IIHM conducted a culinary workshop with their celebrated chefs for their special ones in accordance with the plan framed by UNMISH. Renowned designer Ajay Kumar and a few others also conducted a textile workshop where they were taught about fabric dyes and simple techniques that can be used to make designer products for a viable market. Different sports activities were also organized as physical fitness is a huge challenge with special needs on the same day. UNMISH's children participated in that with hand-in-hand with regular school and college students, as volunteers, exhibiting the core idea of the event, irrespective of their abilities, they were no less. In addition to these activities, games, cultural events and dance performances was also staged by the volunteers. Various prizes were distributed to the participants for their achievements.
About UNMISH:
UNMISH conceptualized by Nita Diwan embarked on its journey in 2009. A non-profit organization registered under The Society Act, strives for an 'Inclusive Society' with a vision of changing the lives of children and young adults with special needs. UNMISH, strongly believes that each child or adult, however challenged deserves an opportunity to be his/her best and carve a niche in the society. The team is committed to clinical excellence, compassion, and coordinated care to prepare them for a better and dignified life. Located in New Alipore, UNMISH started with one child and has grown into a school, a therapy and a vocational unit with specialists and has worked with over 1,300 children till date. Being a self-help group specializing in assistive and rehabilitation technology, UNMISH is dedicated in improving the quality of life of parents and their children.
To know more about this organization, visit www.UNMISH.com
Visit EasyShiksha for skill development