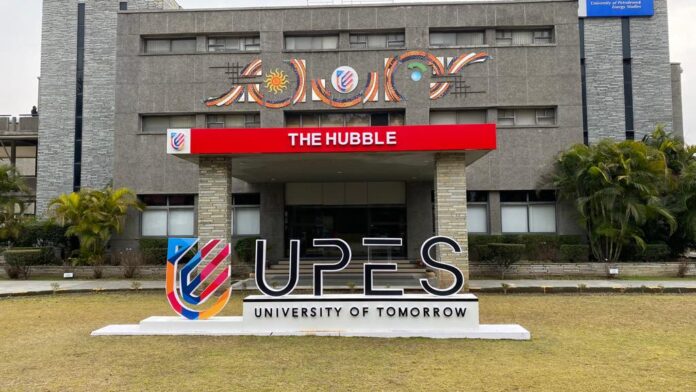 The new Digital Innovation Scholarships are funded by Meta and reserved for students from underprivileged backgrounds
May 25, 2022: UPES School of Modern Media today announced that it will offer full scholarships to select students to pursue its digital-first media programs. The scholarship is offered on all the undergraduate media programs namely BA in Journalism and Mass Communication, BA in Digital and Mass Media and BBA in Events, Public Relations and Corporate Communications. These new Digital Innovation Scholarships are funded by Meta (formerly Facebook) and reserved for students from underprivileged backgrounds to support their first career steps into the expanding space of digital media. Six scholarships will be awarded this year and their recipients will be chosen via a competitive nationwide entrance examination conducted by UPES.
Elaborating on the announcement, Dr Nalin Mehta, Dean, UPES School of Modern Media said, "Digital technologies have proved to be a great leveller across many social divides and as India's only digital-first media school we are committed to providing best-in-class digital media education to India's best and brightest by removing access barriers. We are delighted that Meta is supporting this initiative by funding our inaugural Digital Innovation Scholarships. We are focused on providing the most cutting-edge training to the best young talent in the country and preparing them for the needs of the digital media industry. This scholarship program opens up new opportunities for talented young students who were so far held back from the best opportunities due to financial barriers."
UPES School of Modern Media is India's only digital-first media school. Its courses – which are designed, developed and delivered by the best in the media industry – are focused on imparting new-age media literacy to students. The school prepares students to put learning into practice through its state-of-the-art studios, industry-aligned curriculum, interactions with eminent journalists and distinguished media scholars, and employment-relevant training.
ALSO READ: Use of Growth Hormone in Prader – Willi Syndrome
About UPES:
Established in 2003 through the UPES Act, 2003 of the State Legislature of Uttarakhand, UPES is a UGC-recognized university and has been accredited grade 'A' by NAAC. National Institutional Ranking Framework (NIRF), Ministry of Education, has ranked UPES amongst the top 100 universities to study in India, the School of Engineering at UPES has been ranked 91 among 300 institutions, School of Business is ranked 46 amongst 100 institutions and School of Law is amongst top 25 institutions in India. The university has received 5-Stars on Employability (placements), by globally acclaimed QS Rating, with 90%+ placements over the last few years.
UPES offers graduate and postgraduate programs through its eight schools: School of Engineering, School of Computer Science, School of Design, School of Law, School of Business, School of Health Sciences & Technology, School of Modern Media, and School of Liberal Studies.
Visit EasyShiksha for Education related enquiry