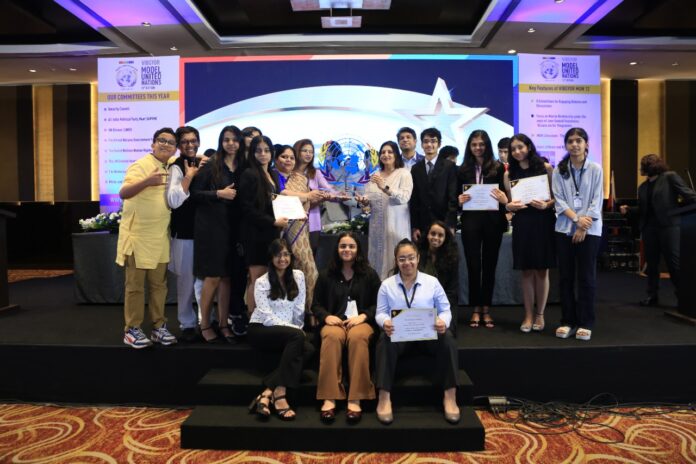 Mumbai, November 08, 2022: VIBGYOR Group of Schools, a leading chain of K-12 schools, recently organised the 12th Edition of VIBGYOR Model United Nations (VIBGYORMUN), a conference that simulates the workings of the international body, to help students broaden their horizons and facilitate their development as knowledgeable and logical global citizens capable of driving an inclusive and sustainable future. Hosted at the luxurious Hotel Sahara Star in Mumbai, this year's VIBGYOR MUN was organised in the physical format for the first time since the beginning of the COVID-19 pandemic. VIBGYOR MUN 12th Edition saw participation from over 450 students from 42 schools in India and US. Her excellency Ms. Anna Lekvall, Consul General of Sweden in Mumbai, was the Guest of Honor and Keynote Speaker at the closing ceremony.
The theme of the VIBGYORMUN 12th Edition conference was the Sustainable Development Goal No. 14 of the UN, 'Life Under Water'. VIBGYOR Group of Schools is committed to this cause and therefore The VIBGYORMUN 12th Edition support the initiatives of The Jane Goodall Institute, 'Oceans are Us' programme in India.
Eight committees were in session, to equip student delegates to participate in engaging debates and discussions on a variety of topics of global impact, including the Security Council (SC), Continuous Crisis Committee (CCC), UN General Assembly (UNGA), All India Political Parties Meet (AIPPM), Human Rights Council (HRC), United Nations Environment Program (UNEP); Media and Communication, and Administration & Security.
The delegates deliberated on a variety of topics, including Child Labour and Exploitation of Children with Special Reference to South-East Asia; Land Preservation with Special Emphasis on Desertification and Eutrophication; The Prospect of an Interim UN-Backed Government in Russia-Occupied-Ukraine; The Eight-Year Rule of the NDA Government in India; The Illicit Transfer, Destabilization, Accumulation and Misuse of Small Arms and Light Weapons; and The Impact and ramification of the Indo-Pak war of 1971. The highlight of the conference was The MUN Colosseum, a grand debate in which a select group of Chairs and Executive Board members presented their arguments on the topic of 'One Nation, One Election'.
Discussing the just-concluded event, Ms. Kavita Sahay Kerawalla, Vice Chairperson, VIBGYOR Group of Schools, said, "I was tremendously heartened by the unwavering commitment and passion displayed by the students who participated in the 12th VIBGYOR MUN. Not only did the students demonstrate a thorough grasp of how the UN works, but they also exhibited deep knowledge about the various issues discussed during the proceedings. I congratulate all the delegates for doing a fantastic job at VIBGYORMUN, and I extend my heartfelt gratitude to the organising team at VIBGYOR for their supreme efforts at making the event a resounding success."
VIBGYOR MUN also featured a Midnight Crisis Committee, comprising the entire Executive Board, which met unannounced at midnight, as part of an exercise designed to test their preparedness, ability to act quickly and independently on a simulated crisis of critical importance which, if not attended to immediately, could prove fatal for the world. A press conference was also conducted during which the Media and Communication team posed some tough questions to the Director General, the Secretary General and the Chairs of the other committees.
About VIBGYOR MUN:
VIBGYOR MUN, an initiative by Schools, is a simulation of the United Nations in which students participate as delegates of various UN committees. They formulate resolutions based on the actual policies of the countries they represent. Outstanding delegates are recognised for their efforts and awarded. VIBGYOR Model United Nations (VIBGYOR MUN), started in the year 2011, is now in its 12th glorious chapter.
The Model UN aims to provide an interactive and educational experience to today's youth. This convention provides participants with an understanding of international debate and negotiation and enables them to come up with resolutions on various policies.
The VIBGYOR MUN stands out from other MUN simulations because it constantly gives its delegates top-notch MUN experience. With a distinct social subject each year, VIBGYOR MUN offers student delegates an outstanding learning opportunity to become familiar with the most pressing global issues and attempt to fix them. Currently, VIBGYOR MUN has almost 4000 alumni.
Also Read: A Deep Dive into the Phenomenon of Moonlighting
About VIBGYOR Group of Schools
Founded in the year 2004, awarded as 'Best Brand of 2021' by The Economics Times, is a leading chain of K-12 schools known for its quality education and academic excellence. VIBGYOR offers a unique range of world-class educational services for the holistic development of students in curricular and co-curricular studies across all its schools. Under the leadership of Mr. Rustom Kerawalla, Founder Chairman of the institution, VIBGYOR Group is set to explore new horizons with 36 schools in 13 major cities across 7 states.
VIBGYOR High caters to the students from Grades 1 to 12, and VIBGYOR Kids to the Pre-Primary segment with a student-teacher ratio of 15:1 on average. VIBGYOR High provides a mixed spectrum of national and international levels of education in affiliation with CISCE, CBSE and Cambridge International.
VIBGYOR Roots and Rise offers a CBSE Board curriculum. VIBGYOR Roots caters to Pre-Primary Division while VIBGYOR Rise caters to Primary and Secondary students with a student-teacher ratio of 15:1 on average.
Visit EasyShiksha for skill development courses.