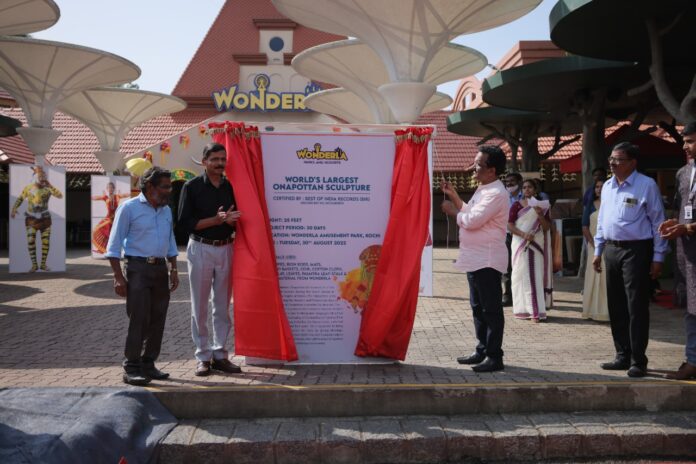 National, 30 August 2022: Wonderla Holidays, India's largest amusement park chain is all set to celebrate Onam and welcome visitors with a colossal, ecological, 25-feet tall Onapottan installation, at its Kochi Park. O.S. Unnikrishnan, Chairman of Kerala Folklore Academy inaugurated the world's tallest installation of the rare folklore character, in the presence of M.A. Ravi Kumar, Park Head, Wonderla Kochi on August 30, 2022. This kick starts Wonderla's Onam celebrations starting from 3rd to 11th September 2022.
Onapottan, a form of theyyam performed on the occasion of Onam in North Malabar, is not well-known in Central and South Kerala. With the intention of spreading cultural awareness concerning all the Onam legends and celebrations, Wonderla presents this installation.
Shaji Vasan, the sculpture artist, a native of Karapuzha, Kottayam, oversaw its construction, which took three artists and 30 days to complete. Sustainable resources like mats, baskets, wires, and palm leaves were used, along with natural dyes, saffron, and turmeric powder as colouring agents. The structure was constructed by tying the wires together while considering the rainy season, without even using natural adhesive.
"Wonderla launched this initiative with the goal of educating the next generation about Onam celebrations and reviving unique Keralan traditions like Onapottan. All of the leftover wires and other components from Wonderla's new rides were upcycled to create Onapottan's body, adding to our efforts to increase eco-friendly measures. Furthermore, it was mandated that the giant structure be built in a way that does not harm the environment," says Arun K Chittilappally, Managing Director, Wonderla Holidays Ltd.
Wonderla is honoured to have received the Best of India Records award for creating the world's tallest Onapottan installation," he adds. 
ALSO READ : Rahul Dravid Signed as Brand Ambassador for LaunchMyCareer
About Onapottan:
Onapottan Theyyam, a rare traditional folk figure, announces King Mahabali's arrival. In mythology, Onam marks King Mahabali's yearly trip back to Kerala to visit his "subjects" after his sojourn in the underworld. On the Uthradam and Thiruvonam days of the Onam festival, Onapottan, who plays King Mahabali and performs house visits, dons a headpiece, vibrant makeup, and colourful attire. He blesses his "subjects" as he moves around, carrying a bell and a palm-leaf umbrella (Olakkuda). Songs that recount the legend of Mahabali and the origins of Onam are the background music for Onapottan dances.
The most intriguing aspect of Theyyam art is their inability to communicate, which is how the name "Onapottan," which in Malayalam means "a dumb person," came to be. When performing songs about Mahabali, Onapottan is usually accompanied by two other musicians who play the Chenda (drum) and Illathalam. While it is customary for Onapottan to remain silent, his outstanding performance vividly illustrates King Mahabali's story. This unusual form of art is adored by the locals and plays an important role in the Onam festival ceremony.
Onapottan arrives covered in face paint, holding a kuruthola umbrella, a crown, bracelets, unique clothing, and hair made of kaita leaves.
Visit EasyShiksha for skill development courses.