Kochi, 10 April 2023: Wonderla Holidays Ltd., the largest amusement park chain in India, has launched two exciting water rides, Korneto and Twister, at its Kochi Park. The inauguration of the rides took place on April 10th by Popular Malayalam film actress Ms. Nikhila Vimal in the presence of Mr. Arun K Chittilappilly, the Managing Director of Wonderla Holidays, and park head Mr. Ravikumar MA. With the launch of Korneto and Twister, Wonderla Holidays has once again proven its commitment to providing world-class entertainment experiences for visitors of all ages.
ALSO READ: BIMTECH and AXA Climate Launch Self-Paced Video Course on Sustainability and Climate Action
Addressing the gathering, Arun K. Chittilappilly, Managing Director, Wonderla Holidays Ltd said, "We're excited to launch two new water attractions 'Korneto and Twister' at our Kochi Park. These exciting new rides have been designed to provide our visitors with an unforgettable experience, full of fun and excitement. Our aim is to keep pushing the boundaries of entertainment and create an environment where everyone can enjoy themselves to the fullest. We look forward to welcoming visitors to our park and seeing the smiles on their faces as they try out our new rides."
He also added that "with a total 55 which is a combination of High thrill, Water, Land and kids' rides, Wonderla is all set to celebrate the spirit of Summerla fiesta till 31st Maywith a host of programs that include Live shows, sumptuous food fest, DJ, fun games and much more thrills. We welcome everyone to enjoy the excitement of summer at Wonderla with family and friends".
Speaking at the occasion, Malayalam Film actress Nikhila Vimal said, "I take great pride in unveiling Korneto and Twister. This park has been the most popular name in every family & friends circle and is responsible for creating memories for everyone since more than 2 decades now. As someone who loves seeking out new adventures, these new rides are the perfect complement to an already amazing experience at Wonderla. I have no doubt that visitors will be blown away by the excitement and fun these rides provide,"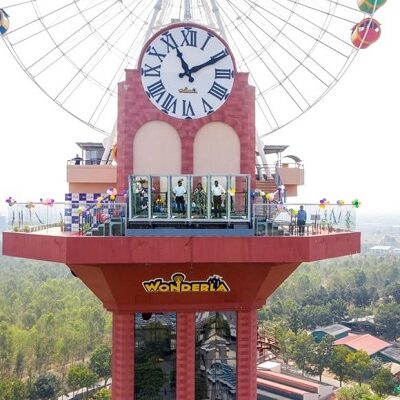 The detail of the rides are as follows:
KORNETO
Korneto is an incredible new water ride at Wonderla's Kochi Park, taking visitors on a thrilling journey down a towering slide. As riders descend down the slide from 8.5m high, they are surrounded by a refreshing rush of cool water, adding to the excitement. The ride takes you through a 27m dark tunnel that adds an element of mystery and anticipation to the experience. Emerging from the tunnel, riders find themselves swirling around a massive funnel, spinning, and splashing around before finally landing on a soft sofa. Korneto is a must-try ride for all thrill-seekers visiting Wonderla's Kochi Park, promising to create memories that will last a lifetime.
TWISTER
Twister! This thrilling body slide promises to leave visitors breathless with its exciting drops and twists. Standing at a height of 9 meters, riders will zoom down the slide and feel the rush of cool water splashing around them, adding to the excitement of the journey. With its combination of thrills and refreshing splashes, Twister is the perfect way to beat the heat and enjoy a fun-filled day at Wonderla's Kochi Park.

Wonderla encourages visitors to book their entry tickets in advance through the online portal https://www.wonderla.com/ or customers can buy the tickets directly from the park counters on their day of visit. For more details reach out to 0484-3514001, 75938 53107.
About Wonderla Holidays Ltd:
Wonderla Holidays Limited is India's largest and most popular amusement park operator. The company currently owns and operates three amusement parks in Kochi, Bengaluru, Hyderabad, and a resort at Bengaluru named 'Wonderla Resort'. Many of its rides are custom made and imported from reputed international suppliers, making them unique in India. Wonderla parks have been visited by over 3.5 crores visitors since 2000 making them the most visited amusement parks in India. Wonderla is among the top ranked amusement parks in India and Asia. For further information on Wonderla.
This year Educate yourself and develop your career with EasyShiksha