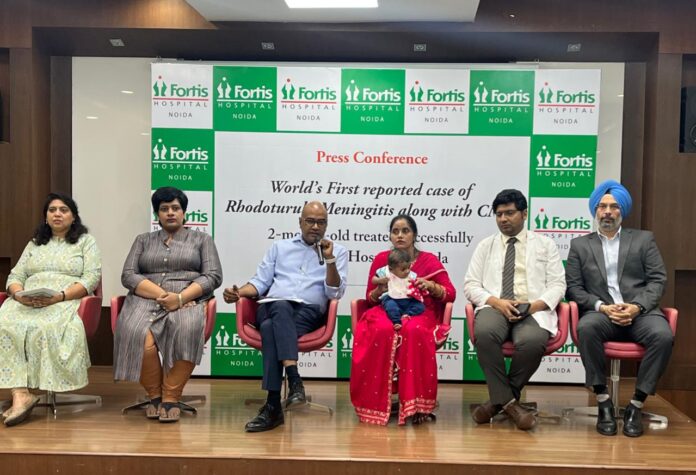 CHENNAI: World's First reported case of Rhodoturula infection ((Rhodotorula is a genus of pigmented yeasts) coupled with CMV Meningitis in a 2-month-old infant was successfully treated by a team of doctors at Fortis Noida. This is second reported case of CMV meningitis diagnosed via Biofire (an infection and inflammation of the lining of the brain, caused by a virus named CMV -Cytomegalovirus) in the world as per the available medical records. The team of doctors led by Dr Ashutosh Sinha, Director & Head, Paediatrics, Fortis Noida adopted the correct line of treatment post detailed medical evaluation and timely diagnosis of the rare reported medical conditions.
ALSO READ: The Class of One puts up a special assembly for students on International Dance Day
The infant, a resident of Mathura, U.P. was admitted to Fortis Noida with fever, increased irritability and two episodes of abnormal movements, including up-rolling of eyes, bulging in the top of head and irritable cry. Several medical tests such as MRI, CSF (cerebrospinal fluid) were conducted to identify any underlying infection, which revealed that the baby had meningitis. Owing to the uncontrolled seizures, the baby was intubated and administered antibiotics. Clinically, the baby showed improvement with satisfactory feeding and activity, but his high-grade fever was not getting better. He was having 3 – 4 episodes of fever everyday, thus a CSF examination was repeated and sent for a Biofire test which was CMV positive. Injection Ganciclovir was administered for following six weeks. However, fever didn't subside even after 10 days of IV ganciclovir being administered. The CSF fungal culture revealed the presence of Rhodotorula infection, reported for the First time across the globe. Elaborating on the case, Dr Ashutosh Sinha said, "The baby was initially treated with IV antibiotics and IV antiepileptics. However, he had multiple episodes of seizure, for which he was electively intubated and put on mechanical ventilation and IV midazolam infusion. The baby was extubated after 48 hours of being seizure-free. Clinically, the baby showed improvement but high-grade fever was not getting better. Subsequently, Cytomegalovirus meningitis (CMV) was detected. The baby was then injected with Ganciclovir which continued for six weeks. However, the fever continued for 10 days. A repeat CSF fungal culture revealed the presence of a rare yeast – Rhodotorula species, which has not been identified or observed in CMV anywhere in the world.  Then Amphotericin B was started and continued for four weeks,
which helped the baby recover and his fever also subsided. Without immediate and correct treatment, the chances of survival were meagre. Initial MRI had shown changes in the brain but subsequent MRI of brain showed improvement and we discharged the baby in normal condition without any complications.  The condition has risk factors – high mortality, neurodisability and other related complications if left undiagnosed and untreated."

Dr Sinha further added "Cytomegalovirus is a common virus and once infected, the body retains the virus for life. Most people don't know they have CMV because it rarely causes problems in healthy people. This infection generally happens in immunocompromised and HIV patients or those undergoing chemotheraphy. There have been cases reported of CMV infection in babies acquired before birth from mother or after birth through breast milk but infection of the brain is very rare. Some babies can acquire it after birth via breast milk. However, in this case, it was not possible to ascertain if breast milk was the carrier, although we stopped breast milk to limit the exposure."
Dr Shubham Garg, Senior Consultant – Surgical Oncology, Fortis Noida who evaluated and advised for a chemoport in this case, said "Finding a vein to administer IV medications is always a challenge in infants. This was a 2-month-old child and we needed immediate administration of Intra-Venous medications for more than a month. Chemoport is usually used in patients who require multiple cycles of chemotherapy. It is placed in the skin below the clavicle and is connected to a large vein using a catheter. In this case, this was a challenge as the diameter of the catheter might not fit the small vessels/veins. Thus, we ordered a special small-sized port (6F) and were able to place it successfully with the help of anesthesia".
Mohit Singh, Zonal Director, Fortis Hospital Noida said, "This was a complex case as no such cases have been reported earlier. Congratulations to the team of Doctors at Fortis Noida for achieving yet another clinical milestone. Since there was no established line of treatment to cure CMV with Rhodoturula, despite all the odds and the challenges, the infant survived owing to the correct medical assessment and timely treatment."
About Fortis Healthcare Limited
Fortis Healthcare Limited – an IHH Healthcare Berhad Company – is a leading integrated healthcare services provider in India. It is one of the largest healthcare organizations in the country with 27 healthcare facilities, 4,300 operational beds and 400 diagnostics centers (including JVs). Fortis is present in India, United Arab Emirates (UAE), Nepal & Sri Lanka. The Company is listed on the BSE Ltd and National Stock Exchange (NSE) of India. It draws strength from its partnership with global major and parent company – IHH, to build upon its culture of world-class patient care and superlative clinical excellence. Fortis employs ~23,000 people (including SRL) who share its vision of becoming the world's most trusted healthcare network. Fortis offers a full spectrum of integrated healthcare services ranging from clinics to quaternary care facilities and a wide range of ancillary services.
This year educate yourself and develop your career with EasyShiksha