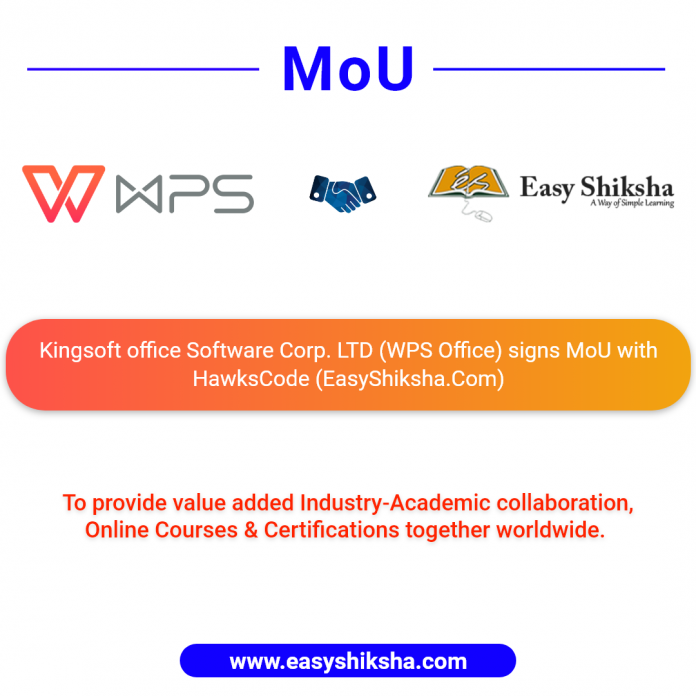 EasyShiksha and WPS Office announce a learning partnership to provide Value Added Industry Academic Collaboration, Online Courses and Certifications across the World. Our main aim is to serve and upskill students, faculties, professionals & educational institutions throughout the Globe.
We are really delighted & honoured to partner with WPS Office and keen to take this partnership to great heights. We are positively looking for a long term mutual collaboration benefiting both in terms of Brand building and user enrolments.
This partnership marks a new beginning in the era of e-Learning. We are very grateful to WPS Office for selecting EasyShiksha as their exclusive partner in the education industry.
Through this partnership, users on WPS Office platform will have the opportunity to enrol for EasyShiksha online courses and complete the Quiz & get the certification for the respective course. Similarly users on Easyshiksha platform will have the opportunity to download WPS Office directly. This
Learn Online Courses with EasyShiksha & Get Certified
EasyShiksha is a leading Global e-Learning platform provides top quality online courses and certifications serving a multitude of user-types such as students, faculties, educational institutes, universities, and coaching institutes. It provides a one-stop solution for all the aforementioned entities. Students can search, register and get certificates for different courses. Additionally, Students can enrol and explore thousands of colleges with Easyshiksha, Test series for Online Govt. Exams, Career Helper and Counselling Services. Please visit http://www.easyshiksha.com for more information.
Kingsoft Office Software Corp. LTD (WPS Office ) is a leading, global developer of office software solutions.  With over 50M registered users in India and 300M registered users worldwide, its flagship WPS Office product is one of the world's most popular, cross-platform office solutions, allowing users to view, create and share any office document on almost any mobile device or PC. Please visit http://www.wps.com for more information.
For information related to technology, visit HawksCode and EasyShiksha
Enroll Now – Learn Cloud Computing Course