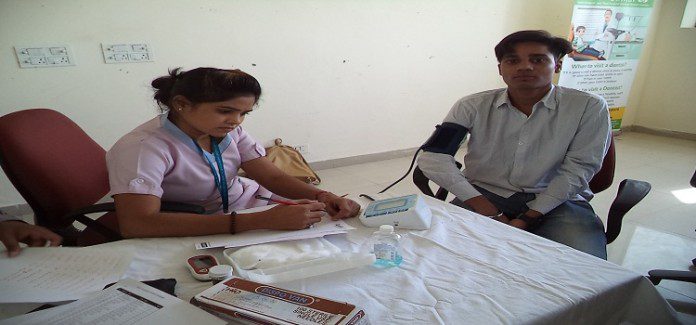 22nd October 2016, Faridabad: With an aim of a creating of preventive health care awareness in the society, Apparel Training and Design Centre (ATDC), India's largest vocational training provider for the apparel sector, organized a two-day free health check-up camp, at its Faridabad campus, in association with Apollo Clinic.  More than 80 students / staff & faculty attended the camp.
On the opening day, free diagnosis and consultation were provided by dentists, dieticians and gynecologists. In order to facilitate diagnosis, few general tests were conducted free of cost
The Health camp also included a workshop which was presided over by Dr. Aradhna Kalra (Gynecologist) from Apollo Clinic, for female students, faculty and staff. She interacted with them and made them acquainted with their health, besides showcasing a presentation on uterus cancer, Breast cancer, HIV and other gyne. related issues.
While addressing the seminar, Dr. Aradhna Kalra highlighted the common diseases among females. "It was great being at ATDC. Our aim was to impart health awareness to the adolescent girls at the institute. Adolescence is a very vulnerable age with social, biological and mental changes in a girl," she said, and educated the students on nutritional requirements, sex   education and cervical cancer vaccination. "A strong woman makes a strong family and a strong nation" .
ATDC female students were happy  to attend the informative workshop.