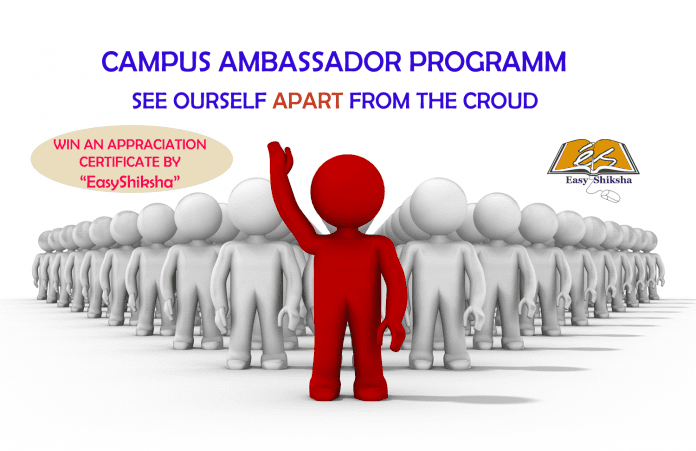 I am sure you all must have heard of Brand CAMPUS AMBASSADOR and probably know what it is.

In the same fashion, there is a Campus Ambassador who represents his/her college or university.
Campus Ambassador is an opportunity to know and connect the outside world to your own. It basically gives all of you a chance to be in a limelight in your college and also in the surrounding you are connecting to.
Important Announcement – EasyShiksha has now started Online Internship Program "Ab India Sikhega Ghar Se"
It can prove to be a stepping stone in your career and gives you an advantage over the others.
So looking at these many utilities, most of you would want to grab this opportunity.

So here we come, EasyShiksha gives you that opportunity to shine with its ultimate Campus Ambassador Program. This program is a step to build your future by making you learn,discuss, cooperate,interact and design,tour. Its an experience you all wouldn't want to loose.
Since this is a very prestigious role for any, here comes the terms and conditions for the students participating in it.
The student must have some basic knowledge and commitment to his/her work.
The student must be very well spoken and good at conversation and communication.
The student is expected to be creative in his/her ideas.
Now the students who find their place in the above described eligibility need to do some tasks. All that the campus ambassadors need to do is publicize EasyShiksha in his/her campus, maintain a link between their college and EasyShiksha and conduct workshops by EasyShiksha at their colleges and universities.
This program is a golden opportunity for all college students as it will not only shape your career but also get rewarded back for your efforts.
The top ambassadors will win amazing prizes which can include ipad, smartphone etc. Also the students will be given certificates by EasyShiksha and recognition on campus.
A typical standard interview comprises of basic questions, like ' Walk me through your resume', 'Tell me about yourself', 'What are your hobbies?' and ofcourse 'Where do you see yourself in five years'?

However, interviews have evolved for various reasons: 1) There are a lot of candidates to choose from, particularly in the Finance domain, and being prepared for generic interview questions is not sufficient anymore. 2) Hiring is a costly affair, and it require significant investment of time and money in identifying and consequently training the right candidate.
Important Announcement – EasyShiksha has now started Online Internship Program "Ab India Sikhega Ghar Se"
Usually, the HR, Line Managers and Business Heads all take out valuable, billable time to interview and they want to make sure that they have the right person for the job. Also, most people decide whether to hire or not within the first ten minutes – so how do you make those ten minutes count?

You need to approach your finance interview like you would a triathlon. Start well in advance, understand your strengths/ and weaknesses and prepare accordingly. Realize that these interview opportunities are hard to come by. Wasting them is not an option, and each of them needs to be targeted with a specific strategy and goal in mind.
Finance interviews in Tier 1/2 Banks and Financial Services firm are usually divided into the following:
Aptitude Test & Logical Reasoning Test
2 Domain Interviews
Personal Interview (HR and Business)
Group Discussion (Optional)
Preparing for an Aptitude Test and Logical Reasoning Questions
Learn to identify question patterns, and figure out a strategy to answer each question pattern.
Tip: Download an aptitude test mobile app, and try and solve a few questions daily on your commute. This is a good site for practice- http://www.indiabix.com/online-test/aptitude-test/.
Logical Reasoning
These questions are typically designed to understand if you are structured in your thought process. Some questions could be: how many fire hydrants are there in the city? or how many red cars in the city?
Tip: There is no right answer here, and there is no possible way that interviewer knows the correct answer to these seemingly randow questions. You just need to think about a logical way to structure and breakdown this question.
Finance Domain Interviews
Accountancy Basics

Walk me through a Balance Sheet, PNL and Cash Flow statement
How does a balance sheet differ by type of company?
How do you depreciate an asset?
What are the commonly used ratios?

Valuation

How do you value a company in under three minutes?
How do value a unlisted company?
What are the different types of valuation methodologies?
What is CAPM?
How do you go from unlevered beta to levered beta?

Equity Research (if it is an Equity Research Role)

Pitch me three stocks, give me a stock to buy, hold and sell
How do you analyse an equity stock?
What are the constituents of an equity research report?
How do you evaluate risk in a portfolio?
What is a high PE ratio mean for an industry?

Mergers and Acquisitions (if it is an M&A job)

What is the advantages of inorganic growth?
What is control premium?
What are the five major sources of synergy?
Tell me about the three latest deals in the Indian M&A market
What is winners curse?

Financial Operations

What is a derivative?
What is a payoff cycle of a swap?
What is the trade lifecycle?
What role does Operations play in a Investment Bank?

Personal Interview

Walk me through your resume
Talk me through your strengths and weaknesses?
Tell me of a recent tough problem at work?
How would your colleageues rate you?
What are of finance interests you? Be prepared for questions in this area?
o Do you have any hobbies? Remember to back up your hobbies with data, and be specific. For ex: reading is not a hobby neither is watching movies!
At Imarticus Learning, each of our programs is inbuilt with a Resume Building and Interview Workshop module. We have a database of questions that get typically asked depending on the type of interview. We also take mock interviews to make sure you are ready for your interview. Students are videoed so that they can understand what they are doing wrong.
Sonya Hooja
Sonya Hooja – Director, Co-Founder and Chief Operating Officer at Imarticus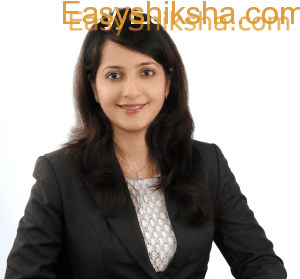 Sonya Hooja is Co-Founder and Chief Operating Officer at Imarticus. At Imarticus, she has developed business strategy, coordinated business development, implementation, as well as recruited top talent. She has launched placement and knowledge based programs to facilitated placements and up- skill individuals. Alongside, she has developed and managed the training design and curriculum, to ensure that it is in align to the industry requirements and constantly up-to-date
Prior to Imarticus, she has 10+ years of work experience at Accenture (Management Consulting), Goldman Sachs and the erstwhile Lehman Brothers. She has worked across US, Singapore and India. Her primary roles comprise strategy development and project management across diverse industries such as financial services, education, tourism public sector and pharmaceuticals.

ALSO READ: Imarticus learning taking online education global
Get Course: Introduction-to-Cell-Structure-and-Function
[/sc]
I hope most of you are riding on hopes to be your campus ambassador, so don't waste your time and fill in the registration form available at http://easyshiksha.com/Student-Campus-Ambassador-Program/ and be the star of your campus.
ALSO READ: Finance interview tips by Sonya hooja
Get Course: Online Sociology Courses