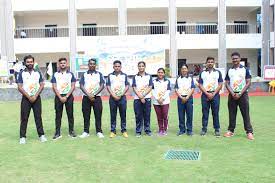 Kharagpur / Kolkata September 9th, 2022: Griffins International School, Kharagpurcelebrated The National Sports Day with much enthusiasm. In India the birth anniversary of hockey player Major Dhyan Chand is marked as the National Sports Day.
To commemorate this special day, Griffins International School, Kharagpur organised a medley of events. The programme commenced with paying tribute to the legendary sportsman Major Dhyan Chand who won gold medals in Olympics for India.
The day was made remarkable by dance performances, yoga asanas and by paying respect to the legends in sports. The main attraction was the Tug of War. The excitement reached the peak when students, teachers and all non-teaching staffs participated in this event.
ALSO READ : TimesPro launches Web 3.0 initiative to help learners upskill through cutting-edge programmes in emerging technologies
Towards the end, the Academic Director emphasised the significance of the day. He specifically said, "Sports develops the sense of discipline, concentration, leadership skills and a sense of team spirit which are essential skills in this century. We at Griffins International School encourage our students to take part in sports. We have designed very good sports infrastructure for both indoor and outdoor sports activity for our students."
About Griffins International School
Griffins International School, Kharagpur (GIS) is promoted and managed by Govind Behari Yadav Trust with its registered office at Kharagpur- West Bengal. The school was founded with a vision to be a learning school that ignites inquisitive minds to innovate and inspire others.
Mr. Abishek Yadav, a chemical engineer from IIT Kharagpur and a versatile entrepreneur, is at the helm of the institution. His dream of developing & nurturing the young minds to become successful, responsible, and ethical leaders of tomorrow was the guiding principle behind the establishment of GIS, with a state-of-the-art infrastructure, sprawling across 14 acres of land.
GIS is setting a new benchmark for a world class school education system with a "Safety First" approach and robust infrastructure for a New India with 24 hours CCTV surveillance and the school buses fitted with CCTV & latest GPS systems.
The school with a lush green campus provides an enabling environment for every child to excel while enjoying with Art Studio, Swimming pool, Indoor & Outdoor games, Music Studio, Robotics lab, Amphitheatre, and Apple education programme.
Visit EasyShiksha for skill development courses.