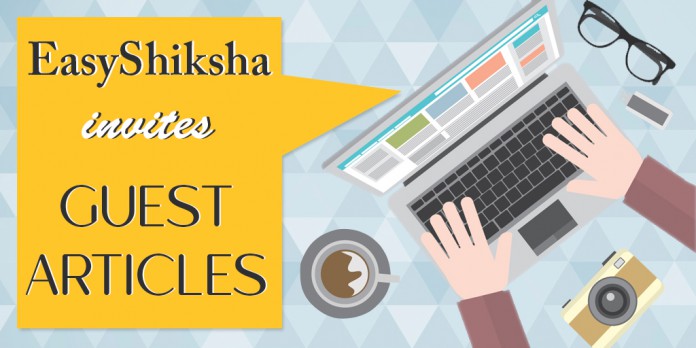 Write Us For The Guest Post
Writers and Bloggers, Join us to be the part of the EasyShiksha.
You can also email your enquiry related to this here – sunil@easyshiksha.com
We want to say thanks for considering EasyShiksha as a host for your guest post or articles. We are looking for the talented and genuine writers who will provide us high quality and rich content.
About EasyShiksha
Easyshiksha is one of the largest education portal in the world. EasyShiksha is an endeavour of HawksCode Softwares Pvt. Ltd. Begun in 2012 with a plan to make education better and easy for everyone. This education platform is not biased to any region, people or institute.

Important Announcement – EasyShiksha has now started Online Internship Program "Ab India Sikhega Ghar Se"

EasyShiksha Services
Career Helper helps you know your profession alternatives. There are a ton of intriguing vocation choices in India you can consider after school and Indian universities are currently offering you some extraordinary courses. This program gives students a better understanding their future.
EasyShiksha Magazine is new member of our family that we introduced on April 20, 2018. This magazine is just like a small prototype of EasyShiksha. It covers all the topic and region related to education. Its first edition is already out and is live and ready to read on the website. The second edition is into the progress.
The Campus Ambassador is a program that we build to stay connected with colleges and their events. A program to help build confidence into college students. In this, students will be representing their college. Also will be administering and handling all the events and activities held by the EasyShiksha into their campus.
EasyShiksha shares numbers of distance learning courses that a students can learn to improve their knowledge. Some courses we have are like hobbies, so not just for marks or some certificate, one can learn these to sharpen their skills in hobbie of an extra courses beside education. One need create their profile and everything is good to go.
There are many students fighting some Govt. Exams in various division. These test some with different questions of different kinds. We have free online test series of these kind of questions. You can test your skills and knowledge with them. This will helps one in analyzing themselves and groom better and better.
Top Software Engineering Courses
Join Us With Guest Blog
Choose your topics correctly, when you will be writing for us a guest post. We applaud the well-written guest posts related to latest news, education, technology, business, and health industry from the guest contributors. EasyShiksha gives you the guest posting opportunity and it remains a good service provider to all due to the adverting support. EasyShiksha reserve the right to publish ads on the same pages.
What are Guidelines to Submit a guest post?
If you want to submit a guest post to EasyShiksha, you need to follow the following guidelines strictly. We will post only those guest posts that will meet our criteria.
The guest post should be helpful to our readers.

Minimum word count should be 500+

Must add a picture or a graphic for good impact.

The guest post should be grammatically correct.

Guest post can have backlinks but post with backlink will be charge accordingly. 

A guest post should be original and has not been published anywhere.

We only publish few number of selected guest article in a month.
The content should not contain any type of adult content, offensive, defamatory, inciting or hateful, that promotes illegal activities or that are in violation of any person's, companies, businesses rights, and trademarks.

The content should not contain material on illegal, drugs, or the promotion of any type of alcohol, tobacco products.
We will share your live post in our Social Media Facebook, Twitter, Pinterest and Google Plus Profiles, to improve the reach of your post to as many readers as possible.
You can also email your enquiry related to this here – sunil@easyshiksha.com