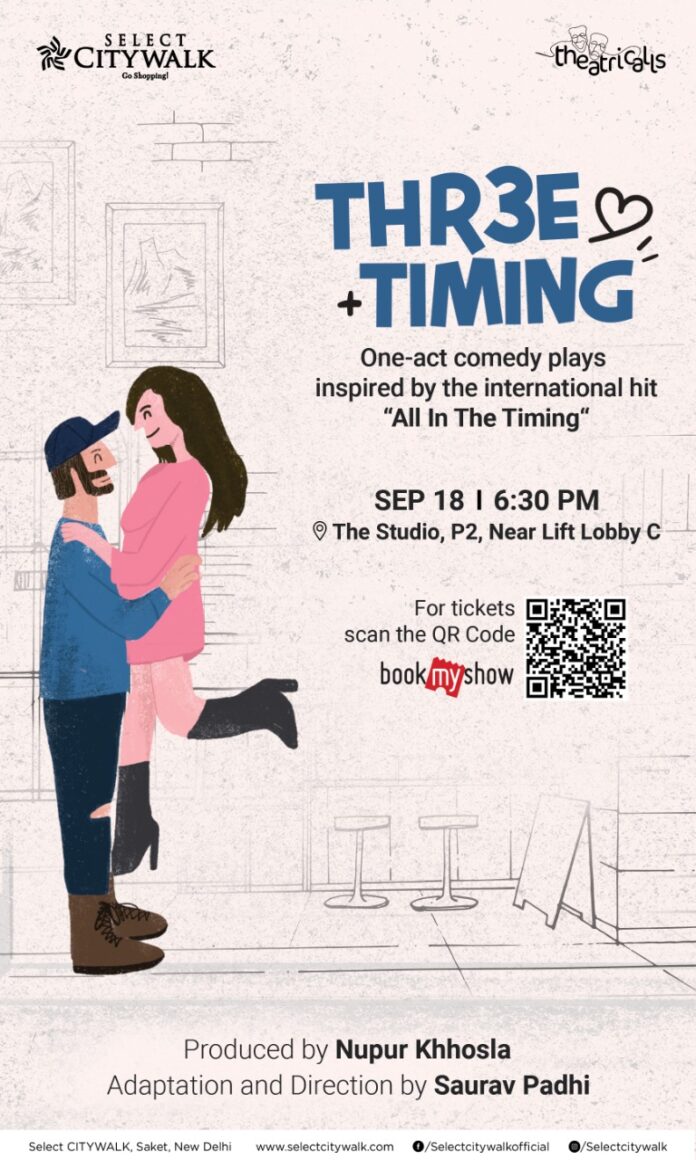 September 2022: Select CITYWALK is here to make you laugh out loud with a theatrical comedy – 'THREE TIMING'– An escapade full of laughter and fun. Based on the International hit 'All in the Timing', this is a fun-filled play spread across sixty minutes. The production is a format that will not only make you chuckle with glee but will also have you feeling more strongly about vitality and the true essence of relationships. The comedy will be staged at Select CITYWALK, Saket on Sunday, Sept 18th, 2022 at 6:30 pm.
Delve into this new-age form of comedy that stems from a place of showcasing human behaviour and helps you embody a fresh perspective with the help of witty by-lines and fun connotations. Three Timing is a sketch comedy that is spread across three acts. It revolves around offbeat themes, chance meetings, and the theme of universal attraction and more. You got it: Act one is inspired by Sure Thing wherein two people meet at a cafe and are hit with sudden conventional realities of life on their way to falling in love.
Act 2: Brings together a young woman with a stutter going on about her routine of teaching while on a quest where true love finds her. Unamunda which is an adaptation of Universal Language is a dazzling display of hysterical verbal pyrotechnics.
Act 3 focuses on the intricate realities of life. A comical take on how one's desires are fulfilled in this lifetime. Hoshiarpur will have you believing that there is humour in every situation of life. 
ALSO READ : Outreach program for strengthening MSMEs ecosystem in J&K
Ascend a new outlook on life and find moments of laughter even when life seems mundane with this sketch comedy.
Nupur Khhosla, actor and entrepreneur who founded Theatricalls says "It's an experimental show where our thoughts as content creators are presented in a fun format which is light and easy. As creators we are trying to curate a show wherein there is a comfortable space between the audience and us which is intimate yet an interesting experience".
Date: September, 18th 2022
Time: 6:30 pm
Booking: Tickets available at Bookmyshow
Duration: 60 minutes (3 acts of 20 minutes each)
About Select CITYWALK:
Select CITYWALK is India's most admired, upscale, and responsible Shopping Centre. Select CITYWALK has carved out a niche for itself in the retail revolution for India's discerning shoppers over the last 14 years.
The premier Shopping Centre has revolutionized the shopping scene in Delhi NCR by establishing a new lifestyle and shopping milestones for its customers. The majority of international brands have launched or made their Indian debut through Select CITYWALK.
More than 192 renowned Indian and international brands, including Ted Baker, Skechers, Dior, Bateel, Muji, Chanel, Good Earth, Kiehl's, Decathlon, Zara, H&M, Bath & Body Works, L'affaire, Onitsuka Tiger, Fabindia, Nineteen 78, Soultree and many others, are housed in the shopping centre.
The Shopping Centre, which is ISO certified, audited, and committed, is a leader in environmental administration, with zero waste and water discharge.
Visit EasyShiksha for skill development courses.