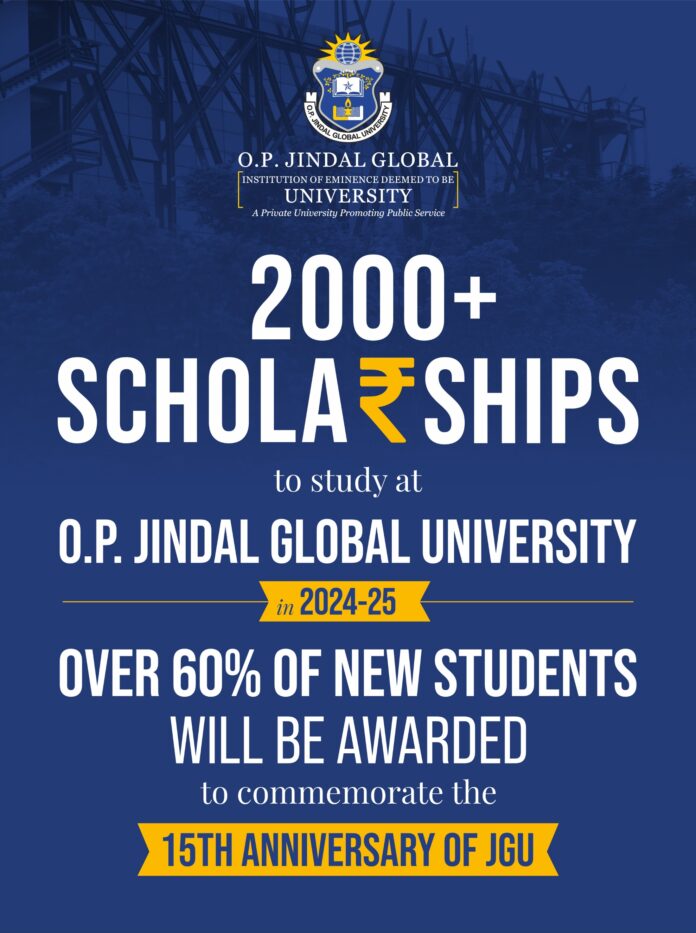 Sonipat, Haryana, 4 September 2023: In a momentous announcement, O.P. Jindal Global University (JGU) has announced the award of more than 2,000 scholarships to deserving students for the forthcoming academic year 2024-25. This transformative initiative is geared towards providing outstanding young talent with equal opportunities to access high-quality education. The decision to award more than 2000+ scholarships for the incoming batch of 2024-25 is to commemorate the special occasion of the 15th anniversary of JGU to be celebrated in 2024. This will empower more than 60% of the new students admitted in 2024 to receive these scholarships to study at JGU.
JGU has long championed the values of pluralism, diversity, and inclusivity. While making this historic announcement, Professor (Dr.) C. Raj Kumar, founding Vice Chancellor of O.P. Jindal Global University iterated that "We are most delighted to announce this transformative initiative to award over 2000+ scholarships to our incoming students in 2024. JGU believes education to be a beacon of opportunity for all, regardless of their family background or economic standing. Our founding Chancellor and benefactor, Mr. Naveen Jindal has always recognised the importance of access to education for the deserving students, regardless of their financial circumstances. The most tangible expression of this commitment is our generous scholarship programme. During the last 14 years, JGU has awarded over INR 250 crores in scholarships and almost half of the students studying at JGU have been recipients of these scholarships. It has been a life-changing experience for our students as they got access to a world-class education, which they may not have been able to afford."
Professor Raj Kumar who was a Rhodes Scholar at Oxford University and received full scholarships to study at Harvard University and Oxford University in the late 90's, explained the importance of instituting substantial scholarships at JGU this year by emphasizing that "these are not just financial aids; they are transformative opportunities. They open doors to world-class higher education for individuals who might otherwise have been denied access due to financial constraints."He further added that, "Our commitment to providing scholarships is not just a policy; it's a reflection of our deep-seated belief that education is a powerful tool for social change."   

Embracing a comprehensive array of disciplines across 12 schools, including Law, Business, International Affairs, Public Policy, Liberal Arts, Media Studies, Architecture, Banking & Finance, Environment & Sustainability, Psychology & Counselling, Languages & Literature, Public Health & Human Development, and two specialised research institutes focusing on behavioural sciences and education, JGU is dedicated to shattering conventional educational boundaries and nurturing interdisciplinary learning. With over 30 undergraduate programmes and more than 15 postgraduate programmes, JGU's academic offerings are firmly grounded in interdisciplinary innovation, enabling students to seamlessly transcend traditional disciplinary boundaries in their pursuit of knowledge.
Professor Dabiru Sridhar Patnaik, Registrar, JGU observed, "The award of over 2000+ scholarships in 2024 will enable JGU to place the student experience at its core, which is further fuelled by dynamic academia-industry interface and partnerships with national and international institutions. With over 1,100 full-time faculty members from 51 countries in the world, JGU provides a world-class education. For students aspiring for international exposure, JGU offers a wide range of student mobility programmes in collaboration with 400+ international higher education institutions in over 70 countries."  
ALSO READ: Play 'N' Learn launches its largest venue in Express Avenue Mall, Chennai
Professor (Dr.) Upasana Mahanta, Dean (Admissions and Outreach), JGU stated, "JGU's announcement of over 2000+ scholarships in 2024 will pave way for the democratization of higher education with strong emphasis on access, diversity and inclusion Our scholarships are not just about supporting students; they are about fostering a diverse and inclusive learning environment. We firmly believe that this diversity is a source of strength, innovation, and progress. If you have a strong desire and passion to be a changemaker in society, JGU provides the ideal platform for you to acquire and enhance the necessary skills for your journey, with financial constraints not being a hindrance".
With this announcement of scholarships for 2,000 students, JGU continues to ensure that these invaluable resources are accessible to exceptionally talented individuals, thereby enriching its academic community and fostering global excellence. The scholarships are to be awarded on merit-cum-means, following a transparent and holistic admissions process. The eligibility criteria include annual family income, last qualifying examination score, JSAT (Jindal Scholastic Aptitude Test) or any other relevant standardized examination results and faculty interview score (where applicable).
Professor Anand Prakash Mishra, Director of Law Admissions (JGLS) observed, "The 2000+ scholarships that will be awarded to our students in 2024 will be a giant step in the landscape of higher education and legal education in India. In all academic programmes of Jindal Global Law School, LSAT—India 2024 Test score will remain the most important criterion to award scholarships. Every law aspirant in the country must take the LSAT–India 2024 Test as this Test is critical not only for admission to JGLS but also for scholarships."
Mr. Vikram Singh Tomar, Director of Admissions (JGBS & JSBF) observed, "All schools of JGU offer scholarships to students. Today's announcement of the award of over 2000+ scholarships to students across India and beyond will enable many outstanding students to dream and aspire to study at JGU and will empower them to make JGU as their preferred choice of study in 2024." 
This year educate yourself and develop your career with EasyShiksha