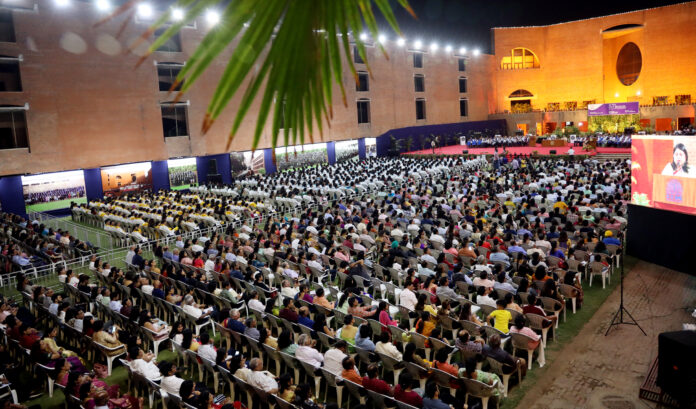 ~ Chairperson Mr Kumar Mangalam Birla, Chief Guest Ms Falguni Nayar & Prof Errol D'Souza Director, IIMA addressed the gathering
~ 57th Annual Convocation Held at Louis Kahn Plaza After a Gap of Two Years
April 14, 2022: The Indian Institute of Management Ahmedabad (IIMA), a premier global management Institute, held its 57th Annual Convocation at its campus on 13th April 2022. The ceremony was held on the lush green lawns of the famed Louis Kahn Plaza, the venue for all Convocations held at IIMA since 1974. Notably, the Convocation was held on-campus after a gap of two years.
Important Announcement – EasyShiksha has now started Online Internship Program "Ab India Sikhega Ghar Se"
This year, the Chief Guest Ms Falguni Nayar, IIMA alumna and Founder & Chief Executive Officer of Nykaa.com, joined Mr Kumar Mangalam Birla, Chairperson, Board of Governors, IIMA and Professor Errol D'Souza, Director, IIMA and other Board members for the Convocation.
The Dean (Programmes), Dean (Faculty), Dean (Alumni and External Relations); Programme Chairs led the ceremonial procession that was joined by the faculty members and students from the PGP, PGP-FABM, PGPX and PhD Programmes. The students wore sashes in light blue, green, orange, and yellow, representing their respective programmes.
As the procession entered the Louis Kahn Plaza, which was resplendent in the golden light of the setting sun, the dignitaries on the dais, Board members, guests, family members of the students and other members of the IIMA community greeted them with loud cheers and applause.
Mr Birla declared the Convocation open, and the ceremony began with the Institute's tradition of an invocation recited by a member of the IIMA community.
This year, a total of 584 students from the Two Year Post Graduate Programme in Management (PGP); Two Year Post Graduate Programme in Food and Agribusiness Management (PGP-FABM); One Year Full Time Post Graduate Programme in Management for Executives (PGPX) and PhD Programme in Management (PhD) graduated from IIMA.
The batch toppers from each programme were awarded gold medals in recognition of their academic accomplishments. Mr Shubham Goyal, Mr Vaibhav Agarwal and Mr Nitin Kulshreshtha from PGP and Mr Amit Kumar from PGPX were recipients of the scholastic medals.
Important Announcement – EasyShiksha has now started Online Internship Program "Ab India Sikhega Ghar Se"
Sharing his experiences with the graduating students; Mr Kumar Mangalam Birla said, "The fundamentals of business building are perhaps now truer than ever. External circumstances will most certainly change ferociously over the coming few years. There will be many shiny opportunities that will come your way, tempting you with their ephemeral promises. This holds true as much in the context of your careers. It is important, therefore, to stay the course. Identify which problems and what type of people excite you and invest time in them both. Ride out the short-term froth.
A good guiding principle in your choices is to Go where the energy takes you. This reflection is best explained through a quote that hit my whatsapp feed this morning— "Stick with people who pull the magic out of you and not the madness."
Delivering the Convocation address, Ms Falguni Nayar, said, "Don't be afraid to take risks along the way. You are blessed to be entering a world which is now increasingly risk friendly. Spend the early years of your career taking the right risks and make some bold bets on yourself. Test what you like and what you don't. Take on roles that put you outside of your comfort zone and challenge yourself. Discover new interests and hone on skills you excel at. You don't need to have all the answers today about what you want from life but you do have the benefit of low opportunity cost in your current phase of life so make the best of it. And remember, no matter what anyone says, it is never too late to start all over again. Decision making will not always be easy, and often there will be no straightforward answer. So, trust your gut to an extent, it will guide you well."
Addressing the students, Professor Errol D'Souza, in his traditional speech said, "For managers dear students the landscape has changed. It is no longer about short-term financial targets and efficient execution. Ever since the Great Financial Crisis, and even more so since the pandemic, there is some room for a swashbuckling Elon Musk but soft skills such as compassion and collaboration are going to be a top requirement. Your views on corporate strategy will be important but so will those on climate change, discrimination and inclusion, human rights, culture wars and a host of other issues. You will face challenges from outside the organization as well as from within. Welcome to tumultuous times. You are going to be wrong sometimes and you should embrace your vulnerability. Encourage dissent and constructive criticism. I am confident you have learned much from each other and from the campus and you will go very far.
As alums of the institute give to the world your time, some of your wealth, and the best of yourself. We will look on with pride and happiness at your achievements and we will share your sorrows. May you be joyful and successful. अनेकों शुभकामनाएं"
Some Highlights of the Years Gone By
Despite the uncertainty and chaos over the last two years, students of IIMA took challenges in their stride, excelling in both academic and non-academic pursuits. They went through experiences that were unprecedented and unique.
True to the spirit of the legendary IIMA campus experience, students adapted and devised ways to learn and have fun. In the face of challenges, they also learnt to efficiently turn around adversities to work in their favor through resilience, adaptability, and pull through difficult situations.
Important Announcement – EasyShiksha has now started Online Internship Program "Ab India Sikhega Ghar Se"
In addition to attending classes and exams, they organized events such as Club Run, T-Nite, The Red Brick Summit, Krishi Manthan, IIMA TEDx Speaker Series and a slew of other student activities, virtually and on-ground.
Additionally, students joined hands with faculty members, non-profit organizations to help and support the underprivileged in an around Ahmedabad during the pandemic.
On the other hand, IIMA also registered record placements this year, which continues to validate the high-quality teaching – learning and the industry-readiness of its students. The student placement committee seamlessly conducted the final and summer placements virtually to successfully place students in several companies. The performance of IIMA alumni has continued to build trust among recruiters which can be seen in a variety of roles across different sectors. Despite the uncertainty caused by the pandemic, IIMA Placements has seen growth in the number of firms visiting the campus and also an increase in the variety of job roles offered to our students.
The Convocation ceremony concluded on a high note after Mr Birla declared the 57th Annual Convocation closed. The evening turned emotional as students proceeded to say goodbyes, took pictures and selfies with their friends and families, and thank everyone who was a part of their journey at the IIMA. Even as there were restrictions on handshakes and hugs, there were none on laughter and camaraderie as they shared their resolve and aspiration to contribute to a better future for the world.
In its 60th year, the IIMA legacy continues to make an impact in India and globally. With the current batch of students graduating today, IIMA now has a 41,138 member strong global alumni network, which includes eminent business leaders, successful entrepreneurs, noted policymakers and diplomats, distinguished academics and change makers in the social sector, celebrated artists, and writers, etc. who are making their presence felt in their respective organizations and the society at large.

About IIM Ahmedabad:
The Indian Institute of Management Ahmedabad (IIMA) is a premier, global management Institute that is at the forefront of promoting excellence in the field of management education. Over the 60 years of its existence, it has been acknowledged for its exemplary contributions to scholarship, practice and policy through its distinctive teaching, high-quality research, nurturing future leaders, supporting industry, government, social enterprise and creating a progressive impact on society.
IIMA was founded as an innovative initiative by the Government, industry and international academia in 1961. Since then it has been consolidating its global footprint and today it has a network with over 80 top international institutions and a presence in Dubai. Its eminent faculty members and close to 40,000 alumni, who are at the helm of influential positions in all walks of life also contribute to its global recognition.
Over the years, IIMA's academically superior, market-driven, and socially impactful programmes, have earned high reputation and acclaim globally. It became the first Indian institution to receive international accreditation from EQUIS. The renowned flagship two-year Post Graduate Programme in Management (PGP) is ranked 20th in the FT Master in Management Ranking 2020 and the one-year Post Graduate Programme in Management for Executives (PGPX) has been ranked 48th in the FT Global MBA rankings 2021. The institute also is placed first in the Government of India's National Institutional Ranking Framework (NIRF), India Rankings 2020. IIMA offers consultancy services and more than 200 curated executive education programmes in customized, blended, and open enrolment formats for a diverse audience comprising of business leaders, policymakers, industry professionals, academicians, government officials, armed forces personnel, agri-business and other niche sector specialists and entrepreneurs. To know more about IIMA, please visit: https://www.iima.ac.in/
Leading EdTech Platform for skill development & For your Internship is EasyShiksha