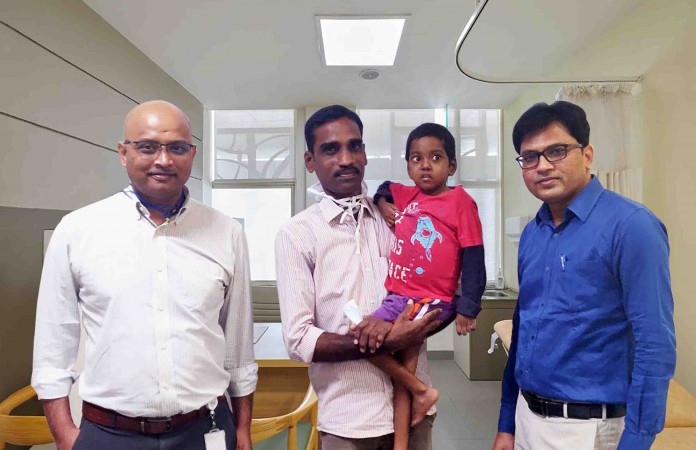 ·        Aster CMI Hospital ILC's affordable liver transplant initiative raises 80% of the funds for the child's treatment
·         Baby Raghavi gets a new liver as a birthday gift from Aster doctors
Bangalore, May 28, 2020: At a time when healthcare workers across the country are donning protective gear to deal with the COVID-19 crisis, a team of medical staffs at Aster CMI Hospital suited up to deliver a life-saving liver transplant for 4-year-old Raghavi from Vellore who was suffering from advanced liver illness and required a liver transplant immediately. Efforts taken by the team of doctors at the hospital ensured that the child gets a life-saving transplant even in the time of a pandemic and brought a new ray of hope to the family.

Important Announcement – EasyShiksha has now started Online Internship Program "Ab India Sikhega Ghar Se"

A few years ago, baby Raghavi, who was a 7-month-old infant had contracted a high fever and her parents immediately rushed her to the nearby doctors. A detailed examination by a local doctor highlighted that the child had mild swelling in her stomach and some temporary treatment was instituted at that instance. As the child grew up, her suffering increased and her situation worsened. Numerous investigations, constant medications, and frequent visits to the hospitals in the city failed to bring about any improvement in her condition, leaving her parents in despair. 
Over the ensuing years, the child's condition deteriorated further, she started vomiting blood and developed jaundice which progressively increased leading to severe illness in the child. Her parents also found blood in her stools but owing to their economic condition, they were left helpless and heart-broken whenever they looked at their child. The case was then referred to Aster CMI Hospital where the doctors informed the parents that the child was at the last stage of liver failure and required an urgent transplantation. The child's parents were counseled regarding the need for urgent liver transplantation as a life-saving therapy.
Top Software Engineering Courses
In a surgery that lasted for 9 hours, a team lead by Dr. Sonal Asthana, Sr. Consultant, HPB & Liver Transplant Surgery, Aster CMI Hospital, Dr. Mallikarjun Sakpal, Consultant – Hepatology & Liver Transplantation, Aster CMI Hospital, and Dr. Karthik K Raichurkar, Consultant- HPB and Liver Transplant Surgery transplanted the liver of child's mother Mrs. Pavithra M, aged 26 years, into the child. The mother volunteered as a living donor under the Affordable Liver Transplant Initiative (an ILC and Aster CMI joint program) which also raised 80% of the treatment cost for the child's treatment through crowd-funding and CSR. The result of this was a healthy playful child who is now out of the hospital and is back at his home in Vellore with his family.
Speaking on the challenges of transplanting during a pandemic, Dr. Sonal Asthana, Sr. Consultant, HPB & Liver Transplant Surgery, Aster CMI Hospital, said: "Owing to the COVID-19 crisis, transplantation and organ donation have come to a complete halt. Due to this deceased liver transplants have completely stopped. This has had some serious implications, as many of our patients are suffering from kidney and liver failures and they may not survive while we wait for the pandemic to resolve. We are currently dependent on living liver transplants for patients who are critically ill and cannot survive. There is also a lot of stress while operating during such times as we not only have to focus on saving the life of the child but also have to take care of our team and have to ensure that all the precautions are undertaken to avoid any contamination. Another major challenge which we faced was raising money for the treatment of the child at the time of the pandemic, fortunately, we were able to raise money through several donors and were able to make sure that the child got her life-saving transplant even at the time of the pandemic."
Important Announcement – EasyShiksha has now started Online Internship Program "Ab India Sikhega Ghar Se" during this lockdown.
 "Liver diseases among children is quite a unique problem which also affects them physically, mentally, and emotionally. These cases are related to congenital diseases, the cause of which is sometimes not identifiable. These diseases could be the inherited diseases of the liver that initiate the illness or it could occur due to a tumor that is not operable and cannot be removed by surgery. Hence in such cases, liver transplant gives these children a new lease of life with most of the organ changes reversing with 3 months' time. Baby Raghavi showed signs of advanced liver disease leading to severe jaundice, a bloated belly and, bleeding episodes due to liver dysfunction and was in the cycle of liver failure. We were at the risk of losing the child had we not been able to provide her treatment on time. We are glad that with Aster ILC's affordable liver transplant programme, we have been able to fulfill our vision to ensure that no child who comes to us is turned away for lack of funds even during such trying times. We believe that as healthcare workers, we must save as many lives as possible during such an hour." said Dr. Mallikarjun Sakpal, Consultant – Hepatology & Liver Transplantation, Aster CMI Hospital
Speaking on the precautions taken while conducting the transplant during the lockdown, Dr. Karthik K Raichurkar, Consultant- HPB and Liver Transplant Surgery, said: "Before conducting the operation, we conducted special COVID-19 tests for the patient and her family members. Our team took all the necessary precautions including wearing PPE's, gloves, and masks for the entire duration of the operation. Since the child's mother was the donor, we made arrangements for her father to stay at the hospital in order to provide all the necessary mental support to the family during the complex transplant. During the entire process, our team was regularly in touch with family and we counseled them on various issues. Post the treatment, we are following up with the patient and her family through virtual follow-ups in order to avoid the risk of any contamination."
Expressing his gratitude to the life-saving treatment provided by Aster doctors, Mr. Muni Swamy, the patient's father, said: "Seeing my daughter at that stage was the end of my life, my wife and I were constantly worried about her health condition. We visited multiple hospitals for treatment but didn't find a cure, we were finally referred to Aster CMI Hospital where doctors informed it was the last stage and she required liver transplantation. We booked an ambulance from Vellore to Bangalore during the lockdown. The medical team at Aster CMI hospital took all safety measures amidst COVID-19. I was provided with a pass from the hospital, hence I did not face any issue with traveling, also mostly I stayed in the hospital as my child was undergoing the treatment and my wife was the donor. I was advised by doctors to reduce my commute and follow all safety measures to stay safe from COVID-19. I am very happy to see my daughter has recovered, I am thankful to Dr. Sonal Asthana, Dr. Mallikarjun Sakpal and the support team of Aster CMI Hospital who gave a new lease of life to my child. My daughter turned 4 in the hospital post-surgery, and I believe that the gift of a new life is perhaps the most precious gift which she can ever receive." 
Empower your team. Lead the industry
Get a subscription to a library of online courses and digital learning tools for your organization with EasyShiksha
Request Now
Aster's ILC team includes specialist doctors- Dr. Sonal Asthana, Dr. Rajiv Lochan J, and Dr. Mallikarjun Sakpal who have been adopting several methods to make liver care affordable and manageable for all. The team of expert doctors have devised ways to significantly reduce the cost of liver transplants by making use of crowdfunding, corporate sponsorships from CSR budgets, cross-subsidies, matched funding and tie-ups with state governments which helps in creating a budget pool leading to an overall reduction in the cost of the surgery and out of pocket expenses of the patient. While a normal liver transplant ranges from Rs 12 to Rs 30 lakh, the affordable liver transplant at Aster has gradually brought down the cost of a transplant and post-care management to just Rs 2.5 lakh. With the use of this unique method, Aster hospitals have been able to subsidize the overall cost for liver transplantation for children, Aster's ILC team has so far performed 84 transplants for the needy children and raised Rs 9 crore approximately to support this initiative.
For more information related to technology, visit HawksCode and EasyShiksha
ALSO READ: tips-for-hair-nourishment-at-home
Get Course: CMOS-IC-Design–Amplifier-Design-with-Examples