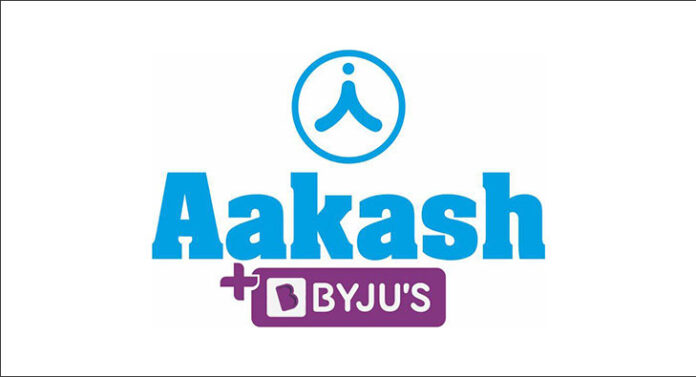 Aakash BYJU'S students become Highest NEET scorers three years in a row by securing AIR 02 and 03; 5 Aakashians featured in Top 10;
18 become State/UT Toppers
Two students of Aakash BYJU'S from Delhi and Bengaluru have created history by becoming National Toppers securing AIR 02, 03 and one DLP student secures AIR 01
5 students from Aakash Institute feature in Top 10; 27 in Top 50; 52 in Top 100
In fact, every second student in Top 100 is from Aakash BYJU'S
September 10, 2022:Registering one of the best results ever, a whopping 80,918 students from Aakash BYJU'S, the national leader in test preparatory services, have qualified the prestigious NEET Examination 2022. And a third year in a row Aakash BYJU'S students have secureda historic feat with two students becoming National Toppers securing AIR 02 and 03 by scoring 715/720.
An impressive number of 5 students from Aakash BYJU'S have secured ranks in the Top 10; 27 in Top 50; 52 in Top 100. 18 students become State/UT Toppers from West Bengal, Goa, Jammu and Kashmir, Gujarat, Delhi, Karnataka, Maharashtra, Madhya Pradesh, Rajasthan, Haryana and Odisha.
Aakash BYJU'S students in Top 10 are Vatsa Ashish Batra from Delhi became AIR 02, AIR 03 is secured by Hrishikesh N Gangule from Bengaluru, Zeel Vyas AIR 09 from Gujarat and HaziqParveez Lone from Jammu and Kashmir. Vatsa and Hrishikesh secured 715 out of 720 while Zeel and Haziq scored 710 out 720 respectively.
ALSO READ : OPPO India announces 'OPPO Inspiration Cup' – a coding hackathon for students
Commenting on the impressive results, Mr. Aakash Chaudhry, Managing Director of Aakash BYJU'S said, "Heartiest congratulations to all our students who have performed exceptionally well in the NEET 2022 examination. This is the third year in a row when we have secured such a historic result. The credit goes to the hard work put in by our students, proper guidance by the faculty and as well as the quality test preparation imparted at the institute. I would also like to extend our gratitude to the parents for being a constant support to their children. Their dedication towards their passion of becoming a doctor and persistent efforts to achieve the target is now inspirational for lakhs of students including those who remain there in villages and remotest areas of the country. Our quality test preparation is renowned in the industry for preparing students to excel in medical and engineering entrance exams. I wish all the students all the best for their future endeavours."
The students credited their outstanding performance to the hard work and the excellent coaching provided by Aakash BYJU'S for the examination, which is considered amongst the most competitive in the world. The NEET Exam is applicable for admission to all medical colleges in the country.
A total number of 18.5 lakh candidates registered for NEET examination this year.
Aakash BYJU'S aims to help students in their quest to achieve academic success. It has a centralized in-house process for curriculum and content development and faculty training and monitoring, led by its National Academic Team. Over the years, students from AESL have shown proven selection track record in various Medical & Engineering entrance exams and competitive exams such as NTSE, KVPY, and Olympiads.
About Aakash BYJU'S
Aakash BYJU'S provides comprehensive test preparatory services for students preparing for Medical (NEET) and Engineering Entrance Examinations (JEE), School/Board Exams and Competitive Exams such as NTSE, KVPY, and Olympiads. The "Aakash" brand is associated with quality coaching and a proven student selection track record in various Medical (NEET) and JEE/Engineering Entrance Examinations, Scholarship exams & Olympiads.
With over 34 years of operational experience in the test preparatory industry, the company has a large number of selections in Medical & Engineering Entrance Exams and several Foundation level Scholarship exams/Olympiads, a pan India network of 285+ Aakash Centers (including franchisee), and an annual student count of more than 3,30,000.
The Aakash group has investment from Think & Learn Pvt Ltd (BYJU'S) as well as by world's largest Private Equity firm Blackstone.
www.aakash.ac.in
Visit EasyShiksha for skill development courses.