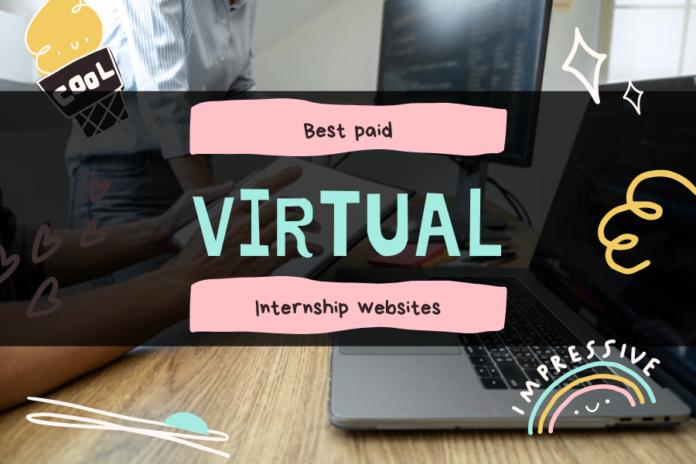 You can get paid at the start of your career! Can it be more alluring than this, anyway? Do you know about Paid Virtual Internship opportunities?
Well yes, they are a thing. They are the current trends. They have been used for a long time, but now are irreplaceable too. Because of growing needs, and the uncertainty of times we live in. We all need money to run our day-to-day chores.
While countries around the world are beginning to open up virtual internships, especially after the pandemic. In the past, they were not that popular and thus were unknown to many. So the amount of growth was limited.
It may still be your best bet to build up a network of contacts and to learn new skills – without the confusion about travel restrictions and conditions. While both pros and cons of doing an internship online are certainly available, one of the greatest advantages is that you can do an internship anywhere in the world and never have to leave your couch! You will also get paid, for being on your couch, around your family.

These virtual internships build your global portfolio and preference. It also adds value to do things you have been trying for a long time, on top of it while wearing your favorite PJ bottoms.
Certain websites offer these services for every niche like Programming, Digital Marketing, Content Writing, Designing, Graphics. Business analyst, Machine learning, etc. Some pros and cons of the top websites for Online internships opportunities are:
The leading Ed-tech platform for India, which offers help to students and the learning community, via Online Certification programs and Internships, and other Virtual Solutions. The only solution to offer such variety.
Pros
Indian MNC company, Online Internship, Certification accredited are renowned and notably accepted in all further studies Virtual Internship and jobs, allowing lifetime access to all its courses. Discounted price and less expensive fees. Can start raw and fresh.
Cons
Same networking as the firm offers Online courses to learn and Certificates for the Internship.

Intern Abroad HQ
Intern Abroad HQ offers a range of remote virtual internship across the globe.
Pros
Courses globally, to learn Spanish Architecture, Marketing from Japan. They offer global solutions and requirements. Internships can be customized.
Cons
You need to know details before joining a course, hence not accepted as a fresher. Expensive courses but quality.
Connect-123
Connect-123 wishes to support you with one of its numerous remote internships from your own home. They have programs designed to provide interns with success on the job in networking with specialists. You receive consultations before and after the departure to make sure that you get the most.
Pros
Success in the international labor market, best reviews of students, Greater scope, and global reach. Can get international exposure and reach, with opportunities of full time.
Cons
Important Announcement – EasyShiksha has now started Online Internship Program "Ab India Sikhega Ghar Se"
Very Expensive and need proper profiles to match the standards of the company, to allow the best internship opportunities in the world.
GVI
Top-ranking GVI provides eight different fields with remote opportunities for interns in the world who want to influence themselves. Hot topics such as conservation, human rights, and public health programs allow participants to participate in actual projects whilst receiving weekly professional mentorship and guidance.
Pros
Expert guidance at all levels, series of masterclass lectures by leaders in various fields even for staff members, more practical training for their interns. Renowned certificates after completing an internship.
Cons
A very expensive internship option. It takes a more practical approach, this can lead to an imbalance between the practical and theoretical approaches.
CAPA
For over 25 years, CAPA has been one of the leading experts in internships and their commitment to internships online is no different! In industry ranging from education to web design, they offer internships in 7 towns across 4 continents.
Pros
Developing personal and business skills from the core can have 3 academic credits for your online internship in addition to the rich amount of knowledge and experience.
Cons
Expensive hence can be unaffordable for many of us.
To find some services which offer online certification courses and online virtual internship opportunities remotely is advantageous on a student's part. The more you can get out of an opportunity truly depends on you.
But you must know how and what is to be done. Steps in the right direction are good and correct steps. Because you have a track. To keep yourself on track, you must be sure about the companies you follow for getting Virtual internships.
We have researched and found some of them for you, but you must have your reasons. We recommend you to have a look at EasyShiksha's online programs and certification courses for the internship, as it is the only Indian brand to offer such. Hurry up, and do not wait, any longer.
Also, do check out the best online internship for the computer science website.
Top Software Engineering Courses
For more related content visit Easyshiksha and Hawkscode
ALSO READ: cycle-invites-women-to-bring-kumkum-bindi-back-in-vogue-with
Get Course: Microsoft Word Tutorial