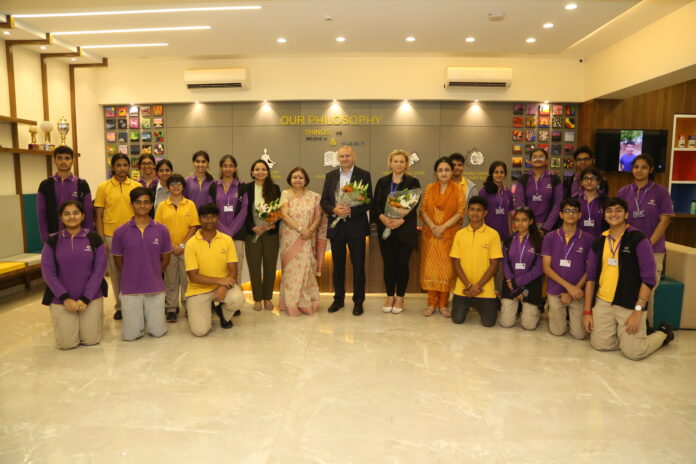 Mumbai: In an effort to enlighten and inspire students to pursue their passions, Billabong High International School (BHIS) has launched its novel project Meraki. The program will comprise a series of thought-provoking sessions which will be conducted by world-renowned leaders from across the globe. The initiative is designed to empower students to be ready for the real-world and provide them with a global perspective.
As a kickstart to the program, global experts Dr. Eleni Mangina and Dr. Jeremy Simpson hosted two engaging sessions at the BHIS Malad Campus on 29th August 2022. One of the topics included 'How is Artificial Intelligence Helping Humanity?' and was conducted by world-renowned expert from Dublin, Ireland, Dr Eleni Mangina, Professor, School of Computer Science and Vice Principal, International College of Science and University College of Dublin.
Another thought-provoking session on 'The Life & Death of A Cell' was hosted by Dr. Jeremy Simpson, College Principal & Dean of Science (College of Science), University College Dublin (UCD).
During the session, Dr Eleni focused on the progression of Artificial Intelligence over the decades. "In the context of the changes our planet and humanity are experiencing, the potential of Artificial Intelligence can be presented through examples of automation of tasks, estimation and prediction in different areas (robotics, emissions, energy, education) with incomparable efficiency," she said.
"I am excited to be here and address these enthusiastic Billabongers. Through such sessions, we are bringing professional lessons and engagement to the lives of these students," Dr Eleni added.
Mrs Shuchi Sinha, Principal, BHIS, Malad, said, "Artificial Intelligence is an unstoppable force. It has the potential to improve our understanding of complex subjects. For students, it is essential that they have clarity on the subjects of their choice from the beginning. We believe that employing the concepts of artificial intelligence will help them make valuable decisions in the subject fields they want to pursue."
ALSO READ : Times Pro, Indian Institute of Management Kashipur launches
Commenting on uniqueness of the program, Natasha Mehta, Head of School Development, Lighthouse Learning Pvt. Ltd said, "Meraki is a platform that will bring people with proven expertise in their specific fields to engage with our students. The students will have conversations that will give them glimpses of academic work and opportunities in higher education both in India and overseas and also provide them with a world view of the latest research and development in their areas of interest. This in turn will help them develop an understanding of real-life work places to broaden their perspective and spark ambition."
Commenting on the launch of this initiative Rahul Deshpande, CEO, K12 Division, Lighthouse Learning, said, "It is essential that we create opportunities and infrastructure for our students to explore new skills, hone them with the appropriate guidance to elevate their abilities and excel in their chosen fields. Meraki is one such effort which is focused on creating an integrated approach for academic and beyond with global partners to upskill and elevate the competencies of our students."
About Billabong High International School (BHIS):
Billabong High International School is the leading K12 education network in India with 27 schools in India and Maldives. Its goal is to create high interest and rewarding learning experiences that will stay with children for the rest of their lives. Giving a purpose to learning and allowing children to be thinkers, innovators, and problem-solvers has been the guiding principle under which the school has nurtured several achievers in academics & beyond. The Billabong High International School network offers the ICSE, IGCSE, and CBSE boards, from preschool through Grade 12.
The Group:
Billabong High International School is part of Lighthouse Learning, one of India's leading Early Childhood & K-12 Education groups. The group is committed to building a robust foundation & new-age skills in future generations with student-centered goals that align its network of over 1,200 Pre-Schools and 44 Schools. Lighthouse Learning Group delivers the joy of learning to over 150,000 children every day and employs a talented workforce of over 10,000 people across its office and campuses.
Visit EasyShiksha for skill development courses.