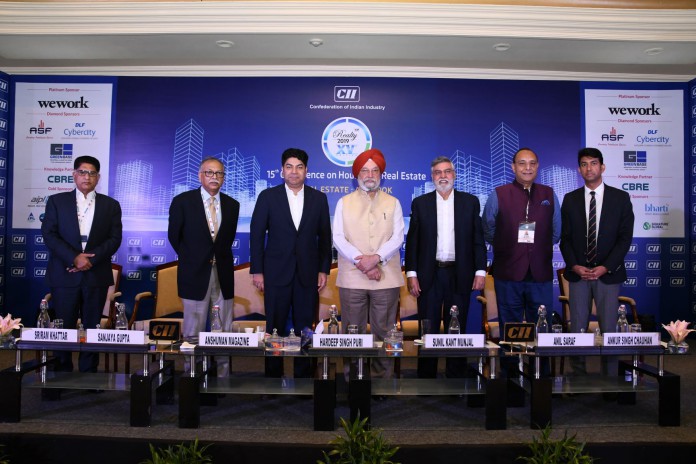 "Indian realty sector is gearing up through urbanization; will witness 600 million people residing in urban spaces by 2030", said Mr. Hardeep Singh Puri, Hon'ble Minister of State for Housing and Urban Affairs, Civil Aviation (I/C) and Commerce & Industry, Government of India at CII – CBRE REALTY 2019
CII-CBRE Report 'Real Estate – A Relook' was launched at the XV edition of the conference. The report identifies Smart Cities, Co-working, Affordable Housing and Logistics & Warehousing as key disrupters of Real Estate
New Delhi, 27th August 2019: CII in association with its knowledge partner CBRE, today released a joint report 'Real Estate – A Relook' at the XV edition of its flagship conference on Real Estate – CII CBRE REALTY 2019.
Addressing the real estate fraternity at the conference,Mr. Hardeep Singh Puri, Hon'ble Minister of State for Housing and Urban Affairs, Civil Aviation (I/C) and Commerce & Industry, Government of India said, "Introduction of RERA has led to a truly revolutionary phase in the history of real estate. With the transparency, reforms and regulation that these new policies have brought to the sector, now is the time to enter into the new technology-driven approach; building green and eco-friendly homes."
The CII-CBRE knowledge paper 'Real Estate – A Relook' was unveiled by Mr. Hardeep Singh Puri, Hon'ble Minister of State for Housing and Urban Affairs, Civil Aviation (I/C) and Commerce & Industry, Government of India in the presence ofMr. Anshuman Magazine, Chairman – CII Realty 2019 & Co-Chair, CII National Committee on Housing & Real Estate and Chairman & CEO – India, Southeast Asia, Middle East & Africa, CBRE along with Mr. Anil Saraf, Co-Chairman, CII Realty 2019 & CMD, ASF Group.
The report encapsulates how real estate, that witnessed decades of traditional approaches, is now going to be revolutionized by  'disrupters' that have initiated a new wind of demand in the sector, the role of policy reforms in giving it the much-needed regulatory push and the need for building future-ready talent to establish India on the map for world-class developments.
'Real Estate – A Relook' is a compendium of the key drivers which are shaping the Indian real estate and are instrumental in crafting the future of the sector. It enables a dialogue between all the stakeholders of the industry to revisit the plans, potential and approaches that will cumulatively shape new-age infrastructure.
The report also details the evolution of smart cities, co-working spaces, affordable housing, logistics and warehousing and sets context for the future. It further assesses the role of dedicated policy and regulatory reforms like RERA, REITs, Ease of Doing Business, Housing for All in enabling the much-needed transparency across the realty value chain.  The role of innovative technologies along with emergence of PropTech in transforming the Indian Realty sector and the need for building 'future-ready' talent are also key attributes emphasized that will pave the way for the sector. 
While releasing the CBRE-CII report, Mr Anshuman Magazine, Chairman – CII Realty 2019 & Co-Chair, CII National Committee on Housing & Real Estate and Chairman & CEO – India, Southeast Asia, Middle East & Africa, CBRE said, "In the wake of positive policy reforms, emergence of a strong workforce, introduction of new technologies and growth of newer asset classes, the momentum of India's realty sector is growing substantially.  The theme of this year's conference 'Real Estate – A Relook' reviews the emerging factors that will build the future of real estate sector. India has one of a kind growth story; real estate as the country's growth propeller and we at CBRE are committed to be at the centre of this growth trajectory.  The CII CBRE report 'Real Estate – A Relook' unveils a sectoral overview and outlines factors that will redefine real estate soon."
Co-Chairman, CII Realty 2018 and Chairman & Managing Director, ASF Group, Mr. Anil Saraf said, "CII Realty is an interactive platform designed for its fraternity to discuss the emerging industry trends and assess global practices that are influencing the sector. The policy reforms that the government have introduced has ushered in burgeoning new sectoral opportunities, adding greater transparency to the ecosystem. We are witnessing a significant business shift from traditional housing to the emerging trends like co-working office spaces and start-ups. Today, large occupiers want a technology driven office strategy thus, encouraging the players to focus on the way technology is required to become part our industry. Additionally, in order to reboot the housing segment, we need right sizing and right pricing approach."
Mr. Sunil Kant Munjal, Past President, CII & Chairman, Hero Enterprise said, "It is the right time for introspection and making the necessary changes to the dynamics of the real estate sector. There is a need to demonstrate that we deliver more than we promise, and this will require a concentrated effort from all the players in the system. The sector demands a paradigm shift which is possible only through technology that will act as a game changer and help realty to revive opening new opportunities for growth in India. Additionally, we need to recognize the emerging trends across smart cities, co-working spaces, affordable housing etc. We need to believe that this is the best opportunity for the sector to make a shift to customer-centric industry. " 
In addition to Mr. Hardeep Singh Puri, Hon'ble Minister of State for Housing and Urban Affairs, Civil Aviation (I/C) and Commerce & Industry, Government of India (), the key attendees at the conference included  Dr Mr Sunil Kant Munjal, Past President, CII and Chairman, Hero Enterprise; Mr Sanjaya Gupta, Managing Director, PNB Housing Finance Ltd., Mr. Sriram Khattar, MD, DLF; Mr Rahul Kapoor, Director – Smart Cities Ministry of Housing & Urban Affairs, Government of India; Dr K K Khandelwal, Chairman, Haryana Real Estate Regulatory Authority among others. 
Here are the key trends listed in the report "Real Estate – A Relook":
Real Estate Disrupters: What's Hot & What's Not?
Smart cities
·         The growth of smart cities will be one of the influencing factors that will shape the future of the country's real estate environment
·         Infrastructure renewal in Tier II and III cities with widespread deployment of state-of-the-art surveillance systems and integrated intelligent traffic management systems that are expected to streamline basic amenities
·         Launched of '100 Smart Cities Mission' where the focus is on sustainable and inclusive development through the use of 'smart' solutions
·         Development of townships as a result of new industrial corridors (under 'Make in India')
·         By 2030, Delhi might overtake Tokyo as the world's largest urban agglomeration. India will have 68 cities with a population of more than 1 million; up from 42 today
·         One of the primary factors that needs to be adopted to witness this progress by 2030 is to strengthen inter-regional connectivity by developing an integrated transportation system
·         Focus should also be on expanding affordable housing and developing efficient neighborhood planning along with driving sustainability in everyday life.
Co-working
·         With the recent wave of rapid expansion, flexible spaces account for about 1.7% of the total office stock in APAC currently. Shanghai and Delhi-NCR were the only two markets in the region where flexible spaces accounted for more than 3% of the overall office stock
·         Keeping pace with the demand, the overall stock of flexible space in the country (including the seven Indian cities) increased by almost 52% y-o-y to almost 20 million sq. ft. by H1 2019. In H1 2019, almost 30% of the flexible space leasing took place in Bangalore

Important Announcement – EasyShiksha has now started Online Internship Program "Ab India Sikhega Ghar Se"

Top Virtual Reality Courses
More Courses With Certification
·         By 2020, leasing by flexible space operators expected to touch 7-9 million; expansion from 'gateway' cities to 'getaway' cities
·         More established corporates to opt for flexible spaces; large sized deal closures expected
·         Flexible spaces unlikely to be limited to office buildings and 'Free-addressing' policies to boost operator expansion
·         Flexible operators have been bullish about India and leased about 4.6 million sq. ft. of space in H1 2019, an increase of about 52% on a y-o-y basis. India today is one of the biggest flexible space markets in APAC with a stock of almost 20 million sq. ft. and is only expected to grow from strength to strength.
Affordable housing
·         Housing demand remains concentrated in affordable and mid-end segments
·         Projects launched in locations with basic physical and social infrastructure expected to see greater traction
·         Given the improving affordability of the population, definition of affordable housing and mid-end housing expected to blur somewhat in the coming years, given the improving affordability of the population
·         In addition, the government also recently changed the definition of affordable housing,
o   60 sq. m. in metropolitan cities (NCR including Delhi, Noida, Greater Noida, Ghaziabad, Gurgaon and Faridabad), Bangalore, Mumbai – MMR region, Chennai, Hyderabad and Kolkata) having value up to INR 4.5 million.
o   90 sq. m. in non-metropolitan cities / towns with value up to INR 4.5 million.
Logistics and warehousing
·         Leasing activity rose by almost 31% compared to H1 2018, crossing 13 million sq. ft. in H1 2019
·         The sector is also likely to attract significant investments – as indicated by the latest report (CBRE APAC Investor Intention Survey, 2019) India was among the top 5 investment destinations in APAC; depicting Industrial & logistics as one of the top segments expected to be targeted by investors in 2019
·         Widespread deployment of IoT to create smarter warehouses with improved supply chain efficiencies
·         Advent of bigger warehouses that are constructed at greater distances not only from each other but also from residential districts
·         Partial crossover between warehousing and retail property expected; for instance, shopping centres in large US and European cities often have self-storage facilities where buyers take delivery of goods ordered online
Reinventing Real Estate through Policy Reforms
·         At present, 30 states and Union Territories have notified the RERA rules with more than 42,000 housing projects registered so far
·         Affordable housing now includes units up to 60 sq. m. in metropolitan cities having value up to INR 4.5 million
·         In H1 2019, supply at a pan India level inched up by 17% y-o-y while sales grew by 16% y-o-y
·         RE in India is now high on the global investor radar – with the country's first REIT listing a prominent example
·         India has witnessed rapid strides in its Ease of Doing Business Ranking
·         For the first time, separate policies for individual RE segments have been announced in H1 2019, including a Draft Logistics Policy, a Draft Industrial Policy, a Draft E-commerce Policy and a Draft Retail Policy
·         The impact of the implementation of RERA, GST and Insolvency and Bankruptcy Code is expected to better place developers with a scalable business model, to increase their market share in a regulatory environment that demands greater accountability and transparency from developers.
Top Software Engineering Courses
Building the 'Tech-Way' and the advent of PropTech in India
One of the prime sectors that will witness a revolution due to digitalization is the realty sector –
·         Artificial intelligence, virtual and augmented reality, analytics, block-chain, autonomous vehicles and IoT are the new disruptive and exponential technologies that will accelerate innovation and drive growth
·         As the operation dynamics of the real estate business in India are evolving and innovating at a pace much faster than envisioned, it is almost imperative that innovations be applied to the most basic as well as most important step in the value chain – construction techniques
·         Tech in construction space has coincided with growing demand for faster construction and world-class quality. Therefore, developers would have to increasingly adopt newer construction techniques
·         Digitalization will lead to the emergence of the new start-up initiative- PropTech, a technological innovation in data assembling, designing and transactions; by which it provides efficient services to both occupiers and landlords/developers.
Building 'Future Ready' Talent
·         Going forward, an increasing number of freelance individuals, small groups and partner businesses to work 'with' organisations; instead of 'for' organisations
·         Increase in demand of flexible spaces as workplaces are becoming more modern keeping with the aspirations of the millennial working population. With a steady growth in mobile population, this sector will fast change gears as they enter the "mainstream".
·         Corporates providing a diverse range of amenities and value-add services such as cafés, shuttle services, etc.
·         Deploying tech solutions (such as cloud-based apps) for jobs such as booking conference rooms or reporting faults
·         Leveraging labour analytics to obtain robust and evidence-based solutions to finding the right talent
Top Networking Online Courses
More Courses With Certification
Empower your team. Lead the industry
Get a subscription to a library of online courses and digital learning tools for your organization with EasyShiksha
Request Now
ALSO READ: aster-to-set-up-an-innovation-and-research-hub-in-bangalore-india-and-gcc
Get Course: online_courses/Learn-HTML-Tutorial-for-Beginners