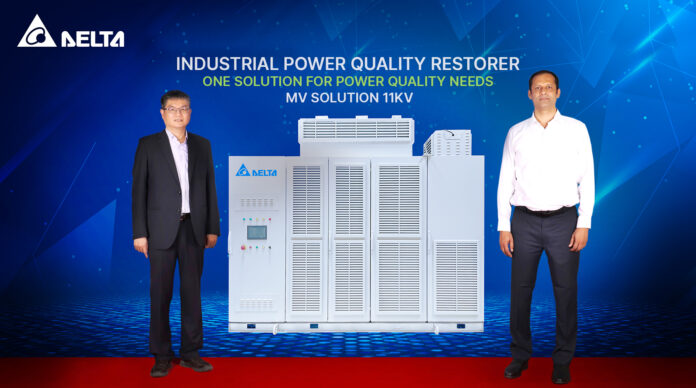 Bangalore, 20th May 2022– Delta India inaugurated the Medium Voltage Power Quality Restorer in the presence of all Delta's dignitaries. In this special event, the entire team of RnD and management were present and were deeply elated to witness the inauguration.
The mission of Delta is to create a better tomorrow. State-of-the-art technology, innovation, and energy-saving solutions are the main concepts of Delta in achieving a sustainable future. On the path to a sustainable future, Delta has achieved another milestone. Delta is profoundly elated to introduce a new power quality product from our local/indigenous RND. The product is an 11kV 3 ϕ Power Quality Restorer. Designed and developed keeping in mind industrial loads and Indian grid code requirements. It is an essential solution to the plethora of power quality problems.
Important Announcement – EasyShiksha has now started Online Internship Program "Ab India Sikhega Ghar Se"
It is expected that India's power demand gets doubled in this decade, largely fueled by fast growth. To meet the demand addition of more renewable energy resources like wind and solar is planned by the Government of India. Increasing industrial loads and huge renewable energy integration lead to power quality problems like voltage fluctuation, flickers and equipment failures. To keep the power quality problems under check, the CEA (Chief Electric Authority) of India has released "Technical Standards for Connectivity Regulations", to limit the harmonics within the prescribed limit. Medium Voltage Power Quality Restorer (PQR) effectively solves the power quality issues with higher efficiency.
After the success of 25kV railway PQR, 11kV 3ϕ PQR is the new flagship product in the portfolio of Delta's Medium Voltage PQR portfolio. The launched product is the solution to various PQ problems with multiple benefits. It is capable of providing both leading and lagging reactive power along with current harmonic compensation. Load imbalance correction and voltage regulation are the other key benefits. It reduces the electricity bill by a considerable amount, as it avoids the power factor penalties and harmonic surcharges. In addition, the benefit of MD reduction and reduced copper losses guarantees faster ROI.
visit easyshiksha for skill deelopment
Furthermore, we believe in the 'Make in India' initiative. As a suffice to the 'Make In India' program, Delta's Power Quality Restorer product has been developed and shall be manufactured in India as per the criteria of the 'Make In India initiative. We believe, it will boost the manufacturing sectors in India regarding sustainable development and hence dependency.
In the modern era, power quality is an essential requirement for effective operation. Delta's Medium voltage power Quality Restorer has Grouping Modular Technology and All-inclusive Embedded System. The product's High Reliability, High Power Density, and Low Losses ensure the savings for the industrial units.
The environmental concern of Delta is a well-known fact. As an environment protector, Delta is highly concerned with environment-friendly products. The use of alternative energy, recycling, personal training, and waste management programs are undergoing in Delta. Delta's Green Building initiative is another milestone where we provide safe and energy-sufficient certified green buildings according to various national standards.
Apart from the highly efficient product, the launched Medium Voltage Power Quality Restorer by Delta has minimum impact on the environment. As the losses are less than 1%, impact on ambient temperature is negligible. Noise levels are minimum which makes the product environment friendly.
READ: XLRI- easyshiksha for skill development
Sustainable and efficient energy solution is a new, but highly emerging market. Currently, this sector is profusely evolving in India. India is aiming high to achieve green energy products. To align with India's achievement in this field, Delta (as a provider and developer) wishes to be a pioneer in this emerging market.
Delta has already secured one of the leading positions in providing energy-sufficient Green Products and Sustainable Solutions. Delta's Power Electronics likes various components, Embedded Power, Fans, and Thermal management; Automation like Industrial automation and Building Automation; and Infrastructure like ICT infrastructure, Energy Infrastructure are its multiple undertaking for energy-efficient green products.
Delta's commitment to a sustainable solution is imminent. Delta provides the best solution to achieve this goal. Delta's Building solutions provides the advanced building automation technique aimed at achieving the vision of "smart building for better living."
The renewable energy solution of Delta administers a high quality, and efficient solar and wind energy system. Delta's effort is recognized by the world's top ten wind turbine customers. In addition to various solutions sectors, Delta has EV Charging solutions, Energy Storage solutions. The launched product Medium Voltage Power Quality Restorer will add another chapter to Delta's mission. For better sustainable development, Delta India, a pioneer in the field of emerging green technology, will continue to invest, innovate and strive for clean and energy-efficient greener solutions for a better future.
About Delta Electronics India
Delta Group in India is operating since 2003. Delta Electronics India Private Limited, is a group entity and a leading Power and Energy management company. Delta operates in three business categories: Power Electronics, Automation and Infrastructure. It has a legacy of operating in India with market leadership in Telecom Power Solutions, Renewable Energy Solutions and Display Solutions. It is also a leading provider of Industrial Automation Solutions, UPS & Datacenter Solutions, EV Charging Solutions, Rail Transportation Solutions, Energy Storage Solutions, DC Fans & Blowers, and Components. With fourteen regional offices, four manufacturing facilities (Rudrapur, Gurgaon, Hosur and Krishnagiri) and two R&D centres (Gurgaon and Bengaluru), Delta has a strong presence across India with more than 200 channel partners.
The company has been awarded ISO 9001:2008, ISO 14001:2007 and OHSAS 18001: 2008 certifications for Quality, Procedures, and Environment management. For detailed information, please visit: www.deltaelectronicsindia.com
www.deltaelectronicsindia.com