Shares his vision 2047 and emphasizes upon People Public Private Partnership model to eradicate poverty, at the first convocation ceremony at the GITAM (Deemed to be University) Hyderabad campus
Hyderabad, May 14, 2023: Shri N Chandrababu Naidu, one of India's most entrepreneurial Chief Minister and Telugu Desam Party (TDP) President was the Chief Guest at the convocation of the Kautilya School of Public Policy. Kautilya School of Public Policy, one of India's leading policy schools conducted its first convocation ceremony for the batch of 2021-2023. The ceremony began with an address by the Chancellor, Shri Virander Singh Chauhan who congratulated the graduates and encouraged them to work towards strengthening governance policies for the nation. Eminent academicians including GITAM's (Deemed to be University) Vice Chancellor Dr Dayananda Siddavattam, President Sri Bharat Mathukumilli and GITAM Hyderabad Pro-Vice-Chancellor Prof. D.S.Rao were present at the convocation ceremony.
ALSO READ: Apply for the 2-year Online MBA programme of Parul University with 13 cutting-edge specializations
Post lighting the lamp, Former Andhra Pradesh Chief Minister and Telugu Desam Party (TDP) President N. Chandrababu Naidu felicitated the graduating students. He lauded the University's efforts to maintain the reputation of the school's name – Kautilya, the great Indian public policy reformer. Speaking on the occasion, Shri N Chandra Babu Naidu said, "India can become the biggest economy by 2047 through public policy reforms. We have both technological and demographic advantage today with 40% population below 25 years. With proper skilling and policies, youngsters like you can make India grow 15-16 times and surpass China and US by 2047."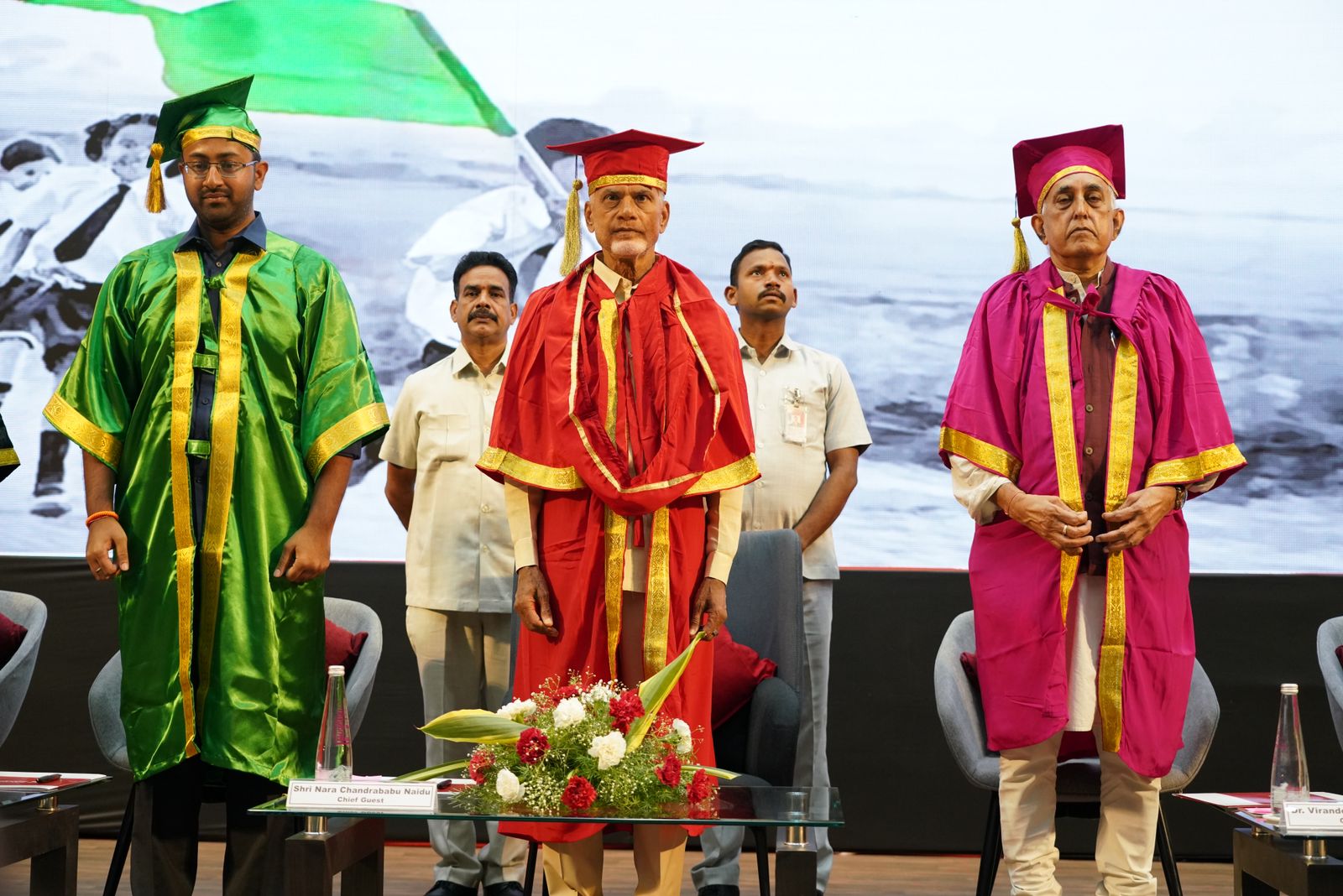 The convocation ceremony conferred degrees upon 43 graduating students — who made the founding cohort of the 2-Year Master of Public Policy program. Clad in their graduation gown and sash, the graduating students stepped in style to receive their certificates from the Former CM of Andhra Pradesh at their Convocation Ceremony.
Addressing the parents and students, Founder and President of the Kautilya School of Public Policy M Sribharat said, "At Kautilya School of Public Policy, you have had a progressive liberal
environment. But with great privilege comes great responsibility. This is why we have set up Kautilya. The most powerful thing is to have an incorruptible mind. Each one of you can change the world but the ends must justify the means."
Kautilya School of Public Policy offers a meticulously curated and continuously evolving two-year, full-time residential Master's Program in Public Policy. The rigorous academic program recognizes the need of a pool of public policy professionals who are formally trained in evidence-based policy making, implementation and leadership, for new India.

About GITAM (Deemed to be University) GITAM (Deemed to be University) was founded in 1980 by an inspired group of eminent intellectuals and industrialists of Andhra Pradesh led by Dr M. V. V. S. Murthi, former Member of Parliament, and popular philanthropist. Located in Visakhapatnam, Andhra Pradesh, it also has campuses in Hyderabad and Bengaluru. Collectively, the four campuses have 12 Schools offering 112 UG and PG Programmes ,  under their wing, in addition to Ph.D. Programme. Over the years, GITAM (Deemed to be University) has taken part in many social activities and has also produced many renowned personalities.
This year educate yourself and develop your career with EasyShiksha