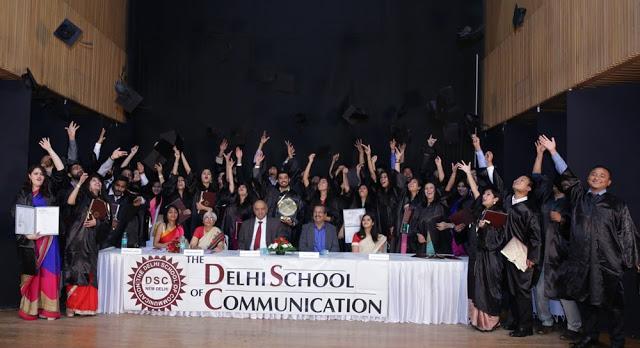 DSC is acknowledged for its Post Graduation Programme in Mass Communication (PGDPC). Its list of offerings has led to the emergence of new career opportunities which includes the short term job oriented courses. These courses are meant for aspiring students who wants to pursue there career in Public Relation, Event Management, News Writing, Business Communication and Digital Marketing. DSC will also provide the students with the internship opportunities after the completion of the course.
DSC'S short-term certificate course in PR, News Writing, Business Communication, and Digital Marketing is to attune the students to the communication industry as a whole specific focus on techniques and skills.

Important Announcement – EasyShiksha has now started Online Internship Program "Ab India Sikhega Ghar Se"

Details of the following courses are shared below.
1. Public Relation and Event Management (3 Months)
Eligibility: Higher Secondary and Above
The 3 month certificate course in PR and Event Management has been designed to attune the students to the communications industry as a whole with a specific focus on PR and Events.
The course is designed to cover the role and scope of PR, its numerous types and its importance in building a reputation, along with a specific focus of Event Management and its logistics. DSC will also provide the students with the internship opportunities after the completion of the course. Students will then be able to apply for jobs at numerous PR agencies, as well as the corporate communication divisions of various organizations.
2. News Writing (Hindi and English) (3 Months)
Eligibility: Higher Secondary Pass
The short term course in News Writing aims to familiarize students with specific techniques used in Broadcast Journalism. A background in Journalism is required to apply for this course. Starting from the basics such as what may comprise news, the course covers news scripting, reporting including understanding the difference between major news mediums such as Print and Broadcast. Editing/ VT Editing and program packages are also covered. Upon completion, a student will be armed to write effectively for News channels.
3. Business Communication (3 Months)
Eligibility: Higher Secondary Pass
The short term programme in Business Communication aims at improving one's communication skills, especially for the professional environment. Starting with an emphasis on grammar for both written and spoken, the course also includes language skills, dress, demeanor, and pronunciation. Conducted over flexible timings and days, it aims to help individuals succeed as professionals.
4. Digital Marketing (3 Months)
Eligibility: Higher Secondary Pass
The growth in Digital Media has led to the emergence of new career opportunities. The Digital Marketing course aims to teach a student the basic principles of Marketing in the Digital domain. Technical aspects such as Search Engine Optimization, HTML and understanding Social Media and non-technical aspects such as e-mail marketing, media planning & buying – so that this media can be leveraged to lead to success in business.
Eligibility: Anybody who has completed their Higher Secondary and above is eligible to apply for the programme.
Top Software Engineering Courses
About DSC:
The Delhi School of Communication is a 21-year old institute that envisioned the concept of Integrated Marketing Communication (IMC) and has been offering an IMC programme to post graduates since 1995. It has contributed significantly to the communications industry, through its futuristic thinking. The courses offered are: 2-year dual qualification programme – Master of Mass Communication/Masters in Business Administration (MMC/MBA); Post Graduate Diploma Programme in Communication (PGDPC).
With internships and projects as an integral part of the curriculum, the academic mix is one of theory and hands-on practice. Students have been placed at leading organizations such as JWT, Public is India, Leo Burnett, Genesis PR, Perfect Relations, Group M and so on.
Besides, DSC also delivers short-term certificate programmes in – Advertising & Media, Public Relations, Event Management, Content Writing, Marketing and Sales, Grooming & Personality Development.
Apart from the above courses, DSC also organizes workshops in key growth areas for corporates, to meet dynamic competitive challenges successfully.
The Delhi School of Communication
The Delhi School of Communication was started by a team of industry professionals and academicians who felt a need to better align the skills provided by higher educational institutes with the needs and demands in the communication industry in the tomorrows. A thorough study of communication schools across the globe was undertaken which when combined with the vision and foresight of Late Prof. Surojit Lahiri and Prof. Ramola Kumar gave birth to DSC. Late Prof. Surojit Lahiri or Baba as his students fondly called him, was a visionary and an acclaimed marketing guru. Having started his career in the Indian Army, he moved on to work with Wipro, Jagatjit Industries and ITC. He thereafter joined The Times of India group where he founded The Times School of Marketing and led it for over 10 years. A renaissance man, a father like figure, Sir was a guru to all his students.
Prof. Ramola Kumar started her career at The Institute of Management Studies, Bikaner as the Head of Department in the year 1984. She moved in October 1985 to The Institute of Management Technology, (IMT) Ghaziabad as Professor, Marketing with additional responsibilities as Academic Coordinator– for 4 yrs. In 1989, she shifted to IMT Delhi Centre as Chairperson, Evening Programme. She headed the centre for 6 years and for a span of 5 years during the same period, she was the Marketing Course Coordinator at The Times School of Marketing.
At DSC, Prof. Kumar was instrumental in helping conceive and launch the programme in the year 1995. Her areas of specialization include Marketing, Brand Management and Communications. Ma'am also regularly undertakes corporate training in Business Communication and Marketing. Prof. Kumar has been educated in the United States of America, Canada and India. She pursued her MBA from the University of Ottawa, Canada and was ranked 4th in the management programme.
Alongwith Prof. Lahiri and Ma'am, Mr. Sanjeev Bikhchandani, Mr. Ashok Mehta and Mr. Rajiv Tewari helped to co-found DSC. Mr. Sanjeev Bikhchandani (CEO Info edge) was Product Executive, HMM and Account Executive, Lintas before he started Naukri.com. Mr. Rajiv Tewari was Director Aspirations India and Executive Publisher at Strategic Newspapers Pvt Ltd. He also acted as Channel Head and VP Zee News. Mr. Ashok Mehta, CEO TV AdIndx, India's largest Advertising and news monitoring organization. Mr. Mehta's passion drove him from Contract Advertising to found TV AdIndx.
DSC Vision
Holistic evolvement of every individual to fulfil his destiny. An attempt to make some contribution, how-so-ever small to the environment.
DSC Mission
DSC's mission derives from a sensitive understanding of human progress. Education which prepares one for life and its various experiences is all encompassing. DSC mission endevours to:
• Building Young India through education by imparting knowledge which makes one wiser with time.
• It's suitable applicability in various ways and places.
• Education primarily covering the broad spectrum of the communication industry with the focus being to practice communication theory with greater sensitivity to socio-environmental needs and requirements.
• Subsequently making a significant contribution to the communication industry in theory and practice.
• Lastly to help evolve new and interesting teaching technologies.
2. Course Details:
Flagship Course:
Post Graduate Diploma Programme in Communication + MA (JMC)/MBA – (optional)
The DSC programme is a broad based course equipping students to deal effectively with the changing needs of the communications industry. As an integrated Marcom programme, DSC students are successfully able to handle diverse areas of comm. such as Advertising, Public Relations, Marketing, Direct Marketing, Event Management among others.
While the first year in school covers some basic courses, in the second year three specializations' are covered. The DSC programme is broad based & focused towards industry requirements. Offering a unique integration of communication and management at one level and theory and practical interface at another level makes the programme truly unique.
Some Basic Subjects:
• Marketing
· Cultural Studies
· Accounting and Finance
· Business Communication
· Advertising and Sales Promotion
· Market Research
· Mass Communication & Human Communication
· Journalism
· Statistical Analysis
· Entertainment Marketing
· Media Marketing
· Strategic Decision Making
· Entrepreneurship
Specialisations
Advertising & Entertainment Management
• Copywriting, Layout and Design
• Multimedia, Web Designing and E – Business
• Strategic Advertising Planning
• Film Production & Marketing
• Television Production & Marketing
• Radio Production & Marketing
Public Relations & Journalism Specialisation
• Editorial and Editing
• Managing the Press
• Reporting and News Writing
• Magazines and Features
• Public Relations
• Media Management & Laws
Marketing & Digital Specialisation
• Consumer Behaviour
• Brand Architecture
• Competitive Marketing
• Digital Communications
• Rural Communication
• Direct Marketing
• International Marketing
Course Fee:
The Fee for the two year dual qualification programme is Rs 4 lakh 90 thousand to be paid in
Four Semesters, excluding service tax. One instalment/ semester respectively. Upto Rs 60,000/
Is available in scholarships.
Those already graduate or pursuing graduation in their final year in any stream may apply for the programme. In order to seek admission, the student needs to sit either for a competitive examination such as MAT, CAT, ATMA etc. or sit for the DSC admission Test. This is followed by a ½ hour psychological test and a Personality Interview.
Other Courses:
3 month certificate Short Term courses in:
1. Public Relations
2. Advertising & Media
3. Marketing & Sales
4. Event Management
Other short term courses in:
1. Digital Media
2. Creative Writing & Content Writing
Among others
Course Fee: Varies between 20,000 – 35,000/- depending on the course
Empower your team. Lead the industry
Get a subscription to a library of online courses and digital learning tools for your organization with EasyShiksha
Request Now
ALSO READ: AISECT-collaborates-with-the-jharkhand-skill-development
Get Course: Beginner-Digital-Photography-How-Do-I-Use-My-Camera