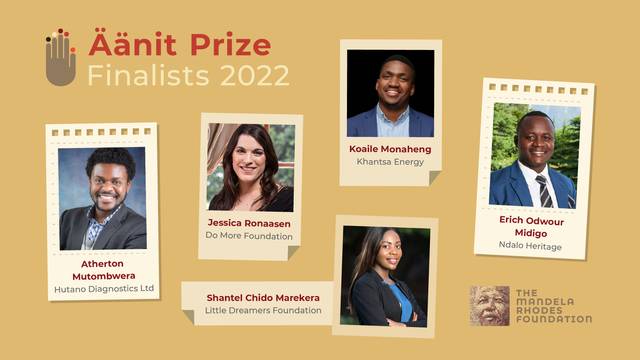 The winners will be announced live in a special ceremony co-hosted by MRF CEO, Judy Sikuza, and Trek4Mandela Project Manager, Sina Moyane, on 17 September 2022 at 18:30 SAST
JOHANNESBURG, South Africa, September 8, 2022/ — Five finalists have been shortlisted for the Äänit Prize, which awards up to $80 000 in support of African ventures that deliver or have the potential to deliver positive social impact for some of Africa's most marginalised people. The finalists run projects in areas ranging from early childhood development to medical technology and renewable energy. Finalists come from Kenya, Lesotho, South Africa and Zimbabwe.
An external panel of judges will make the final decision next week. The winners will be announced live in a special ceremony co-hosted by MRF CEO, Judy Sikuza, and Trek4Mandela Project Manager, Sina Moyane, on 17 September 2022 at 18:30 SAST. The public and the press are invited to join the livestream (https://bit.ly/3eCEYYs) for the awards and hear from some of Africa's exceptional minds in an intimate Q&A between the judges and the finalists.
The Mandela Rhodes Foundation launched the Äänit Prize in 2021 with the aim of enabling positive social impact in Africa. "We are tremendously proud to be offering the Äänit Prize in its second year. Each of these ventures has the potential to make a difference in the lives of people who have been left behind on our continent, which is exactly the type of value-driven entrepreneurship that we aim to support and develop at the MRF," said Sikuza.
Introducing the five finalists for the 2022 Äänit Prize! We are pleased to announce that voting is now open for the new Audience Choice Award. The venture with the most votes will win $1000.
Important Announcement – EasyShiksha has now started Online Internship Program "Ab India Sikhega Ghar Se"
Atherton Mutombwera: Hutano Diagnostics, "Saving lives with better, faster testing technology"
Every year, sepsis kills over 3.5 million people in Africa. Sepsis occurs when the body's immune system overreacts to an infection. In many cases it is preventable if diagnosed early enough. Hutano aims to change this outlook by improving the tools for diagnosis, particularly in low-resource settings and developing countries, through an innovative way of testing for sepsis.
If a person has sepsis, the likelihood of death increases by 7.6% for every hour that passes if the patient is not treated with antibiotics. Early diagnosis is therefore critical. In low resource settings, sepsis diagnosis is conducted using simple measurements such as temperature and heart and breathing rate. This can be misleading and result in inappropriate treatment. The laboratory test for sepsis can take up to 24 hours and it is prone to false negatives.
Hutano Diagnostics is developing a ground-breaking lateral flow device (LFD) to identify children with fevers, who are likely to develop sepsis. The test works with a smartphone app, bringing the solution into the patient's hands. Children with a fever have their blood added to the test after a finger prick, and 15 minutes later the parent, community health worker, or nurse knows they need antibiotics, as well as if their fevers will progress to severe outcomes. This lowers the risk to children, allows for earlier interventions, and reduces the cost and complications due to sepsis.
Atherton Mutombwera is the founder and CEO of Hutano Diagnostics. He is from Zimbabwe and is a Mandela Rhodes Scholar in the class of 2014.
Dr Jessica Ronaasen: The Do More Foundation, "Coming together to help South Africa's children thrive"
Almost three quarters of South Africa's children miss out on a critical part of their development, according to the 2022 Thrive by 5 index. Early Childhood Development (ECD) is a critical stage of growth, requiring adequate nutrition, secure attachment and early stimulation. To address this crisis, the Do More Foundation has initiated a collective impact initiative called Everyone Gets To Play.
By bringing together stakeholders from the public, private and non-profit sectors, Do More delivers a basket of services customised for impact. This basket includes services that support maternal and child health; food security and nutrition; parent support; child safety and protection; early learning through play; capacity building and infrastructure. It is based on South Africa's world-class National Integrated ECD Policy.
Each community is different and so Everyone Gets to Play engages stakeholders to co-create a vision for young children. These stakeholders include national and local government departments and – most importantly – young child forums with all people working with or for young children in the community.
With financial support from the Äänit prize, the Foundation would support the basket of services by investing in five local communities. The Do More Foundation anticipates a direct impact on thousands of young children across the country.
Dr Jessica Ronaasen is the National Programmes Lead at the Do More Foundation. She led the consolidation and documentation of the Everyone Gets to Play model. Jessica is a 2013 Mandela Rhodes Scholar from South Africa.

Koaile Monaheng: Khantša Energy, "Lighting up Lesotho's future"
There are currently about 1.2 million Basotho people living without grid supplied electricity in Lesotho. This hinders the country's ability to grow its economy and lowers the quality of life of its citizens. Some 80% of the rural population has no access to electricity, leaving many people behind. Due to the mountainous terrain of Lesotho, rural access is likely to remain low.
Khantša Energy provides affordable and accessible renewable energy solutions for rural households. Khantša began by installing solar systems at six health centres in remote districts and has expanded to households and schools, with 36 successful household installations to date. Families are able to pay off their solar systems through the PayAsYouGo model, making it affordable for households to own clean energy, not only access it.
Expanding Khantša 's solution will allow the people of Lesotho to leapfrog the need for grid electricity, reducing reliance on imported energy generated from fossil fuels that contribute to climate change. This is important as the climate crisis disproportionately threatens the lives and livelihoods of Basotho people, who are largely dependent on rain-fed agriculture.
Khantša Energy consults with and learns from the community through the Basotho pitso, a traditional meeting called by the Chief and his general assembly. Khantša Energy is uniquely positioned to tackle Lesotho's energy poverty because its solutions are innovative, community-inclusive and driven by local indigenous knowledge.
Koaile Monaheng is a Director of Khantša Energy. He is a 2020 Mandela Rhodes Scholar from Lesotho, and an associate at Power Shift Africa.
Odwour Midigo: Ndalo Heritage Trust, "Prioritising mother and child nutrition and wellbeing"
Ndalo Heritage Trust is a grassroots organisation in Kenya that addresses the sustainable development goals of zero hunger, health and wellness and climate action in marginalised communities. Its mission is to work towards the alleviation of hunger, disease, poverty and human suffering, with a focus on the first 1,000 days of life.
Ndalo works with marginalised families through hands-on training, drawing on existing UN frameworks for integrating agriculture and nutrition education, and the World Health Organisation's nurturing care frameworks for improved health outcomes and human development.
The Udongo Kwa Maisha (Soil for Life) programme's primary vision is to engage mothers, caregivers, households and communities in accessing more nutritious food aimed at improving the dietary requirements of a child's first 1,000 days of life.
The Maarifa Kwa Maisha (Knowledge for Life) programme addresses the health and wellness of children and their mothers, in particular children with special needs. This project targets early developmental screening and follow-ups to check that developmental milestones are being met. It screens mothers for postpartum depression and provides relevant support. It also provides parenting training and training of caregivers and educators on disability and inclusive design. In addition, it promotes mental and physical wellbeing through sensory integration and play.
Ndalo's Green Legacy Initiative has seen the planting of 100,000 trees in Western Kenya in partnership with Equity Bank to combat the impacts of climate change.
Odwour Midigo is a founder and director of Ndalo Heritage Trust. He is currently a PhD Candidate in the Faculty of Natural and Agricultural Science at the University of Pretoria. He is a Kenyan Mandela Rhodes Scholar in the Class of 2018.
ALSO READ: Aakash BYJU'S students become Highest NEET scorers three years in a row
Shantel Marekera: Little Dreamers, "Providing affordable education in low-income communities"
Little Dreamers is a pre-school in Budiriro Cabs, Harare that provides access to quality and affordable foundational education for low-income children between the ages of four and seven. Students receive access to age-appropriate equipment, learning materials and infrastructure that would otherwise only be available in expensive private schools. It has graduated four classes since 2019.
Through the gender equality division, Little Dreamers champions women's rights as well as spearheads core and programmatic support to advance women's economic empowerment. To date, Little Dreamers has supported the transition of 600+ women from low-income families into decent work and self-employment using a community-based approach to skills development. The women continue to receive support in financial literacy and product marketing.
Little Dreamers hopes to start a junior school and expand its reach to other high-density areas such as Glen Norah, Glenview and Highfield.
Shantel Marekera is the founder of Little Dreamers. She is a 2019 Rhodes Scholar from Zimbabwe and a legal consultant to the World Bank.
Find out more about the finalists and vote for their ventures here (https://bit.ly/3x6c9tQ).
Distributed by APO Group on behalf of Mandela Rhodes Foundation.
Visit EasyShiksha for skill development courses