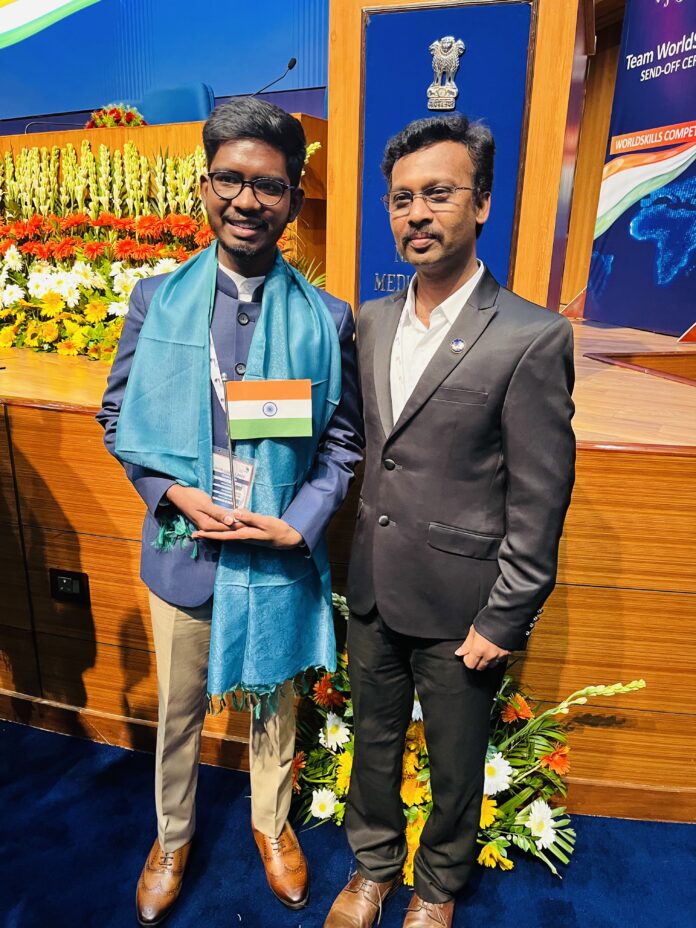 The final year MCA student at GITAM competed and won at the zonal, state, regional and national levels to be one of the only two students selected from India for WorldSkills
New Delhi/Visakhapatnam, October 2022: Srihari Ruttala, a 21-year-old second-year student of Masters in Computer Application (MCA, 2021-2023) at GITAM (Deemed to be University), Visakhapatnam, has been selected for the final round of the WorldSkills Competition 2022 to be held in South Korea in mid-October 2022. The young student of GITAM School of Science will represent India in the skill of cybersecurity against 12 countries: Azerbaijan, Australia, Hong Kong, Ireland, Singapore, Iran, Chinese Taipei, Korea, United Kingdom, Estonia, and France.
The WorldSkills Competition, founded in 1950, is currently in its 46th edition and will host 62 skill competitions across 15 countries and regions, with over 1,000 competitors from various locations across the globe.
Ruttala, who will participate in the competition scheduled from October 12-16 in Korea's Goyang, always had an interest in computer technology but narrowed it down to cybersecurity after learning about cyberattacks and people who lost their money because of malicious hackers. Hailing from Vizianagaram, Ruttala joined Bachelor's in Computer Application at the GITAM (Deemed to be University) and started to learn about coding, cyber security and ethical hacking parallelly.
Over the years, his academic life has been dotted with significant milestones, including a gold medal in the Cyber Security in India Skills Competition 2022 national level and a runner-up position in Deloitte Cyberkshetra. Recently on World Youth Skills Day, Srihari was felicitated by the Government of Andhra Pradesh with a Rs 1 lakh cheque in an event organized by Andhra Pradesh State Skill Development Corporation (APSSDC).
To reach the World Skills stage, the selection process starts from the district level in India and moves up to the zonal, state, regional and finally, national level. A total of six candidates were chosen for the cybersecurity skill category. After another selection test between these six, Ruttala and Mufeed Hamzakutty from Kerala got selected to represent India for Cyber Security skill.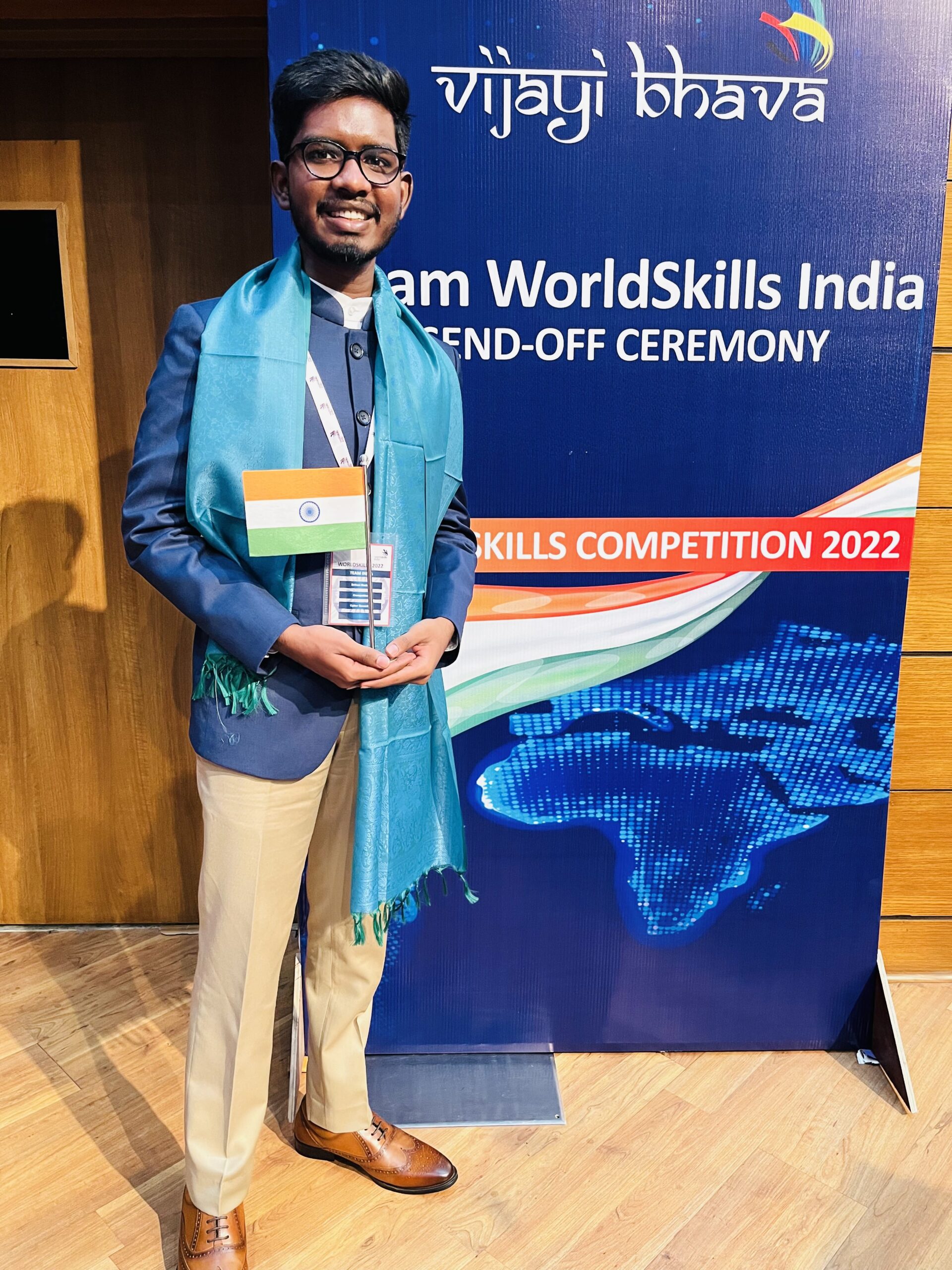 "The arduous selection process and preparation for the WorldSkills Competition has helped me identify the learning path and motivated me to achieve greater heights. To prepare for the world-level competition, I am reading up on all the previous test projects. My mentor and expert, Sangamesh Sivaputrappa, who has 17 years of experience in the Security domain, has been training since the India Skills Competition ended in January. He is also the Chief Deputy Expert for Cyber Security at WorldSkills. We have been practising on multiple domains like Incident Response, Red Teaming, Reverse Engineering, Malware Analysis, Packet Analysis, and so on," says Ruttala.
The India Skills Competition was organised by National Skill Development Corporation (NSDC), which has also been training Ruttala vigorously. "NSDC has assigned Sangamesh Sir as our trainer. We have moved to Bangalore for the live training from our expert to cover the syllabus," he adds.
On why he chose GITAM, Ruttala recounts, "I chose GITAM because it has the best professors and infrastructure labs. The faculty helped cement my concepts — data structures, C++ and Java. Knowing programming is an add-on to cybersecurity, which makes you understand code a lot better and makes you unique in the cybersecurity domain. The GITAM Career Guidance Cell granted everything required for the competition at light speed. I requested a high-end laptop to practice for the competition; within a week, I got the laptop and infrastructure to learn and practice. Not only that, but they also purchased required courses for my learning."
Speaking on the opportunity to represent his country on the world stage, a proud Ruttala said, "Having the opportunity to represent our nation is a dream. The value it holds by giving the label of 'being the best in India' is immense. WorldSkills is valued like the Olympics of Skills and to win the Internationals would give one of the most precious exposures one could dream of as it effectively means we are the best in the world in the said skill."
On choosing cyber security as a field, he said, "It will be a top-of-the-hierarchy skill as long as we live a digital life. We live in a digital age where everything is connected, and our data is tied everywhere for ease of life, but this also comes with a risk of sensitive information breaches where people's privacy can be violated. This is where Cyber Security awareness comes in. Security of systems is to be ensured to prevent this very problem." Giving an example, he adds that websites containing sensitive data should conduct regular penetration tests and attack simulations to make sure it is secure.
Also Read: JK Lakshmipat University all set to organize Techno-Cultural festival SABRANG from November 11-13
About GITAM (Gandhi Institute of Technology and Management)
GITAM was founded in 1980 by an inspired group of eminent intellectuals and industrialists of Andhra Pradesh led by Dr M. V. V. S. Murthi, former Member of Parliament and popular philanthropist. Located in Visakhapatnam, Andhra Pradesh, it also has campuses in Hyderabad and Bengaluru. Collectively, the three campuses have 19 institutions under their wing. Over the years, GITAM has taken part in many social activities and has also produced many renowned personalities. 
Visit EasyShiksha for skill development courses