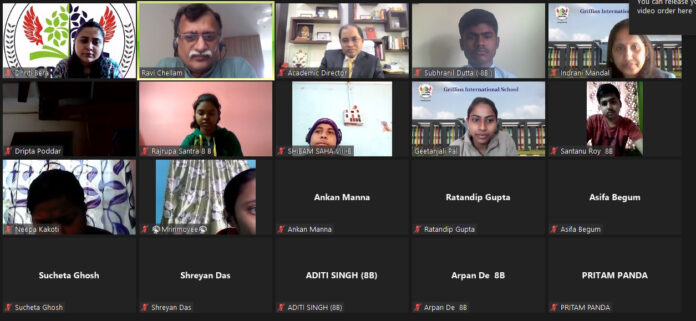 GIS holds a session with an ace wildlife biologist & Conservation Scientist
Dr. Ravi Chellam on 'Conservation of Threatened Species'
GIS takes the pledge to actively participate in the conservation movement for Asiatic Lion
4th February 2022, Kolkata: Griffins International School, Kharagpur recently organized a virtual interactive session with notable Wildlife Biologist & Conservation Scientist Dr. Ravi Chellam, CEO, Metastring Foundation and Member, Biodiversity Collaborative, on the topic 'Conservation of Threatened Species'. The session focussed on the perils of extinction in the wild due to human action and the importance of Wildlife Conservation.
During the session, Dr. Chellam, who had also served as an expert adviser to the Amicus Curiae of the Forest Bench of the Supreme Court of India, talked about threatened species, explained the importance of conservation and elaborated on how these threatened species need collaborative and collective participation of scientists, government and everyone to create a balanced ecosystem. He especially urged the students to help spread the awareness about biodiversity and ecological balance. In his deliberation he explicitly emphasised Great Indian Bustard, Marine Turtles, Gharials of fresh water and Asiatic Lion.

The most engaging discussion was on translocation of some Asiatic Lions from Gir Forest to Kuno Wildlife Sanctuary in Madhya Pradesh to create a second home to secure it from extinction due to any catastrophe especially diseases. Students were informed about the Supreme Court order of April 2013 in favour of translocation of some Lions to protect the species.
The session inspired everybody present in the webinar and Mr. Abishek Kumar Yadav, Academic Director of Griffins International School confirmed that the school would actively participate in the movement of conservation of Asiatic Lion. GIS as a school would initiate a sincere communication with the PMO to give it a momentum.
Dr Ravi Chellam emphasised Rachel Carson's words – "In nature, nothing exists alone" and said 'I urge students to think about and reflect on human action. We adults often think that human beings are beyond nature or outside of nature. But without nature human beings will not exist. The Pandemic in many ways has given us a good lesson to understand the fact that we must learn to work with nature, respect nature and conserve it. Students' intervention is very important in wildlife conservation. When the students take it as an important topic and start bringing nature, environment conservation, biodiversity as a part of mainstream conversation, things will change and will enable people to realise the value, importance and beauty of nature".
Important Announcement – EasyShiksha has now started Online Internship Program "Ab India Sikhega Ghar Se"
"The richness that nature has given us is unique and it is something we need to celebrate. Like we celebrate our culture, literature, language, food & festivals. We should celebrate our biodiversity" further added Dr Ravi Chellam, who is also on the expert committee appointed by the Supreme Court to help with the translocation of Asiatic Lions.
Mr. Abishek Yadav, Academic Director, Griffins International School, said, "We are delighted to have Dr. Chellam for such an informative and engaging session. Our students are excited after attending this insightful talk. He enlightened us on many pressing issues of threatened species and shared many unknown facts with us.  Learning these facts will help us become more aware of the ecosystem. The easiest way to help endangered species is to learn more about those vulnerable species. The more we know about wildlife conservation the more we can focus on how best we can preserve the environment. We will engage our students to build up some momentum and try to start a campaign about Asiatic Lions and support the cause of preserving the beautiful earth for future generations". 
Top Software Engineering Courses
About Griffins International School
Griffins International School, Kharagpur (GIS) is promoted and managed by Govind Behari Yadav Trust with its registered office at Kharagpur- West Bengal. The school was founded with a vision to be a learning school that ignites inquisitive minds to innovate and inspire others.
Mr. Abishek Yadav, a chemical engineer from IIT Kharagpur and a versatile entrepreneur, is at the helm of the institution. His dream of developing & nurturing the young minds to become successful, responsible, and ethical leaders of tomorrow was the guiding principle behind the establishment of GIS, with a state-of-the-art infrastructure, sprawling across 14 acres of land.
GIS is setting a new benchmark for a world class school education system with a "Safety First" approach and robust infrastructure for a New India with 24 hours CCTV surveillance and the school buses fitted with CCTV & latest GPS systems.
The school with a lush green campus provides an enabling environment for every child to excel while enjoying with Art Studio, Swimming pool, Indoor & Outdoor games, Music Studio, Robotics lab, Amphitheatre, and Apple education programme.
ALSO READ: CENTA (Centre for Teacher Accreditation) set to add $2 billion to the education
Want to improve your skill visit: EasyShiksha