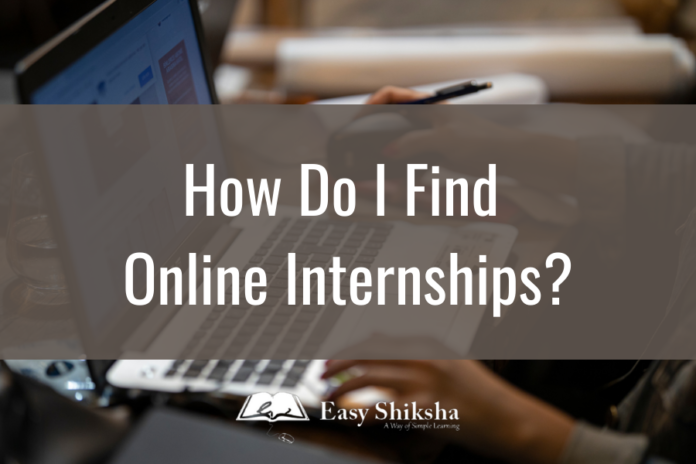 Everyone is talking about Online internships, everywhere. It is a complete source and sheer joy moment to have one.
These online internships programs in India help in many ways and have many benefits.
The requirements and importance for the same are increasing with time, and in some time it may become irreplaceable too, so you can start as early as possible.
As the needs grow, the market offering services to offer internships are becoming more of a protocol.
Everyone is having one or is offering one. Though it is good, on your part. So take your time and enjoy searching for the best fit.
You can receive as many skills and experience as you want. There is no upper limit for the same, so start your search now, and if you have found the exact opportunity, start ASAP!
The companies of today are specifically making it a point to hire interns for Online Internship Programs. Because they get fresh talent, under minimum cost, and so they can grow out of the box.
With this, the young blood is also motivated, inspired to start a career.

Employers are increasingly expecting you to experience internships so that you get ready to get your first job out of school or college.
They are making it a point and offering you services, to learn from when you are new.
But sometimes, you may find it difficult to have one.
Here, we are sharing some easy and reliable tips to find the best online internships with certificates. Stay tuned.
Follow our advice and in no time you will receive an offer!
First of all, be clear as to what your interests are. Why do you want to intern and under what niche? Consider your skills
One of the most common misconceptions you have is to work in every position.
You might consider it addition of experience, but only the relevant experience works.
You must examine yourself and continue to improve such chances of being appropriately hired.
Because the managers employing you would want that with sincerity. Rather, think about the skills and experience you currently have, and what positions you can fit on that basis.
Some ways to limit and grab the online certification internships that are right for you are as follows:
Be honest with your degrees, and apply accordingly.
For people with your major, look for common occupational fields and job titles. And shape the education you have taken in your college years in particular.
Take your experience into account
Your previous work experience and the roles for which it could prepare you are taken into consideration. Hence they count!
Employers look for these. And they value such candidates more if they grow into their fields. It shows responsibility and clear-headedness.
Know your hidden talents, for which you are not generally known over the board or appreciated distinctly
Skills that can help you to complete school or participate in student organizations such as organizational, critical thinking, time management, leadership, technical, etc. These all are useful and valued in the workplace.
Explore your interests
You want to make sure you enjoy the time you spend at work! So you must have some interests and desires.
At the start of your career, this will make you work harder, else you will get frustrated and bored very soon.
Take career areas you are interested in and look for internships in the areas you aspire to work most of your life or anything you are good at.
Small beginning
Do not feel pressured to receive your dream internship immediately, particularly if you have no previous work experience.
Start in the niche, and then gradually reach the saturation point that is your dream company.
To enhance your resume, start with the exploration of small local organizations, school-affiliated groups, or voluntary staff.
Now all said and done, the main question is still where and how to find or look for them?
Having a more practical idea of which internships would fit, it's time to see that!
How can you do that, here are some keys to have that perfect door to knock into.
Visit job sites/Portals externally.
To the outsourcing companies, prepare your profiles to find the best opportunity. Some of them are Glassdoor sites, Linkedin, Indeed, Internshala, Let's Intern, etc.
Directly apply to the company's portal.
It can be your dream company directly if you are sure about your application.
Use the Career Resources of your college, generally called Placement cells.
Almost every school has a workplace where employers who are interested in hiring students can post positions.
Career and internship fairs:
These events allow you to connect with decision-makers face to face, and look for best with comparisons
Personal or Mutual Contacts can help:
We live in a society, and then we are inherently great at conversation. So your contacts or any mutuals, contacts, can help directly.
Important Announcement – EasyShiksha has now started Online Internship Program "Ab India Sikhega Ghar Se"
Social Apps:
These help in connecting people. Though these are informal sources, you never know. One can get you to a start or even to your dream company.
Now how and where to apply for these online internship programs is clear. But you will also require certain documents, portfolios, or something more like:
Updated and Creative Resumes
Personal identification documents, attested
Cover Letter
Portfolios of previous works
Online social presence, and profile making
Preparation of confident answers to clear your interviews
Well aware and updated about your niche, as some companies also have group discussions.
Now, so many companies are helping students to find legitimate internships.
The quality and safety are sometimes being skipped because it is more of a business now.
EasyShiksha is one ed-tech platform I found interesting which provides each opportunity with so many solutions.
Hence you must visit EasyShiksha before choosing and finalizing your decision. Also, they are offering quality internships to boost and make the best careers for you. hawkscode is the parental company of EasyShiksha.
What's next? checkout top 10 online internships program in India.
Top Software Engineering Courses
ALSO READ: navratri
Get Course: R-Programming-For-Absolute-Beginners