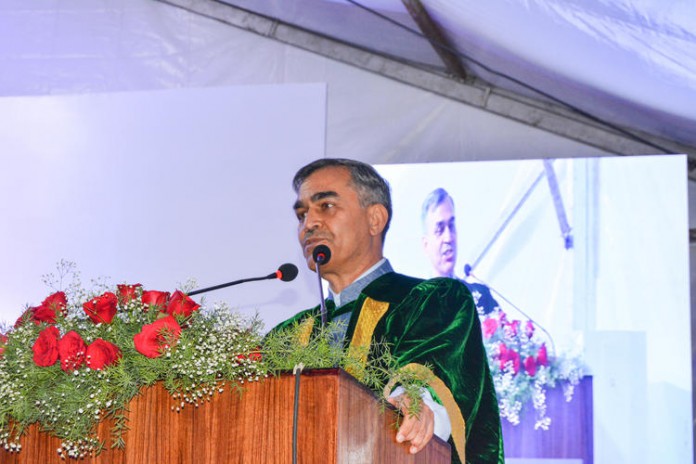 ~239 MBA (Full-Time) Students awarded the graduation certificates~ ~5 PhD Scholars recognized for successful completion of the degree requirement~
~100 per cent placements in top companies through campus recruitment~
Sri City / Chennai, April 28th 2019: IFMR Graduate School of Business (IFMR GSB) at KREA University held its convocation for the year at its Sri City campus today. Dr Harsh Kumar Bhanwala, Chairman of National Bank for Agriculture and Rural Development (NABARD) was the Chief Guest and delivered the convocation address.
Addressing the graduating students, Dr Bhanwala said, "Success comes from a professional orientation. And professional orientation comes from discipline and capacity. The discipline to set ones goals and the capacity to work towards them."
He talked about the facts and trends about rural India and discussed what "Bharat" (as opposed to India) offers, for a very meaningful engagement, to the Youth of today. Specifically, he deliberated on challenges and opportunities associated with:
How Important is Rural India's Contribution in India's GDP

The Compositional Shift taking place in the country

Reducing Gap between rural and urban India

Reduction in average Size of landholding

Financial Inclusion in Rural Areas

Sustainability of Natural Resources, and

Fulfilling Aspirations of Rural Youth
Dr. Bhanwala hoped that in the long career that awaits each graduating student, some of them would get an opportunity to work on these issues and bring in significant difference.
Commencing the convocation ceremony, Dr Sunder Ramaswamy, Vice Chancellor of KREA University, said thanks to faculty and students for their hard work and accomplishment. He said humans should follow 3 things Will, Imagination and Thought (WIT) in positive and meaningful way. He quoted John Lennon "Life is what happens to you while you're busy making other plans" and advised the students to be thoughtful and generous with time. He also quoted Albert Einstein "Imagination is the preview of life's coming attractions" and added "future belongs to the people who dream". He advised the students to focus more on life worth than net worth as happiness comes with what you have and not what you want. He referred to an Italian proverb "At the end of the game of chess, the king and the pawn go back in the same box". He concluded his speech by quoting Rabindranath Tagore's poem "where the mind is without fear", motivating the students to make the future of their own.
IFMR GSB gave away awards to students who had demonstrated leadership skills, and all round excellence throughout the 2-year programme. The toppers of the class were honoured with medals. The alumni of the institute who have made significant contribution in the areas of business and management were awarded distinguished alumnus / alumna awards. A total of 239 MBA (Full-Time) students were awarded their graduation certificates. Five PhD scholars, who had successfully defended their theses and completed their public viva-voce at Madras University, were also recognized.
"We are happy to announce that our students have got 100 per cent placements in top companies through our campus recruitment and the highest salary offered to two of our students is Rs.18.8 lakhs by Rural Electrification Corporation (REC) Ltd. A total of 50 companies visited our campus for placements this year. We wish all our students a very best for their future endeavours", Dr Anantha Nageswaran. Dean of IFMR GSB Dean added.
Dr. Anantha Nagreswaran also talked about part-time programmes conducted last year for working executives, especially in Data Sciences area. He highlighted about quality of faculty research in finance, economics and management, and IFMR GSB's in-house journal, Journal of Emerging Market Finance, one of the top three management journals in the country.
Medallists
The Chief Guest also honoured the meritorious students with the following medals:

H T PAREKH MEDAL for Best All Round Performance – Sneh Jain

C M KOTHARI MEDAL for Meritorious Performance – Kabyayan Roy

A SIVASAILAM MEDAL for Meritorious Performance – Prabhjot Kaur

AMM ARUNACHALAM MEDAL for Meritorious Performance – Subisetti Sadhana
Distinguished alumnus / alumna awardees
Following alumni of IFMR were honoured with the Distinguished Alumnus award.
Mr. H. Ramachandran, CFO of Hatsun Agro Products Ltd., (PGDM-Working Executive Programme, 2002 Batch)

Mr. Rajaram Venkataraman, CEO, Navya Insights and VelTech Technology Business Incubator (IFMR OUBS Programme, 2004 Batch) 

Ms. Juhi Singh, Digital Evangelist at MD and CEO's Office, Marico Ltd. (Full-time PGDM Programme, 2010 Batch)
About IFMR Graduate School of Business
IFMR Graduate School of Business at KREA University provides a vibrant intellectual foundation of theory, knowledge, skills and perspectives, enriched by a unique interwoven approach. It prepares its students in critical, abstractive, analytical, quantitative, integrative and ethical thinking, which are needed to navigate accelerating change and the increasing complexity of interdependence in business and society, to meet the competing demands of diverse stakeholders, to thrive as professionals, and help them become successful leaders of enterprises. IFMR GSB currently offers full-time MBA programme, full-time PhD programme, part-time certification programme in Data Sciences, and customized MBA programmes and short-term management development programmes catering to practising executives.
IFMR GSB is located in a sprawling 40 acre residential campus in Sri City, an industrial base in Chittoor District, Andhra Pradesh, with easy access from Chennai. The campus is fully-equipped with requisite infrastructure.