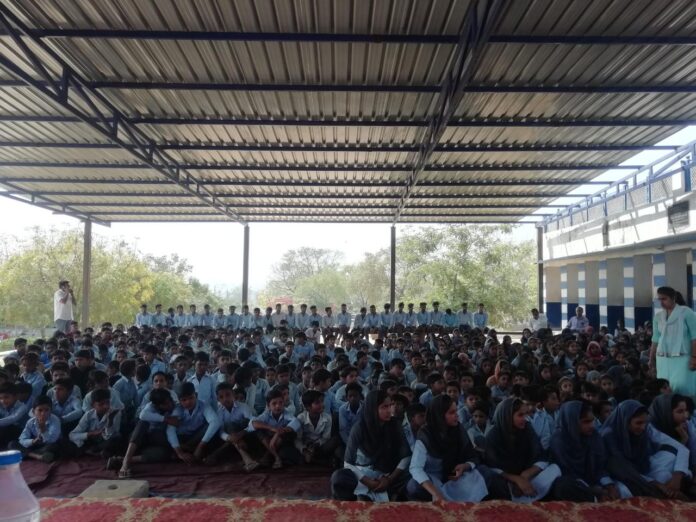 IIL Foundation, CSR wing of Insecticides India Limited (IIL), under its project Vidhya brings a new shade of life to students studying in Rajkiya Uchhmadhyamik Vidhayalaya, Jodiamev along with sitting furniture for classrooms and computer lab
IIL Foundation, CSR wing of Insecticides India Limited (IIL), under its project Vidhya also works for basic health and sanitation facilities by providing the toilets at Rajkiya Uchhmadhyamik Vidhayalaya, tapukhera
New Delhi, 17th May 23: With a focus on providing basic needs to children residing in rural areas during their educational journey, the IIL Foundation, a CSR division of Insecticides (India) Limited (IIL), has taken a step forward by supporting the government schools by providing the basic amenities to the schools in the Alwar district in Rajasthan under their project Vidhya.
ALSO READ: Uncontrolled Hypertension Linked to Eye Complications: A Call for Early Detection and Treatment
One of the recent initiatives is building a big shed in the common area of Rajkiya Uchh Madhyamik Vidhayalaya, Jodiamev of Alwar Rajasthan to save students from the scorching heat and heavy rains. The foundation has been supporting the school with the extended teacher and support staff for last few years as well. Along with this, Foundation has also helped the school with furniture for the class rooms and computer labs.
IIL Foundation found that students' exposure to activities such as school assemblies and cultural functions was deeply affected due to the unavailability of shade in the common area. During the soaring temperatures in the summer season or drenching rains, students were unable to attend morning assembly sessions and participate in cultural functions as there was no covered place. However, IIL Foundation resolved this problem and built a covered structure in the common area of the school to encourage the participation of students in extracurricular activities along with studies.

In the meeting of School Development and Management Committee Rajkiya Uchh Madhyamik Vidyalaya, Jodia Mev, the principal, Mr. Hemender Singh informed that all the members, villagers and Sarpunch ji are really obliged to the management of IIL foundation, the CSR wing of Insecticides (India) Limited (IIL) for adding big smile on the face of students by providing all the basic needs and greenery in the school. With these facilities, the school is also selected as Board Examination Centre this year in Tijara Tehsil. Dr Mukesh Kumar, Vice President , IIL of the company informed that after providing basic amenities, computer lab, furniture and 3 staff to the school by IIL Foundation, the number and daily attendance of students especially girls has also increased a lot.
Besides providing infrastructural aid at Jodiamev, the IIL Foundation has also built separate toilet blocks for boys and girls at Rajkiya Uchhmadhyamik Vidhyalaya, Tapukhera.

Speaking about the social cause led by IIL Foundation, Mr Rajesh Aggarwal, Managing Director, Insecticides (India) Limited, said, "It feels great to contribute our bit to the budding future of our country. When we see such children smiling after receiving even basic amenities, I feel elated and more motivated to work for society. I am happy that our project Vidhya is able to make a little contribution to the society. We are delighted to be a part of such social cause which aligns with our ideology. "
About Insecticides (India) Limited
Insecticides (India) Limited (IIL) is the brainchild of Mr. Rajesh Agarwal. Found in 2001, the company has today become one of the leaders in the domestic crop protection and nutrition market. It has collaborations and tie-ups with reputed international companies like Nissan Chemical Corporation, Japan; OAT Agrio, Japan; Momentive, USA. The company offers a wide array of products ranging from insecticides, herbicides, and fungicides to plant growth regulators & biologicals depending on the diverse needs of the crops. Owing to 105 branded formulations, 21 technical, and 380+ SKUs, IIL extends its support to the nation's agriculture sector by educating farmers on developing sustainable crops. It is a brand that farmers prefer because of its "hand in hand with farmer" strategy. The popularity of the prestigious "Tractor Brand" is a tangible example of this achievement. 
This year educate yourself and develop your career with EasyShiksha