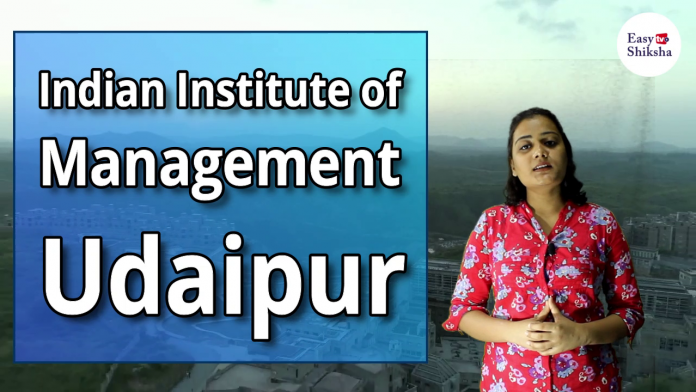 The IIM, Udaipur.
The Indian Institute of Management, Udaipur was approved by the Indian Government in 2009, though the Institute was officially opened in 2011. IIM Udaipur is widely spread in around 300 acres of land which was then allocated to them by the Government of India.
There are so many programs and activities which underlie here in different Building blocks.
IIM Udaipur Campus Tour, Courses, Admission 2019
Come, let me tell you.
The two year full-time Post Graduate Programme (PGP) is the flagship of IIM Udaipur.
Stream Courses in PGP includes Business Policy and Strategy, Finance and accounting, Economics, Marketing, Organisational Behaviour and Human Resources, Operations and Information Systems, and last but not the least Communications.
Students in IIM Udaipur are enriched with so many enriching qualities and exposure. Let us discuss these.
1.Entrepreneurship, where students are provided the freedom and institutional support much needed by them,to explore their entrepreneurial ambitions. This includes everything. in-depth orientation to entrepreneurship ; an inspiring range of elective courses; intensive mentoring during the program and beyond; flexible placement options for students; assistance in procuring seed funding and equity capital.
2.International Perspective, This focuses upon grand opportunities for humanity, whether in Knowledge or technology or well-being but at a global level. IIM Udaipur's International Business oriented two-year MBA program enables students to work on short duration consulting assignments at international locations.
3.Industry Interface, students are provided opportunities to rub shoulders and match wits with industry leaders throughout the year. Student interactions are not limited to internships, live projects and case discussions.
The students in IIM Udaipur organize and moderate summits and panel discussions that brings together experts, thinkers and practitioners from India and abroad.
Students here are also benefitted from intensive mentoring by committed and enthusiastic industry professionals.
That is not it !!! IIM Udaipur brings a lot more.
Summer Internships, Final Placements, Council for Student Affairs, Placement Committee, Mess & Infrastructure Committee, the Alumni club, Cultural Committee, Sports Committee, Potpourri, Society for Dramatics, Danceworx, Octaves, Media & Industry Interaction Cell, Special Interest Groups, and a lot more.
Extraordinary Extra-Curricular activities and programs of IIM Udaipur nourishes students mindset and helps them to create lifelong bonds and relationships.
IIM Udaipur is among the best and the brightest in India. IIM Udaipur challenges students intellectually, academically and personally to empower them and push them to deliver their best.
Embark. Immerse. Transform. Achieve.
View More Details: https://easyshiksha.com/Indian-Institute-of-Management-Udaipur-(IIM)-113