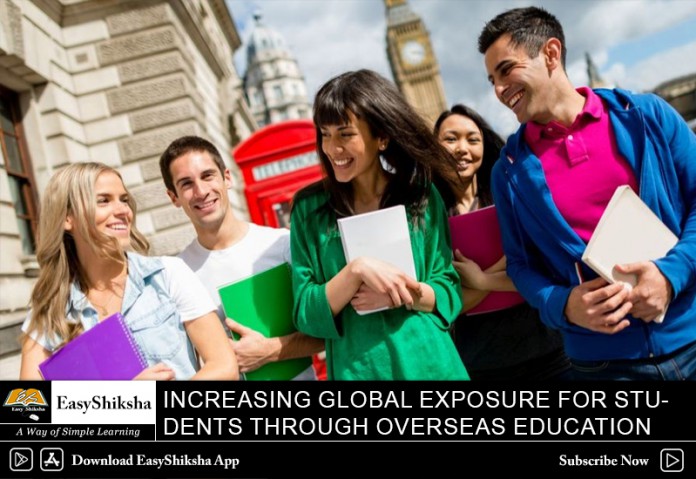 The development of transportation and telecommunication has diminished physical distances across the globe, and blurred the boundaries among nations. Overseas Education An increasing number of governments, corporations, and individuals (students/professionals) have started making connections with one another, regardless of their nationality.
With the world converging towards globalisation, there is greater scope to widen opportunities in education, especially for students. As a result, today's students have higher chances of implementing practices in the global arena and learn about the know—how of different countries. Cross-cultural references and a global perspective allow students to have a pragmatic view of international industries.

Important Announcement – EasyShiksha has now started Online Internship Program "Ab India Sikhega Ghar Se"

Studying abroad is a pretty exciting and rewarding experience for many students, as they not only get the opportunity to meet and network with people of varied cultures and backgrounds, but also experience newer things and an entirely different set of standards. With the increasing awareness of the same, it has been observed that the student flow to key destinations like Australia, the U.S., the UK, and Canada has witnessed a steady rise. 
The idea of studying abroad may seem daunting at first, and it is natural to feel nervous as well as excited before the journey begins. However, one gradually realises that there is not much to worry about. Overcoming the initial anxiety aids in developing maturity and the ability to handle newer situations. 
One of the many advantages of providing students this international exposure is that it helps enhance and broaden their horizons. Learning from international visits and attending international workshops/seminars enables students to experience and understand the global scenario from a different perspective.
Top Software Engineering Courses
Other advantages include:
Diverse education: By enrolling in a study abroad program, students have the opportunity to encounter diverse styles of teaching than what they are used to back home. Different countries inevitably have different ways of doing things, so experiencing the educational offering of another country helps expand a student's academic horizons while developing the ability to adapt to different educational environments.
Potpourri Of Cultures:

Many students opting for overseas education are first timers with regard to the exposure to distinct cultural perspectives in the new host country. Moreover, they are able to experience new foods, customs, traditions, and social atmospheres, all of which gives them a fresh outlook towards life.

Earning While Learning:

The number one reason that students usually worry about studying abroad is looking after their daily expenses. This includes not only the cost of the program itself, but also accommodation, food, books, travel, and other expenses, and this creates an urgency to generate a reliable source of income. However, several countries allow foreign students to work casual/part—time while studying. Although trying to manage both can be seem challenging, but for an authentic and seamless overseas experience, this is a must — do.

 

Career Avenues:

On completion of studies, students return to their homeland with a new perspective on culture, language skills, and education with a willingness to learn, and most future employers find this very appealing. A number of students re—discover their love for their host country so much that they decide to seek work there, with the belief that local education is very valuable when searching for a potential job in that country. Students who study abroad often stand out from other job candidates with skills that can only be acquired from an overseas experience, like strong cross-cultural communications, and familiarity with international standards, laws, and regulations. Additionally, studying in a country with an emerging economy aids in promptly responding/adapting to an evolving market, or industry

. 

Seek New Interests:

Studying in a different country offers a range of activities and interests like hiking, water sports, snow skiing, golf, or various other high—octane sports that may have been undiscovered by students in their home country.

Personal Development:

An important benefit of overseas education is the opportunity to discover oneself while gaining perspective of a different culture. Living in another country independently can be overwhelming initially, but it tests the student's ability to adapt to diverse situations while being able to acquire problem—solving skills.
The University of South Wales (UNSW), Australia regularly conducts international exchange programs and educational tours to create awareness amongst students about the global environment. It incorporates all educational elements together to make the next generation of dynamic professionals, well-equipped to excel in this environment by providing students with significant international exposure.
Empower your team. Lead the industry
Get a subscription to a library of online courses and digital learning tools for your organization with EasyShiksha
Request Now
ALSO READ: Be-a-project-hero-with-pm-edge-choice-of-an-early-career
Get Course: Introduction-to-Power-BI