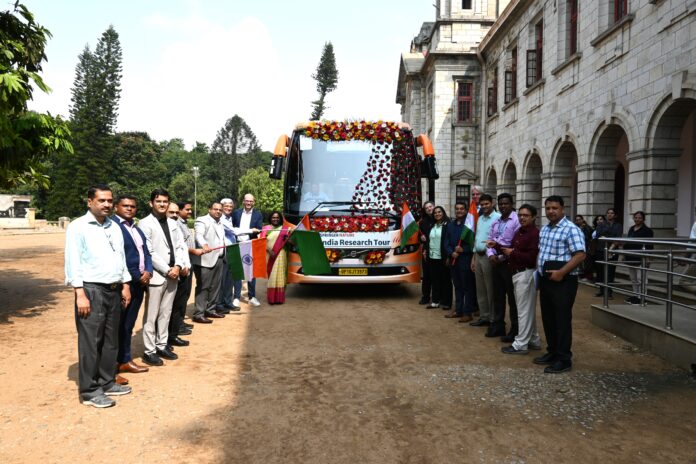 The role of open science discussed to make research more accessible
Springer Nature Group CEO Frank Vrancken Peeters emphasises on the need for collaboration between the research community, publishers and policymakers to strengthen the country's research landscape and to promote the UN's Sustainable Development Goals (SDGs). 
IISC, Bengaluru, 9 October, 2023 – The Indian Institute of Science, Bengaluru hosted the 9th research summit as part of Springer Nature's India Research Tour, being conducted in collaboration with the Indian Ministry of Education on Monday, 9 October 2023. The event focused on the role of open science and transformative agreements to make research more accessible for all.
Under a transformative agreement subscription access and OA publishing are brought together into one reading and publishing contract across a consortium of institutions. This means that researchers in those institutions can publish under the "gold" open access model, while also gaining access to research in subscription journals.
Speaking at the event, Frank Vrancken Peeters, CEO of Springer Nature Group said: "India is one of the fastest growing research markets in the world, second only to China. While the Indian government with its recent National Research Fund Act has reaffirmed its commitment towards research in the country, it is important that researchers, publishers and the policymakers work together to make research more accessible globally. Open Access publishing and Transformative Agreements are instrumental in enabling sustainable country-level transition to Open Access, which will make research more visible across geographies."
The Springer Nature India Research Tour was flagged off at the Indian Ministry of Education's office at Shastri Bhavan on 27 September. It is set to cover 15 institutes across 10 states in India over 20 days, of which its 9th stop was IISc Bengaluru. 
Speaking on the occasion, Prof. Govindan Rangarajan, Director of IISC Bengaluru said: "Research is the underlying theme of this tour, and research is what we concentrate on at IISc. Going forward, research will play a more important role, given all the challenges we face. We saw these huge challenges posed by the pandemic, and now we are facing the challenge posed by climate change, stress on water resources etc. all these are challenges that need to be addressed collectively. I am sure we can provide better exposure to young researchers through such initiatives."
The India Research Tour's primary objective is to fortify the Indian research landscape by nurturing the talents of young researchers and creating an inclusive environment for knowledge dissemination. One of the tour's fundamental principles is to democratise research, fostering conversations that revolve around ensuring access for all and promoting Sustainable Development Goals (SDGs).

Mr. Venkatesh Sarvasiddhi, Managing Director, Springer Nature India shared his perspective, stating: "The National Research Tour embodies a holistic approach to foster research, innovation, and knowledge-sharing throughout India. Our joint objective with the Ministry of Education is to strengthen India's research landscape, empowering young researchers, promoting access for all, and advancing Sustainable Development Goals. We are particularly committed to empowering women researchers and facilitating access for girl students, thus promoting the values of diversity, equity, and inclusion within Indian academia."
The Ministry of Education and Springer Nature India are resolute in steering India toward a sustainable and innovative future. This collaborative endeavour, grounded in research, innovation, and the realization of the SDGs, symbolizes India's unwavering commitment to meaningful progress.
About Springer Nature:
For over 180 years Springer Nature has been advancing discovery by providing the best possible service to the whole research community. We help researchers uncover new ideas, support librarians and institutions with innovations in technology and data, and provide quality publishing support to societies. We make sure all the research we publish is significant, robust and stands up to objective scrutiny, that it reaches all relevant audiences in the best possible format, and can be discovered, accessed, used, re-used and shared.
As a research publisher, Springer Nature is home to trusted brands including Springer, Nature Portfolio, BMC, Palgrave Macmillan and Scientific American. Springer Nature is also a leading educational and professional publisher, providing quality content through a range of innovative platforms, products and services. Every day, around the globe, our imprints, books, journals and resources reach millions of people.
This year educate yourself and develop your career with EasyShiksha