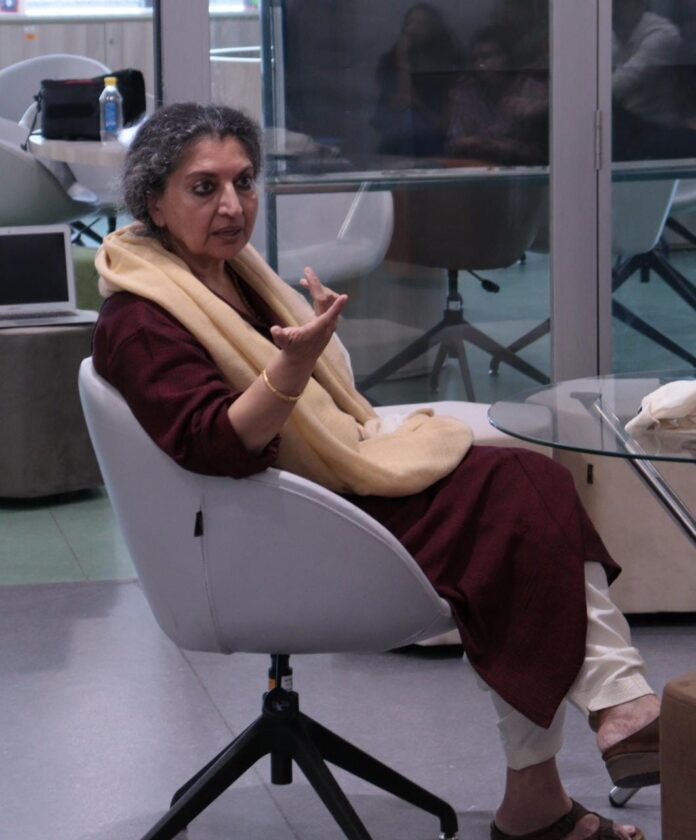 Delhi NCR, Oct 8: International Booker Prize winner, Geetanjali Shree, interacted with students, parents and teachers at the Shiv Nadar School, Noida. Speaking to a full house, she touched upon several themes including the importance of Hindi and regional literature, and how language shapes one's identity.
While recounting her journey as a writer, the award-winning author spoke about her childhood spent in small town Uttar Pradesh, where Hindi was predominantly spoken. With her ears attuned to different dialects, her interest in Hindi deepened when she was pursuing her PhD on Munshi Premchand, during which time she wrote her first short story. Her novel, Mai, which was translated into several languages, including English, French and German, catapulted her to fame.
Geetanjali Shree has written several short stories and five novels. Ret Samadhi (2018), was translated into English as Tomb of Sand by Daisy Rockwell and became the first Hindi novel to have ever won the International Booker Prize. The book is an urgent yet engaging protest against the destructive impact of borders between religions, countries or genders.
"The Booker Prize is not just about me, the individual," said the author." I represent a language and culture and this recognition brings into larger purview the entire world of Hindi literature in particular and Indian literature as a whole." Motivating young students in the audience, she also spoke about the importance of reading and writing in one's formative years.
During the visit, the Delhi-based litterateur was introduced to Shiv Nadar School Noida's recent 'student authors' book launch, where a total of 19 young literary voices from the school launched their literary debuts as anthologies, novellas and short stories.
She also interacted with students and answered questions posed by young minds.
Also Read: NMIMS organizes riveting therapy and launches it's 'The Psychlic Zone' magazine
About Shiv Nadar School:
The Shiv Nadar School is a not-for-profit initiative of the Shiv Nadar Foundation in K12 private education to deliver educational excellence and provide education for life. With three schools in the NCR, The Shiv Nadar School provides students an environment that challenges them into discovering their talent and skills, with an aim to nurture ethical, respectful, happy and purposeful citizens of society. Over 4000 students and their parents, along with a team of 550 educators, are a part of the Shiv Nadar School family.
About Shiv Nadar Foundation:
Established in 1994, by Shiv Nadar, Founder, HCL – a US$11.8 billion leading global technology enterprise, the Foundation is committed to the creation of a more equitable, merit-based society by empowering individuals through transformational education, and to bridge the socio-economic divide. Over the last 27 years the Foundation, has directly touched the lives of over 30,000 alumni and students through its marquee institutions in literacy, K12 and higher education. Today, the Foundation has a community of over 100,000 constituents, which includes not only globally dispersed alumni and students but also faculty members, corporate executives, and extended families.
The Foundation has invested ~US$1.1billion in its seven landmark institutions and initiatives across education and art. Currently over 13,000 students and over 2,000 faculty are part of the Foundation along with around 21,000 strong globally dispersed alumni community.
The Foundation's students have gone to study at some of the best institutions globally including the Ivy League in the US and top universities in other countries including Australia, Singapore, China and UK. Students are also working in major corporations, including Goldman Sachs, Honda, HP, Schindler, and several others both in India and across other geographies. Faculty across the Foundation institutions are drawn from the best Indian and international universities, with a strong focus on research and innovation.
The Shiv Nadar Foundation pursues the philosophy of 'Creative Philanthropy'. It is a powerful model which envisages creation of institutions that are built to last and continue to impact future generations. It is an approach that allows sustained institutionalized philanthropy for long-term, high impact, socio-economic transformation.
Visit EasyShiksha for skill development courses