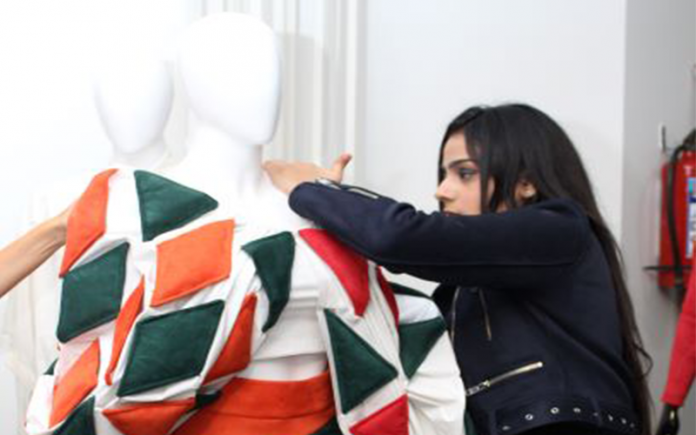 A responsible move towards society!!
New Delhi, January 14, 2020: JD Institute of Fashion Technology, a pioneer in the field of design education for the past 31 years, announced its association with Divya Jyoti Jagriti Sansthan (DJJS) for the social project called Antarkranti – Prisoner Reformation & Rehabilitation Program. It also held a seminar for students at its corporate office in Hauz Khas, where noted fashion designer Ms Rina Dhaka and senior program specialist Ms Jaya Bharti were present.
The students attended a training session to create designs of saleable products out of swatches of size 14″X 14″ funded by Welspun & Ogilvy company. The design created by the students will be shared with prison inmates who will also be trained to develop products out of the swatches. The agenda of the program is to generate opportunities and employment for jail inmates. The students will be certified by Ms Jaya Bharti and Ms Rina Dhaka. 
Ms Rupal Dalal, Executive Director, JD Institute of Fashion Technology, said, "We are pleased to associate with this project. Involving students in social activities gives them a sense of responsibility towards the society."
About JD Institute of Fashion Technology:
JD Institute Of Fashion Technology, India, With 36+ Learning Centres, Is One Of The Top Institute Of Art And Design, Where The Dreams And Passion Of Students With Imagination Are Stimulated. Under The Eminent Experts From The Industry The Subjects In Fashion, Interior, Jewellery, Fashion Marketing & Communications, Visual Merchandising, Photography, Hair And Make-Up Will Be Elucidated With High Passion Giving The Young Aspirants The Much-Required Practical Experience And Classroom Training. JD As An Institution Helps The Students To Take Their Imagination To The Next Level, Giving Them A Platform Not Just To Upskill Their Creativity But Also To Prepare And Give Them The Confidence To Follow Their Dreams.