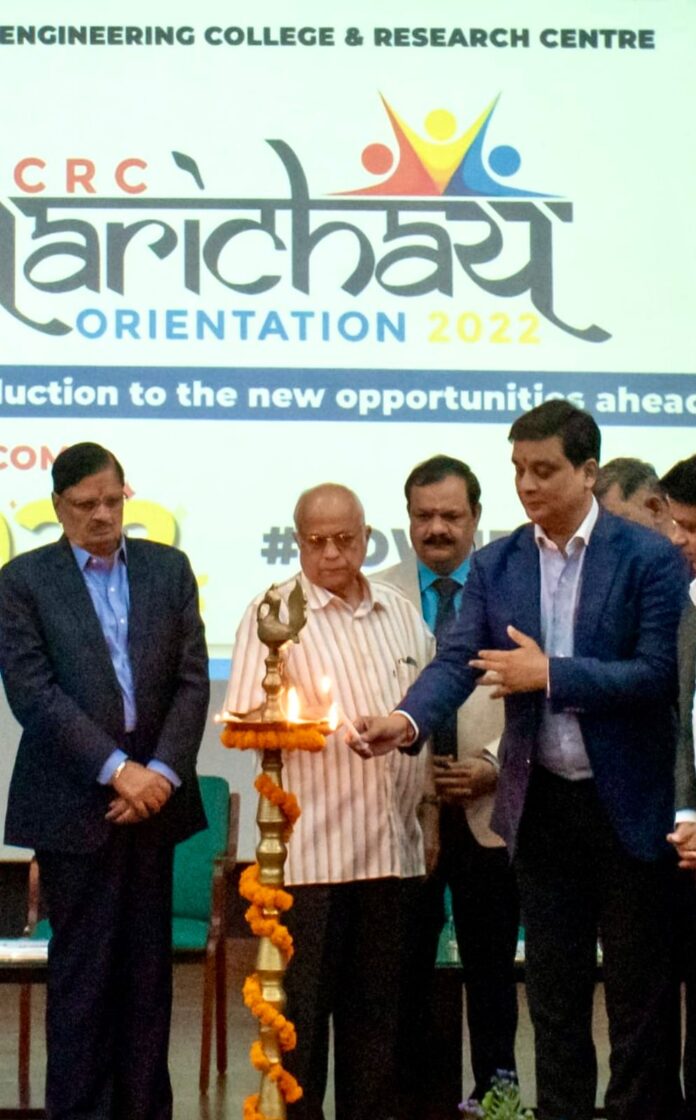 Jaipur, The young minds with dreams and aspirations, students begin their 4 year engineering journey at JECRC Foundation with Orientation 2022. The new batch of future engineers of 1000 students was welcomed by JECRC Foundation with 25% girls.
The event began with a candle lighting ceremony by honorable chief guest O.P Agrawal(Chairman JECRC Foundation), Dr. Vinay Kumar Chandana(Principal JECRC Foundation) addressed the event and talked about the amazing and struggling journey of 22 years at JECRC Foundation and how it played a major role in making Jaipur an engineering hub. He also spoke about how the JECRC Foundation helps students not with just theoretical knowledge but also gives importance to vocational training, sports, co-curricular activities, performing arts, field visits and social responsibilities to make them not just engineers but good citizens and have overall development. During his speech, the chairman of JECRC Foundation talked of how 23000 of their students are currently working in world class MNC'S and are now the ones recruiting students. During the ceremony reputed Amit Agrawal and Arpit Agrawal (Vice chairperson, JECRC)  were also present.
Also Read: JECRC launched Educash – A Blockchain-based digital token payment method

Mukt Bihari( Director of HR) enlightened the students about the modules of CRT training and the importance JECRC Foundation gives to prepare students for placements. Student council representatives Pranshu Sharma and Mohak Khanduja introduced students to the various opportunities like "Enigma" and "Khalas", who provide a stage for the dancing enthusiasts. Aashayein and Abhyudaya help with social causes and awareness. Renaissance is the biggest techno cultural event in Rajasthan, which helps students develop their technical and management skills. Tarun Saraswat (Incubation manager) took to stage and spoke about how JECRC with help from the government got a grant of 9.1 crore rupees out of which 3.2 crore has already been given to the budding start-ups. They prepare and guide students on how to become successful entrepreneurs and provide funding to build their dreams.
The new batch was given details about various JECRC students. The 2 day Orientation 2022 was a golden opportunity for the students to understand the ecosystem of JECRC Foundation.
Visit EasyShiksha for skill development & Advance Technology courses.