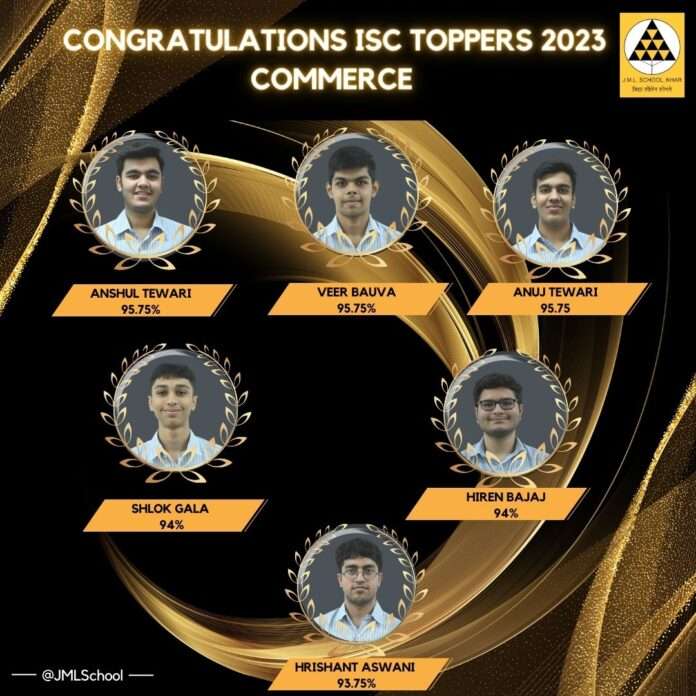 Mumbai, 18th May 2023: Continuing the 4-decade-long tradition, the Jasudben ML School (JML), one of Mumbai city's most prominent ICSE schools in Khar, has once again announced outstanding cent-per-cent results in the ICSE (Std X) as well as ISC Science, ISC Commerce and ISC Humanities (Std XII) examinations for the academic year 2022-2023. The excellent performances of the students across the diverse streams demonstrate the school's commitment to nurturing its students into some of the brightest young minds in the country.
ALSO READ: National Health Authority appreciates Karkinos Healthcare's significant contribution to Ayushman Bharat Digital Mission (ABDM)
JML has had the highest average percentage in ICSE over the past decade. And the school is proud to declare that all 103 students who appeared for the Std X exams this year passed with flying colours. Saesha Mathur didn't let academics take a backseat while excelling in other extra-curricular activities. She jointly secured the top position with Arshraj Singh Gadh, with both scoring a commendable 99.4% and making it to the State Merit List in ICSE. Yash Shirishkar follows closely with 99.2%. As a matter of fact, 73% of students scored over 90% this year, while no student scored below 70%. This has made JML the highest-scoring school in Bandra-Khar-Santacruz this academic year, and such a result truly illustrates the combined hard work and dedication of the school and its students.
The students have also done exceptionally well in ISC (Std XII) across Commerce, Science and Humanities this academic year, with 42% of them scoring over 90%. The commerce toppers Anshul and Anuj Tewari are twins who ended up scoring the same total marks! The twins, alongside Veer Bauva, secured an impressive 95.75%, while Hiren Bajaj and Shlok Gala follow closely with 94%. Hrishant Ashwani secured the third position with 93.75%. Interestingly, Anshul, Anuj, Veer and Hiren featured together in the ICSE school toppers' list two years ago in 2021, exemplifying that keeping good company clearly helps! Likewise, the Science stream saw all 13 students who appeared for the exam smoothly sail through. Aditya Manik secured the top position with a score of 94.25% and is on his way to pursuing a career in music. Disha Goplani is close with 94%, and Arijit Srivastava secures third place with 93.50%.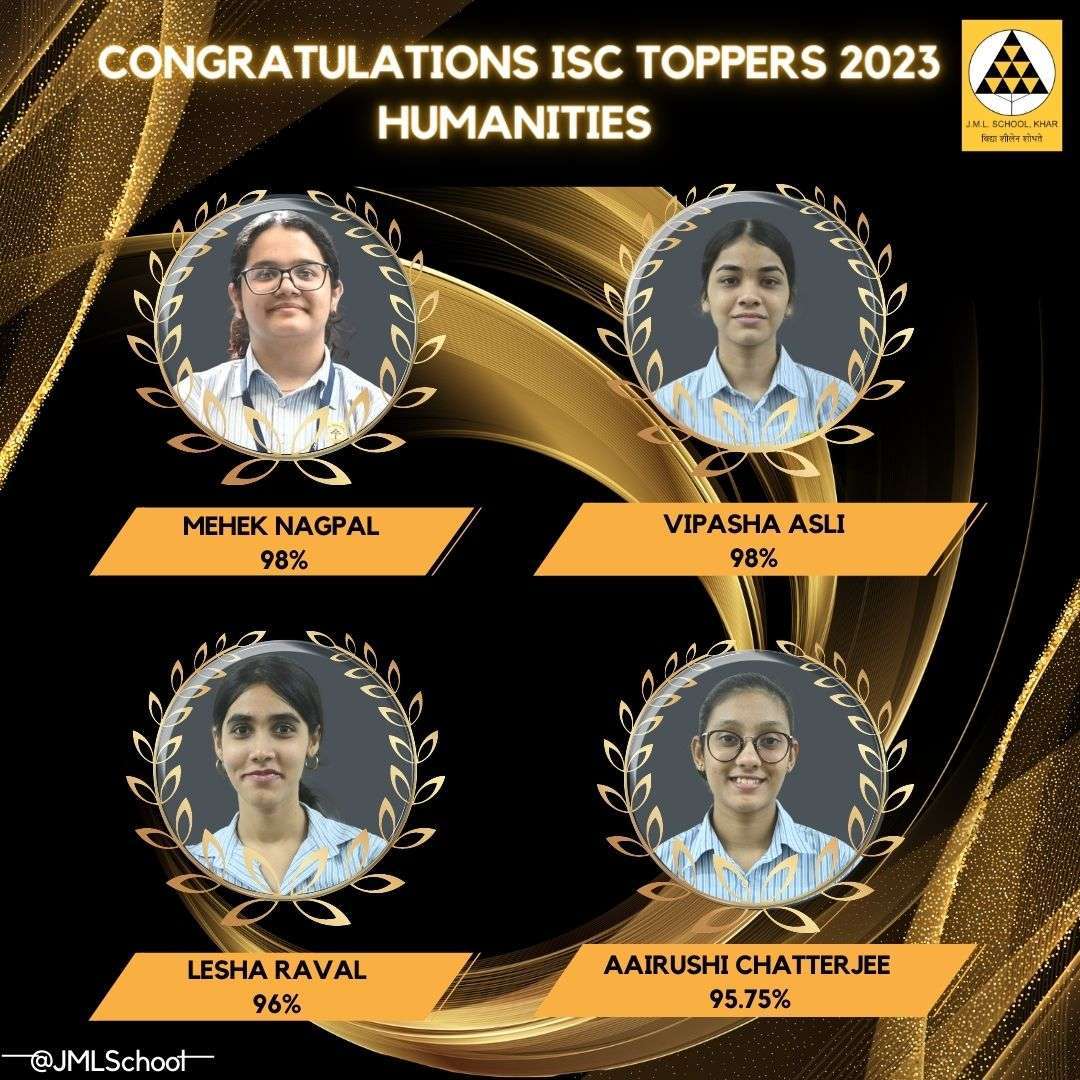 Hiren (ISC Commerce) and Aditya (ISC Science) have been friends from the time they set their little feet into Bloomingdales Playschool. They shared many common interests while growing up at school, especially their love for the stage. Their results are testimony to how they balanced their stellar performances as lead roles in many annual school plays with their academics fabulously.
The Humanities stream, too, has produced exceptional results, with the Head of the Students Council, Mehak Nagpal leading from the front and scoring 98% along with Vipasha Asli. Lesha Raval secured the second position with 96%, and Aairushi Chatterjee third with 95.75%. All 23 students from this stream have passed with a 100% success rate, and a significant number of students (57%) have secured 90% and above.
Commenting on this, Mrs. Damayanti Bhattacharya, principal of Jasudben ML School and Bloomingdales Pre-Primary mentioned, "The excellent results in the ICSE and ISC examinations are a testament to the school's unwavering dedication to nurturing our students to unlock their true potential. Many of them have been with us for over ten years now. And the 100% pass rate and remarkable individual performances across streams are a reflection of the diligence and hard work of both the students and the faculty."
The students of JML mentioned, "Our teachers provided us with invaluable guidance, and we are incredibly grateful for that. It was their constant mentorship which helped us enhance our academic performance significantly. They are always available to address our doubts and offer us unwavering support."
They further added, "JML feels like home, a friend and, most importantly, a mentor who encourages us to genuinely enjoy studying while helping us develop well-rounded skills through many extra-curricular activities. The inclusive and supportive environment at school has enabled us to overcome our weaknesses and excel to our fullest potential!"

By igniting the spark in these young minds, JML school endeavours to shape the country's future generation and empower them to achieve their goals.
About Jasudben ML School
Jasudben ML School (JML) is a premier ICSE school in Khar, Mumbai. Their vision is to ignite and nurture the spirit of inquiry in young learners and to inculcate amongst its students, a relevant value system. They are a community based on trust, mutual respect, and compassion. With an aim for the students to leave the school with a commitment to service to others and to environmental stewardship, and with a greater understanding of themselves and of their responsibilities in a global society.
This year educate yourself and develop your career with EasyShiksha